Executive Summary
Almost one year ago, my first Thin Film Electronic (OTCQX:TFECF) article stated that $0.375, or 2.75 NOK ($175 million market cap), was a good price to accumulate, and $0.47, or 4.00 NOK ($220 million market cap), was a good price to reevaluate the position. On June 24th, 2016, the stock closed at $0.50, or 4.20 NOK ($340 million market cap), necessitating updated analysis.
I met with Dr. Sutija in early June 2016 to catch up, learning about new developments. Since September of the previous year, the company signed many new customers, secured $42 million in new funding, hired a new CFO and made significant progress towards roll-to-roll (R2R) printing. Moreover, investors must consider the significant drop in the Norwegian krone and increased share float.
Most interesting is the upward revision in estimated output. Thin Film engineers and management initially predicted R2R output at one billion units per year. However, after evaluating the equipment, they determined that producing five billion units per annum was attainable, significantly affecting valuation. Moreover, Thin Film NFC (near field communication) tags will be compatible with almost two billion smartphones by 2020.
Although cash flow may be at risk next year, burning around $2.5 million per month, a new upper price target is warranted. Thin Film management remains highly adept at fundraising and enthusiastic about reaching their goals.
Interview with Dr. Davor Sutija
Following up on last year's article, I met with Dr. Sutija at Thin Film Electronics' Oslo headquarters on June 6, 2016. Upon arrival, I could not help but notice the increased activity associated with expansion and new business activity. The conference rooms were full, and empty boxes, once containing computers, confirming increased activity and recent hiring. We went to a nearby coffee shop, discussing recent developments for an hour. Dr. Sutija was genuinely excited and upbeat about recent developments, signaling confidence. As before, due to limited time, the interview was fast paced. Dr. Sutija discussed the following in detail without prepared notes, referring only to the recently updated corporate presentation:
Capex
Thin Film, scaling output by transitioning from sheet-based fabrication (known as S2S) to R2R processing, will increase capacity from 40 million units to around five billion by mid-2018. Last year, maximum capacity estimates for R2R were around one billion units per annum. However, new technological advances, along with the equipment, raises this estimates five times, increasing capacity 50x from current levels! Both Thin Film engineers and the equipment vendors verified these estimates. The S2S to R2R conversion process will be done in stages, starting with Anti-theft tags in Q4 2017 and NFC labels in Q2 2018. Hence, the company transitions fully to becoming a product company versus an R&D one.
NFC
Thin Film tags will be compatible with almost two billion smartphones by 2019, taking part in the IoT (Internet of Things) revolution. NFC labels will not only identify and give information about the product, but will also pass data, verify authenticity and ensure freshness, enhancing the customer experience. Dr. Sutija emphasized NFC is a current priority, realizing its full market potential within three years.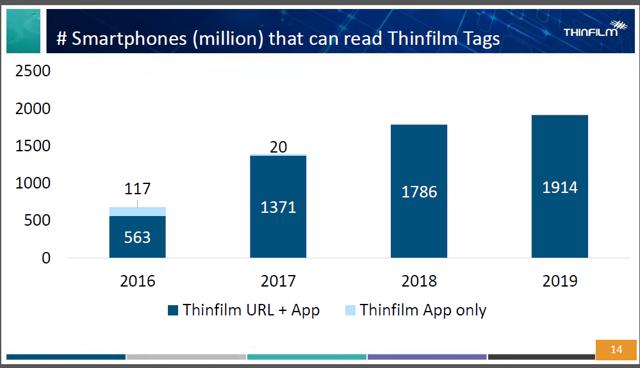 Thin Film Electronics Corporate Presentation June 2016
Priorities
Dr. Sutija stated that the company focuses on offering complete solutions versus selling components, prioritizing:
2013: Printed Memory - Notifies customers to replace parts or records days in use. It can be used to identify parts as genuine, ensuring safety.
2014: Anti-Theft Solutions - Printed tags are hidden in merchandise, safeguarding against shoplifting and counterfeiting.
2015: NFC Tags that connect the product to the internet, passing data, enhancing the customer experience and further securing the product against forgery.
2016: Temperature Sensing - Dr. Sutija admitted that the company is running behind schedule due to prioritizing NFC versus technical hurdles. Hence, temperature tags are attainable, but we must wait.
Last year, I experienced the need for temperature sensing, having purchased spoiled chocolates from a local 7-11. The preceding days were unseasonably warm, exposing the confections to high temperatures for a long time. Mondelez (the parent to Freia, a local Norwegian brand), replied with a large box of assorted chocolates after receiving my e-mail with photos, keeping my loyalty. The potential for temperature tags, especially within the pharmaceutical industry, is, quite simply, "huge." The tags let consumers know about product exposure outside temperature and time specifications. For example, if a box of sushi were exposed to high temperature for more than 30 minutes, the tag, with a monochrome display, will show an "X" warning the consumer, whereas if it were for only 3-4 minutes, it will remain blank.
Adjustments
Dr. Sutija discussed new developments when asked how he will manage the growth.
Thin Film Electronics is scaling up in North America and slimming down in the Nordics, focusing more on production going forward. Sweden will focus on displays and batteries, while California focuses on logic.
The company will be consolidating North American activity to a single new location not yet disclosed. Both S2S and R2R manufacturing will take place here, eliminating duplicate staff.
The transition from S2S to R2R manufacturing process reduces unit operations (major steps) from eight to three, boosting efficiency.
Software and Analytics
Coming from the software and analytics industry, I was very interested in the company's approach to the associated data and analytics accompanying the smart tags. Thin Film products can log consumer analytics and store them in the cloud. They can match unique IDs to specific products, verifying authenticity.
However, Dr. Sutija stated that partnership with a firm specializing in the domain was more viable than the company doing this itself. His statement reinforced my impression during the interview that although the company had added significant new staff, it still had to focus on the core business, prioritizing R2R tag production ahead of all else. Perhaps in the future, once running at full capacity, it could take analytics in-house.
Ole Ronny Thorsnes (New CFO)
Dr. Sutija addressed my main concerns: the departure of current CFO, John Afzelius-Jenevall (John). He has been instrumental in raising capital and providing structure to the aspiring unicorn. As stated in my previous article, he had an atypical experience compared to that of traditional CFO's, making him extremely valuable. Dr. Sutija emphasized that John was taking paternity leave versus getting a new job, and will be available, on a consulting basis, assisting with the transition. He will be close by, living in Gothenburg, Sweden, which is about the same distance as New York to Washington DC.
I speculate that John will be back when the company is "firing on all eight" with respect to production capacity in a few years. His versatile background, which includes engineering and military leadership, make him suitable for either operational or sales leadership.
Ole Ronny Thorsnes (Ole Ronny) will be taking over as CFO this fall. Dr. Sutija stated the following, answering my questions about his selection and addressing my concerns about the importance of this position:
The position, anonymously listed with a reputed executive search firm, returned 12 highly qualified candidates.
The candidates, in a competition, referred to as a " bake-off," researched and presented on Thin Film Electronics. Ole Ronny did the best job, not only presenting on the company, but also demonstrating an understanding of its vision.
The selection process considered all aspects, including the 70+ days required travel (considered high for a CFO).
John knew Ole Ronny from before from having worked at Orkla. He is around 33 years old and graduated in the top 5% of his class at NTNU (Norwegian University of Science and Technology). He studied Industrial Economics, which is considered an elite and difficult-to-enter program. Therefore, he has the required technical background and rigor to work at Thin Film.
Ole Ronny worked at McKinsey early in his career, building a strong analytical foundation and learning to give value-based presentations. Dr. Sutija and I agreed that McKinsey is an excellent school for future C-level executives.
While at Orkla, he was instrumental in transitioning it from an industrial conglomerate to an FMCG (fast-moving consumer goods) company. He also participated in major transactions, further demonstrating strategic thinking competency.
Understanding my view that executive leadership makes or breaks companies, especially the small ones, Dr. Sutija assured me that Ole Ronny has the right lineage and believes in the vision. Hence, he is ready to take on the challenge, enforcing structured and disciplined growth and making difficult decisions.
Financials
Sales revenue grew 51% YOY and 178x since 2011. Growth in sales as a percentage of total revenue (product sales made up 50% of the total revenue in 2015) shows lessening dependence on investments and grants. Furthermore, staffing more than doubled since 2013, while Total Payroll as Percentage of Revenue remained flat during the same period, demonstrating managed growth.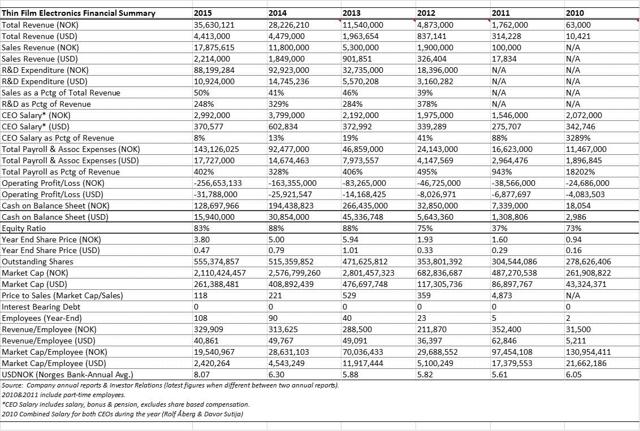 Fund Raising
Over the years, Thin Film built and leveraged a significant contact base in the US, as reflected in the Top 20 shareholders list. Recently, the company secured $42 million from Woodford Investment Management in exchange for 17.8% ownership (Dr. Sutija stated that the funding will support opex). Thin Film met Neil Woodford in early 2016 during an investment roadshow. Mr. Woodford, a renowned British investor, started his own £8 billion asset management company after spending 26 years at Invesco Perpetual. However, he was no stranger to Thin Film's management team. They also met him back in May 2013, when he was at his prior firm. Invesco invested NOK 280 million ($47 million), done in two tranches in September and October 2013, for a 23% stake at the time. Hence, Thin Film demonstrates financial astuteness, consistently being able to raise capital to fund both R&D and ongoing operations. It is positive that Mr. Woodford maintained his interest even after changing firms.
Q1-2016 Balance Sheet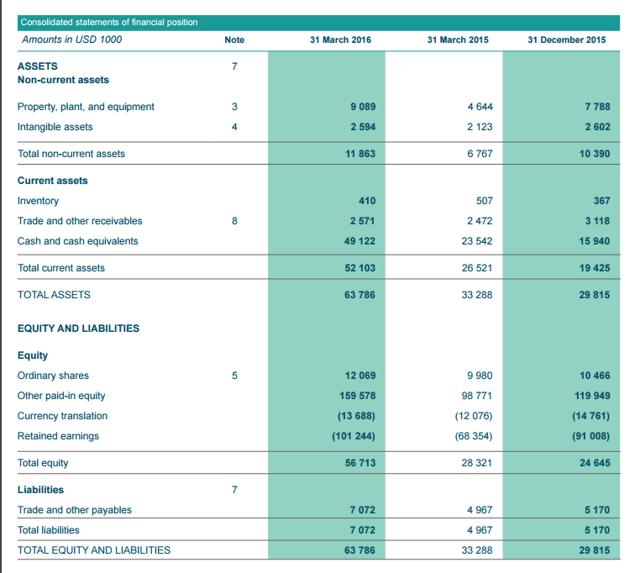 An excerpt from the Q1-2016 Quarterly Report
New Business
In addition to expanding new business with wine and top shelf spirits, Thin Film is entering into agreements that are not only growing the company's business, but also building its consumer branding, making it more visible in public. Two examples of many, highlighting the mass market potential:
Hopsy "Smart Beer" Delivery uses NFC Open Sense to educate the customer about the craft beer they ordered. Hopsy presents Thin Film's Open Sense technology in the same manner as the PC industry presents Intel's Pentium processors: a premium component. This business model parallels locally grown and delivered food concepts, offering Thin Film additional food and beverage opportunities.
YpsoMate "Smart Medical Injection" Device also use NFC Open Sense tag, helping the customer with tracking dosage regiments, injection and refill reminders, and relaying this information to doctors. Each tag has a unique identifier allowing for this personalized service. Swiss-based Ypsomed plans to invest around $51 million in the research and development of the next generation of injection and infusion systems. The technology will support medication delivery with intelligent electronic and software-based functionality.
Xerox Security Label Solution uses Thin Film technology, protecting brands and pharmaceuticals against counterfeiting. Alibaba (NYSE:BABA) founder Jack Ma stated that Chinese fake goods are as good or better than the real thing. High-end fashion product counterfeiting presents an enormous opportunity. In 2015, US Homeland Security and Customs and Border Protection made 28,865 seizures of counterfeit and pirated goods, totaling $1.3 billion (estimated MSRP). As industrial technology improves, making counterfeits more difficult to detect, smart brand security becomes essential.
Valuation
The following analysis considers the increase in production capacity from 40 million units to five billion per annum, converting to R2R manufacturing. The margin and R2R machinery utilization assumptions are conservative. Dr. Sutija was very comfortable with maintaining 30%+ margins, and highlighted noteworthy accounts, including Diageo (NYSE:DEO): the makers of Johnnie Walker, Baileys, Captain Morgan Crown Royal and numerous other brands. He mentioned that there were customers in the pipeline and new business cases, allowing for optimistic growth.
Sales Analysis

Valuation Based on Sales Analysis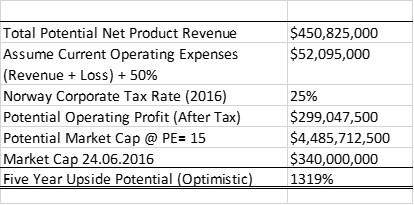 Hence, when Thin Film is running at full capacity, assuming a 50% increase in staff, the stock is a buy at current prices, accumulating steadily and opportunistically. Since the company does not have positive earnings, I would suggest medium- to high-risk allocation, making adjustments based on press releases and quarterly reports, verifying follow-through with the capacity ramp-up and sales growth. This stock requires revaluation at $1 billion market cap (12 NOK, or $1.44 share price, at current float).
Counter-Thesis
There are three points investors must consider:
Cash Burn
The latest reported cash position of $49.1 million and quarterly operating loss of $8.97 million (Q1-2016 Quarterly Report) gives the company 16 months to operate at current levels. Dr. Sutija acknowledged the $2.5 million per month burn rate and stated that the company does have options. Thin Film, being debt-free, can take on debt, develop partnerships or find alternative funding. Dr. Sutija emphasized that management runs a tight ship, flying economy class to the US, searching for bargains on Norwegian airlines.
The question for investors buying this stock is: Can Thin Film leadership pull this off, increasing sales in the next year, from $184,000 to almost $3 million per month? The long-term potential for this kind of sales certainly exists (based on the valuation analysis above), but the time frame is extremely tight. Investors will be betting on Thin Film's ability to raise capital, buying time until running at full capacity around the second half of 2018. Based on history and the company's established relationships, this risk appears to be mitigated with a high level of confidence.
Float
The number of outstanding shares continues to rise (see Financials above). Therefore, it is important to monitor this company using the market capitalization and price-to-sales ratios, which have been improving over time. Therefore, despite the rising float, Thin Film is increasing long-term shareholder value, moving towards profitability.
Currency Risk
We discussed the effects of the rapidly decline Norwegian krone over the past year. The company raises money in NOK and spends in US dollars. Most importantly, the currency fluctuations did not affect R2R implementation. Dr. Sutija acknowledged this and stated that the company is hedging accordingly.
Summary
Although near-term cash burn is an issue, the company is rapidly progressing in the right direction, signing new deals and introducing new applications for its products. 2018 will be a big year for Thin Film in terms of reaching full capacity and becoming profitable in the process. Evaluating the corporate annual reports since 2011, Dr. Sutija has kept his word, bringing NFC to market as promised in 2015.
Furthermore, Dr. Sutija reiterated during our interview that Thin Film was the first Norwegian non-oil play to raise significant money in the US. Although the current CFO is stepping down, Thin Film's management was very selective, finding a suitable replacement. Ole Ronny Thorsnes is a strategic thinker and capable leader able to maintain the firm's disciplined growth.
Therefore, we should expect Thin Film to stay the course, moving from R&D towards the marketplace. The company's valuation could reach $1 billion in the next three to five years, realizing increased production and sales.
Supporting Documents
Disclosure: I am/we are long TFECF.
I wrote this article myself, and it expresses my own opinions. I am not receiving compensation for it (other than from Seeking Alpha). I have no business relationship with any company whose stock is mentioned in this article.
Additional disclosure: I interviewed the firm on my own initiative to find out more details. I have not received compensation or favor from Thin Film Electronics.
Editor's Note: This article covers one or more stocks trading at less than $1 per share and/or with less than a $100 million market cap. Please be aware of the risks associated with these stocks.