In light of Brexit, we would like to draw investors attention to a chart which gained some popularity about a month ago based on Q1 Fed data on delinquencies and charge-offs for all commercial banks. The chart which some, including well-read blog ZeroHedge, claimed was indicative of a looming US economic recession, shows a rather worrisome spike in Business Debt Delinquencies that mirrors spikes we had before the Dot-Com Bubble of 2000 and the 2008 Financial Crisis.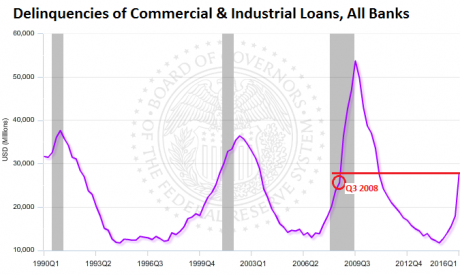 For reference, debt delinquencies are defined as debts that are 30 days or more past due, so a spike in the chart above means a greater number of business debts that are 30 days or more past due. Obviously, this can be a leading indicator of an economic recession as the delinquencies can turn into defaults.
It doesn't help that bank profits declined 2% in Q1, mostly because of an increase in loan loss provisions for future loss in commercial and industrial loans. Perhaps not so coincidentally, the C&I loan growth rate has dramatically cooled off recently. In other words, banks are becoming increasingly reluctant to loan money to C&I business because the number of delinquent debts is skyrocketing. Normally, this translates into a slower credit flow, lower corporate investment, slowed GDP growth, and overall weaker economic activity.
A recent Brexit highlights these issues. Global economic concerns are at new highs. The Pound is in free fall, and the Euro is sliding too. Indices around the world have taken a beating since the Brexit. Moody's has come out and said Brexit is bad for UK growth and debt. S&P went ahead and cut its UK credit rating. Goldman Sachs (NYSE:GS) is calling for a UK recession in 2017. The EU is looking at potentially burdening a mountain of debt and even further disintegration. Famed investor Jim Rodgers is calling for the worst bear market in this "lifetime", and his fears are mirrored by Alan Greenspan and others. Coupling these fears with the chart above makes it seem like a recession is looming and maybe even an inevitable ending to what has been a slow-growth US economic recovery since 2008.
Our opinion, though, is quite different. The chart above, while foreboding, isn't terribly promising. We are talking about a ~$15 billion spike in an $18 trillion economy. We do not really think there is enough magnitude here to trip up our steady economic growth (by comparison, the US economy weighed in at $14.7 trillion in 2008). Moreover, the 137% growth in delinquent debts since 4Q14 is energy-driven, and a rebound in commodity prices, specifically oil, should help push contain these delinquent debts. While commodities have taken a hit recently, a great deal are significantly up in 2016.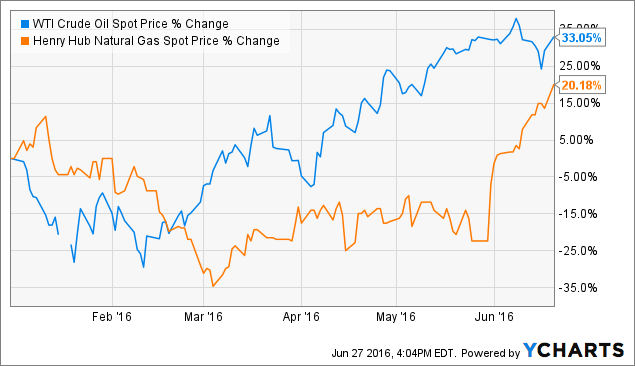 WTI Crude Oil Spot Price data by YCharts
As it relates to a repeat of 2008, there isn't enough leverage in the US to cause that sort of collapse. US banks have passed the stress test by a very comfortable margin, and that was in the event of a very severe global economic recession. Right now, we are looking at a global economic slowdown, not a severe crash.
The lack of leverage extends to average American as well. Some data from USA Today shows that two-thirds of Americans live paycheck to paycheck, with upwards of three-fourths of Americans earning less than $50,000 per year saying they would have trouble finding enough money to cover a $1,000 emergency. Despite this pessimistic read on Americans' balance sheets, Fed data suggests otherwise. The PSR (Personal Savings Rate) is right around 5.4%and is well above where it was heading into 2008. We argue that it seems Americans' balance sheets are actually much more well positioned for a recession than they were in 2008.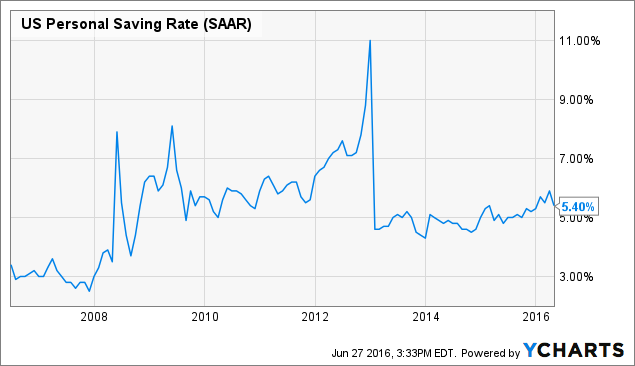 US Personal Saving Rate data by YCharts
In sum, we do not think that a $15 billion spike in an $18 trillion economy is enough to trip up an economy that otherwise seems to be gradually growing. We also think the current lack of leverage in the US prevents a serious economic collapse from happening soon. As of a result of these beliefs, we are buyers of the Brexit sell-off as we think the market is giving investors an opportunity to buy into high-growth names at value prices.
Disclosure: I/we have no positions in any stocks mentioned, and no plans to initiate any positions within the next 72 hours.
I wrote this article myself, and it expresses my own opinions. I am not receiving compensation for it (other than from Seeking Alpha). I have no business relationship with any company whose stock is mentioned in this article.