The Catalyst
No doubt we've all heard about the outcome of the United Kingdom's vote to leave the European Union. Regardless of opinions on the matter, this puppy is going down. In response to the shock, markets are in a bit of turmoil. Some stocks are rightly down 20%. The crashing of the pound combined with the integrated web that is international banking (considering London's great significance in this field) are inflicting quite a bit of havoc. Within this chaos though, opportunities are forming. Particularly here in the United States. As the Fed will now likely have a very hard time raising interest rates this year, our banking sector is having its 2016 gains destroyed in less than a week. We can look at this as a tragedy or as a possible opening for purchases. Here's just a small idea I have for looking for companies with limited exposure to the European market.
The Possible Play
Rather than get all crazy and chase after the Royal Bank of Scotland (NYSE:RBS), look at something away from the fight. I've written about PNC Financial (NYSE:PNC) before. As a more American based enterprise, there's less exposure to the chaos overseas as opposed to say JPMorgan (NYSE:JPM). Earnings have not been super kind to PNC as of late. Interest rates have remained low keeping financial revenues suppressed. In spite of this, the bank has handled low interest rates with great efficiency by keeping expenses in line through shifting levels of revenue.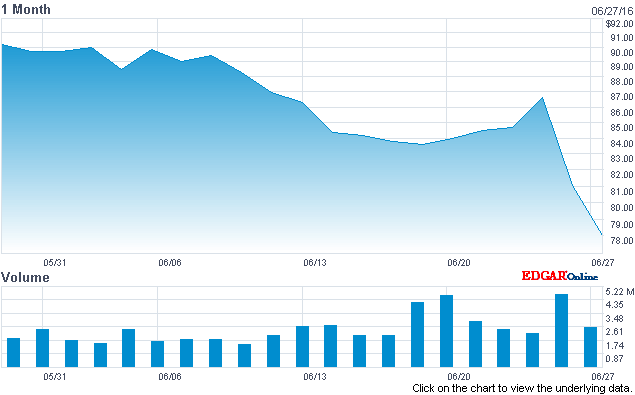 (Source: Nasdaq.com)
One of the biggest problems facing this stock is probably its ties to energy loans. The bank's chairman noted weaker energy credits as a key factor for its first quarter that was below expectations. Nonetheless, the bank is handling its difficult moment well. Since 2012, the banks interest based income has decreased by 13% to $9.32 billion in 2015. Despite this pullback, the company managed to increase net income by 33% during the same time frame. It did this through proper management of expenses in relation to shifting business, and by increasing non-interest income. Decrease in outstanding shares or not, I like a bank that can lose revenues but still increase earnings per share to over $7.
Since Friday morning, the stock is down over 9%. With a P/E of 10.7, that's a fair price. However it's likely that as the drama continues over the Brexit, the stock will go lower. Trading of Barclays (NYSE:BCS) has been halted as the losses were too high this morning. This sort of news will no doubt spur further unease about bank stocks in general. Furthermore, Yellen and the Fed could spur down financials by confirming that we can't raise rates this year due to the massive European uncertainty. This is a stock to have for next year. It's not going to get you much more than the 2.6% dividend for the time being, but when rates finally (more than a year from now) rise, the bank should be in a good position to profit considering all the expense-cutting measures (including automated procedures) currently being taken. If anything drives this stock south of $76, I plan on buying it in a heartbeat.
Disclosure: I/we have no positions in any stocks mentioned, but may initiate a long position in PNC over the next 72 hours.
I wrote this article myself, and it expresses my own opinions. I am not receiving compensation for it (other than from Seeking Alpha). I have no business relationship with any company whose stock is mentioned in this article.