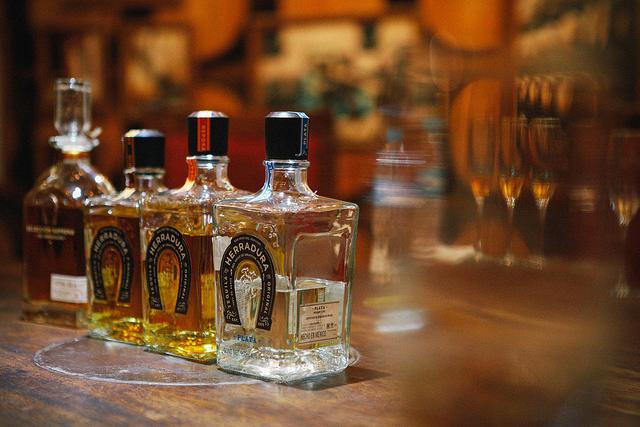 Brown-Forman (NYSE:BF.B) has attracted my attention consistently for many years now. Outstanding performances year in year out are exceedingly hard to ignore. From superb quarterly results (such as its previous Q3 2016 ones) to the underlying shareholder friendly activity at the business I have been kept impressed.
Yet now we have the FY2016 results before us, am I right to remain quite so impressed? Let's take a look.
Solid Top and Bottom Line Growth
On first inspection it was a somewhat mixed bag of reported results (Source: Brown-Forman company release):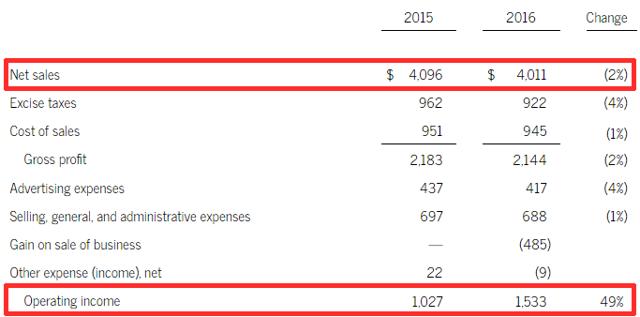 Whilst net sales dropped by 2%, operating income leapt 49%. Yet the actual underlying results were a very different affair. Revenue was particularly hard hit by foreign currency headwinds (a 6% negative effect). Operating income (also affected by currency) was inflated by the Southern Comfort and Tuaca sale.
Stripping these out we come out with more anticipated underlying figures: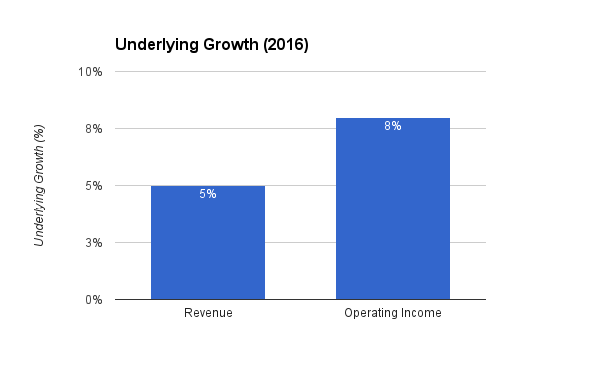 Not bad. Certainly, considering the tough nature of the trading backdrop, this is a great set of results. What is even more encouraging is that this has been underpinned by strong volumes growth from their basket of brands.
Jack Daniel's Family Continues Growth Record
This volumes growth is particularly true when you look at Brown-Forman's perhaps most iconic brand: Jack Daniels. In terms of pure volumes, it is by far the largest brand at Brown-Forman at nearly 65%: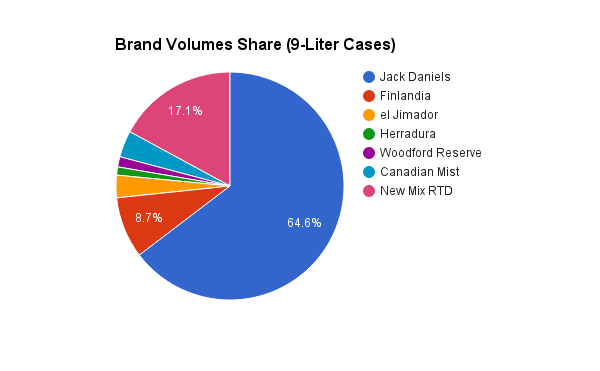 Nor has it looked as though growth is expected to slow anytime soon: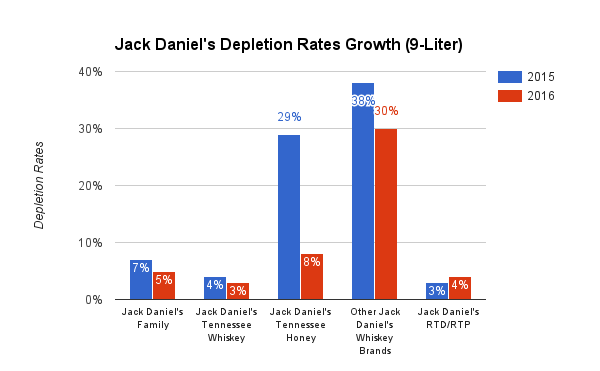 Looking at the brand family's growth a little closer, however, does show that it slowed a little in 2016: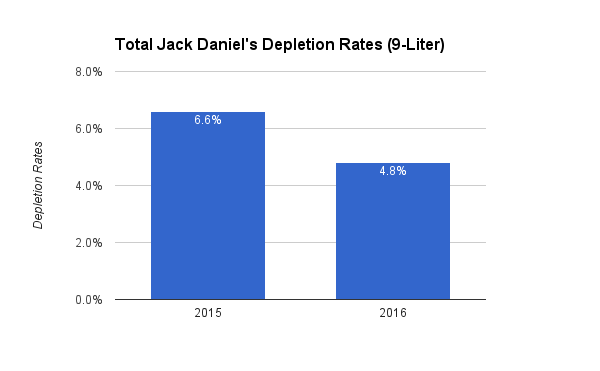 Nonetheless, it continues to grow strongly and ahead of the whisk(e)y segment generally. What is interesting is that despite robust growth figures for the classic Jack Daniel's whiskey, it is the innovations in their portfolio which have been driving growth higher. The Honey brands slower growth was to be expected as it was in 2015 that the company essentially rolled out its international expansion of the brand. This, inevitably, distorted the growth rate in 2015. Yet an 8% growth is hardly sluggish and, as the company explained in its 10-k filing:
Since its introduction in late fiscal 2011, Jack Daniel's Tennessee Honey has contributed significantly to our net sales growth. We estimate that JDTH is now the 13th largest brand in the world priced over $25 per 750ml bottle.
That is an impressive achievement in half a decade. Again this emphasizes the quality of Brown-Forman's management. They have consistently proven themselves effective brand managers, deriving great shareholder value from the assets already at their disposal and expanding upon them intelligently.
Although still only a modest contributor to the volumes sold under the Jack Daniel's brand, it has grown rapidly to nearly 7%: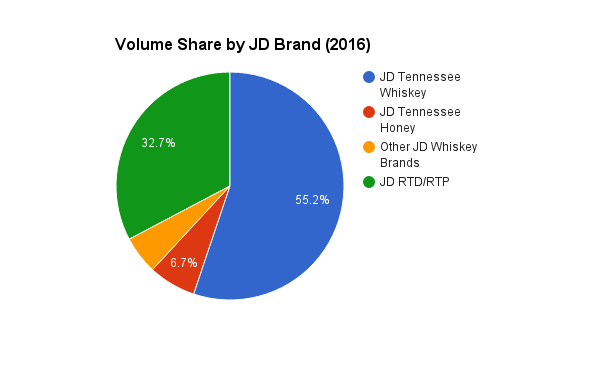 This is very encouraging to see. Flavored whisk(e)y remains the fastest growing part of the whisk(e)y sector. JD Honey has proven to be a very lucrative play on this faster growth.
Finlandia Sale?
Jack Daniel's is, of course, not the be-all-and-end-all of Brown-Forman, however. Vodka had been a star performer growth wise until the last few years. For Brown-Forman their vodka strategy has centered around Finlandia. They gained control of the brand in 2004 after having built a stake in it since 2000. In total the purchase cost them about $200 million.
In general, it has served up good results. Up until 2013 it was growing at a very rapid pace. In 2013 it added a further 6%. Yet since then its volumes have dropped off sharply: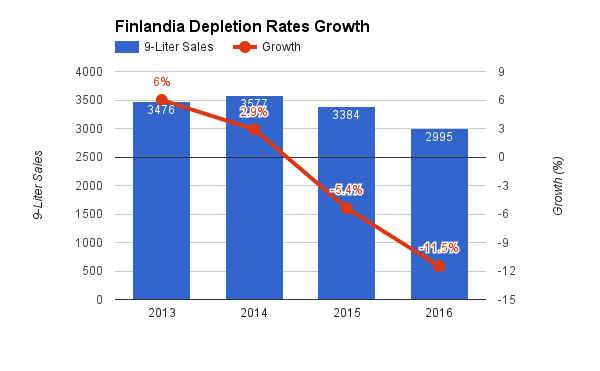 When set alongside the recent growth rates of the other brands, it is clear that Finlandia has been the weakest performer of Brown-Forman's non-Jack Daniel's brands alongside much smaller whiskey-brand Canadian Mist: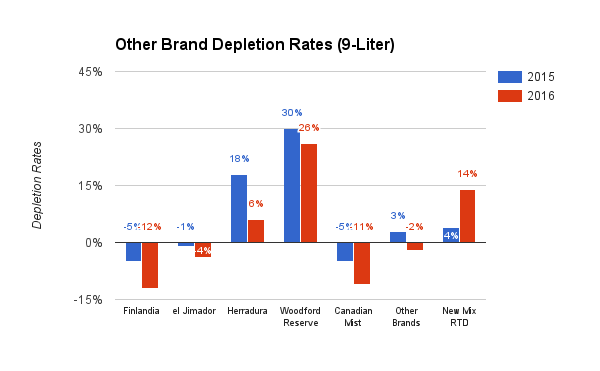 This is clearly a worry. Though discontinuation of Finlandia-branded RTD drinks in Mexico and tough conditions in core markets of Poland and Russia accentuated volumes declines it is clear the brand (like the vodka market generally) is struggling for growth and has been some time.
Indeed, rumours have spread that Finlandia may be next for sale, following Southern Comfort and Tuaca out the door. This may be a justified view. At the end of the year, Brown-Forman seemed committed to a vague plan to boost sales in Poland and Eastern Europe generally. In contrast other shrinking volume brands saw more concrete plans. Canadian Mist was to see "new packaging and related marketing programs in an effort to stabilize the brand." Similarly, el Jimador's volumes appeared to have suffered chiefly due to the company strategically raising prices in Mexico which long-term should work out for the company's bottom line but, clearly, in the short-term will see volumes pressured.
Whether or not this truly suggests that Brown-Forman are losing interest in the brand and the vodka sector generally is still unclear. Yet what is true is that should Finlandia leave the portfolio then Brown-Forman will have pretty much become a pure whisky and tequila play.
Vodka and Whisky Play
Yet is that really such a bad thing? Well, elsewhere I have expressed a tiny concern about making the portfolio too focused on whisky and tequila brands. Diversification, after all, is an attractive quality.
My view on this, however, has softened. My reasoning for this is twofold. First, Brown-Forman's much smaller portfolio has proven far more nimble than its bigger rivals (Diageo (NYSE:DEO) and Pernod Ricard (OTCPK:PDRDY)). What is more, predictions suggest that whisky and tequila look set to continue to outpace other spirits growth in coming years (Data source: IWSR Global Forecast 2015 to 2020):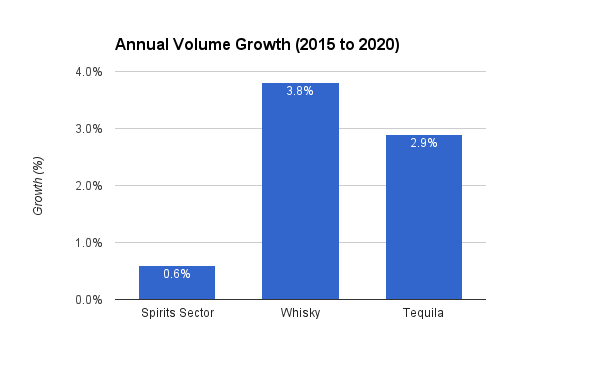 Indeed, the pace of growth in whisky is set to see it sell more by volume than vodka by 2020. If this comes to fruition, Brown-Forman looks exceedingly well-placed to benefit from this growing interest. I'd still argue that holding a more diverse spirits portfolio has its attractions, though.
Nonetheless, even if Brown-Forman should divest Finlandia and focus on whiskey and tequila for now it would retain the financial strength to support future acquisitions should growth shift to another area of the spirit space. Again, Brown-Forman has proven very nimble at stepping back from slower growing spirits segments and focusing attention on those growing faster. I have little doubt they would be able to achieve this again in the future.
Cash Flow Strong Despite Heavy Investment
This is certainly apparent when you realize that Brown-Forman's cash flow strength offers it plenty of flexibility. Current brands can be further invested in and new brands (with better growth prospects) added as required. Similarly, should growth in whisky and tequila segments slow, it should provide plenty of dry powder to realign the portfolio to any new growth segments in the spirits space.
That being said, FCF performance in 2016 was not quite as spectacular as I had expected. Certainly the sales of Southern Comfort and Tuaca made an impression. Yet FCF levels were the lowest they had been for some time: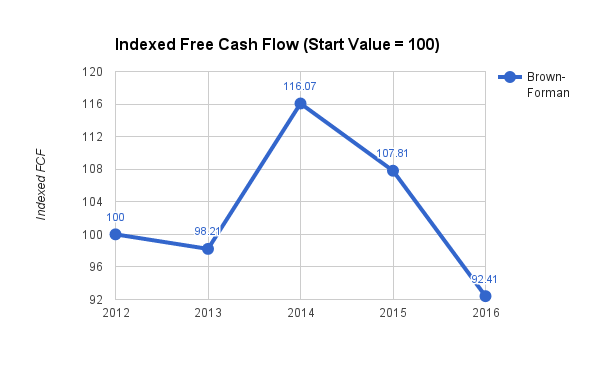 Digging deeper shows the reason, however: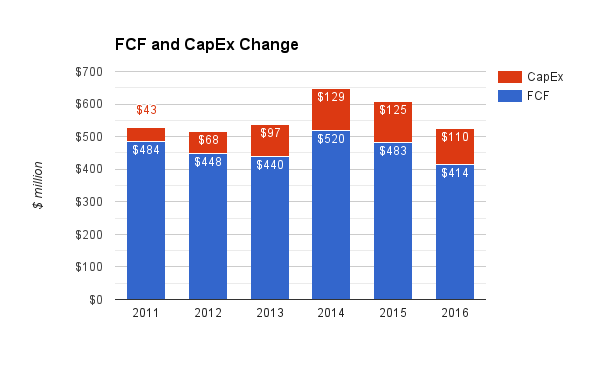 Clearly operating cash flow at Brown Forman (that is, FCF and CapEx added together) has shrunk since 2014. A chief cause here has been the strengthening USD. Yet FCF has been depressed in recent years chiefly due to high levels of CapEx. As the company explained in their annual filing:
Expenditures over the three-year period [2014 to 2016] primarily included investments to maintain and expand capacity as well as improve production efficiency, reduce costs, and build our brands. Capital investments remained high in fiscal 2016, with continued spending on production operations representing approximately 80% of the total spend.
A large amount of this CapEx has therefore been "growth" rather than simply "operational" CapEx. That is a good sign. Nor is this expected to slow anytime soon:
For fiscal 2017, we expect capital expenditures to range from $150 million to $200 million. Our capital spending plans for fiscal 2017 include continued investment in our whiskey strategy, led by an expansion of our bottling facilities at Jack Daniel's. Capital spending will continue for the Old Forester Distillery, Woodford Reserve Distillery, and the Slane Castle Irish Whiskey Distillery. We also plan to expand warehousing for our newly acquired Scotch business. We expect capital expenditures in fiscal 2018 and fiscal 2019 to remain high as we complete several key, multiyear projects.
CapEx will continue to grow as a result leaving FCF likely to remain relatively depressed. What is clear from their listed investments is that they are very much doubling down on whisky. Brown-Forman appear to be winding up for the next stage of their growth. In the meantime, as they drop cash-generative but slow growing brands and invest heavily in current brands and facilities FCF will remain weaker than the recent past.
Healthy and Hearty Business
Yet, although weaker, it is hardly likely to be weak. Should operating cash flow remain at $524 million in 2017 with a $200 million spent on CapEx (the upper limit suggested above), FCF will come out at around $324 million.
Assuming an 8.5% growth in dividends to $1.42 per share on the 204 million shares outstanding, this would still cover the dividend payments (amounting to about $290 million). This is not even to mention the $263 million in cash held on their books at the end of 2016. Nor does it consider the strength of its debt position which leaves it with a credit rating that compares favorably even to the secure A grade spirits behemoth, Diageo (to find out how I normalise credit ratings read here):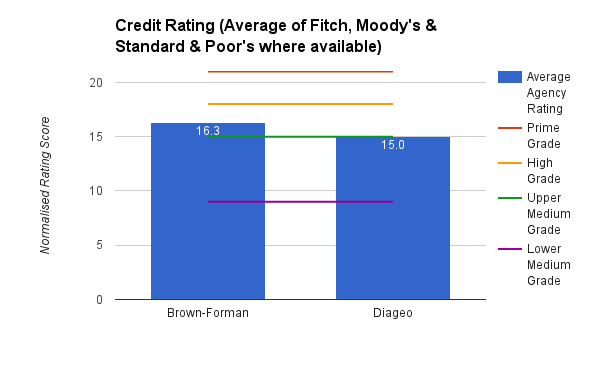 Put simply, this is a company with plenty of financial firepower to continue its epic investment in growth and accelerate it as necessary. What is more, it's almost constant nipping and tucking to its brand portfolio has shown how this nimble, well-managed spirits company can continue to outperform its rivals.
Brexit: A Cautionary Tale
One word of caution I would like to raise is related to Brexit (I have discussed this in light of my Diageo purchase elsewhere). Needless to say, I doubt any of you reading this are unaware of the seismic happenings over the Atlantic. Yet it certainly does impact Brown-Forman. The company derives a lot of revenue from Britain and Europe more generally: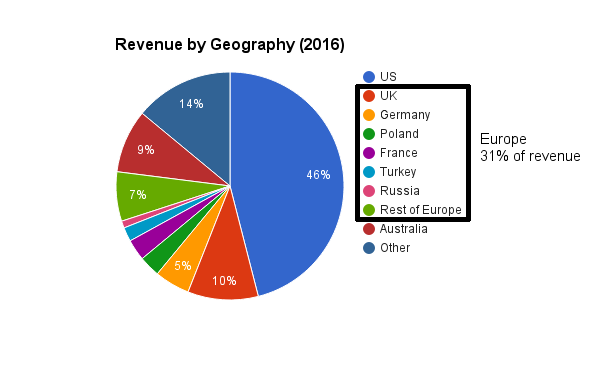 With currency weakness in the British pound on the back of the vote, expect to see reported top and bottom line figures suffer a little as a result from what is Brown-Forman's second-largest market after the US.
The weakness in the Euro will also have an impact. Yet this is complicated by the fact that of the five next biggest European markets for Brown-Forman only two actually use the Euro (Germany and France).
Currency headwinds aside, however, I'd expect performance to remain robust from these markets. Nonetheless, this will cause a results headache in the immediate term for Brown-Forman and is something to keep in mind heading into FY2017.
Conclusion
Brown-Forman continues to impress me. It ability to remain ahead of the curve in the spirits sector through bold portfolio realignments continues to generate incredible returns. Management has also continued to show itself effective in managing the financial performance of the company. Cash flow generation remains highly impressive despite their high-levels of investment in future growth at the company.
Threats remain, of course. In the immediate term, currency headwinds are likely to exacerbate reported results trends in recent years. Similarly, growing focus upon whiskey and tequila will see it increasingly exposed to a slowdown in growth across those spirit segments. Nonetheless, Brown-Forman has proven adept at responding to such threats in the past. I have little doubt the same will be true in the future.
I continue to stand by my assessment of Brown-Forman's fair value at around $93 to $97 which I explained over a month ago. The absolute valuation may remain high, and the yield relatively low at ~1.45%. Yet this is a high-quality, defensive company with a remarkably strong looking future growth profile which has continued to perform strongly for many years. Relative to its historic valuation, it still looks fair value at present. There is little not to like about it, and the FY2016 results seem to confirm this. In light of the growing volatility in the markets right now, if you're looking for a little more security Brown-Forman may well appeal.
Notes
Unless otherwise stated, all graphs and the calculations contained within were produced by the author. Creative Commons images reproduced from Flickr user rickymontalvo.
Disclosure: I am/we are long DEO.
I wrote this article myself, and it expresses my own opinions. I am not receiving compensation for it (other than from Seeking Alpha). I have no business relationship with any company whose stock is mentioned in this article.