ABB Ltd. (NYSE:ABB) is a standout in both the power and automation industries. The company is well positioned in these markets given its growing focus on growth sectors. With the rapid changes occurring in the power and automation industries, demand for its innovative solutions will likely increase moving forward. The company's forward-looking nature should help it take even more market share in the future.
ABB's integration of IoT (Internet of Things) and other emerging technologies in many of its major segments like automation and energy should provide the company a huge advantage moving forward. Its businesses, i.e., electrification products, discrete automation/motion, process automation, and power grids, are all undergoing change at a relatively rapid pace. As ABB is well prepared to capitalize on such change, the company will likely increase its presence in these industries.
Prepared to Take on the Changing Power Landscape
The power industry is undergoing massive transformations. With the rise of renewables, the power industry is being forced to adapt to a rapidly changing reality. The way society produces and consumes energy is set to change dramatically as renewable energies - solar, in particular - become more popular. For instance, the growing adoption of distributed solar is forcing many utilities to make increasingly significant changes to their grid infrastructures. Despite the fact that distributed solar currently only accounts for a tiny fraction of the world's energy generation, electric utilities are terrified of distributed solar's disruptive potential. However, such disruptive potential is great news for ABB, as much of its power business is geared towards electric grid transformation.
The company has positioned itself at the forefront of the transitioning power industry. It offers power solutions across the entire value chain, from generation to distribution solutions. The rapid transition towards a greener grid puts ABB at an advantage compared to its peers given the company's relatively heavy focus on grid integration of green technologies. In fact, it has one of the largest portfolios of string inverters, which are essential components of solar systems. With the growth of residential solar, in particular, ABB will have a huge growth opportunity in the solar inverter arena alone.
The company offers a host of other essential power solutions in areas such as transmission, transformers, and communication networks, all of which are essential to the power industry. Considering the fact that utility customers alone make up for ~35% of ABB's total revenue, the company is smart to offer such a wide array of grid solutions. As distributed solar continues to gain traction, the utility grid infrastructure in the general power industry is set to change in a massive and unprecedented way. This puts ABB in a great position, as demand for its products will likely skyrocket.
The Automation Trend Is Set to Accelerate
Automation is transforming industries at an unprecedented rate. Workforce automation is becoming increasingly necessary for productivity and efficiency gains, which is great news for ABB given its leadership position within the automation industry. Its dominance in the discrete and process automation industries should allow the company to take advantage of the world's growing reliance on automation.
ABB's automation businesses like industrial robotics and modular manufacturing systems will likely be large growth drivers moving forward. More and more companies are adopting such automation technologies in order to gain a competitive edge. In fact, ABB has installed more than a quarter million robots so far, making it one of the largest industrial robotics manufacturers in the world. This installation figure will likely grow at an exponential rate given how fast automation is taking hold in an increasingly wide range of industries.
ABB is also leading many other automation segments such as control systems and programmable logic controllers. A diversified portfolio of such technologies/solutions will allow the company to take full advantage of the growing automation trend. As automation accounts for ~60% of ABB's total revenue, this industry will be more important than ever to its future success. Given its focus on utilizing newer technologies like those found in IoT to capitalize on promising markets, the company will likely stay ahead of the competition for the foreseeable future.
The trend of automation will likely accelerate moving forward.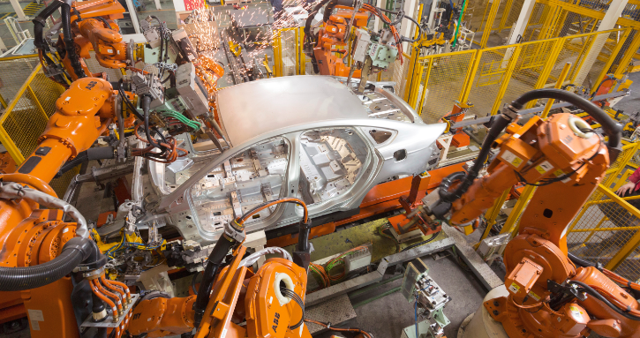 Source: ABB
Near-Term Challenges
There are currently many macroeconomic difficulties facing ABB, which has been driven by factors such as low oil prices, currency volatility, and slowdowns in some key markets. While many of these near-term challenges may continue to persist over the next few quarters, long-term demand for the company's power and automation technologies will likely grow at a robust pace. Given its growing presence in a plethora of emerging growth markets, such as energy efficiency, renewable integration technologies, and electric transport, the company should be able to overcome its near-term macroeconomic difficulties.
Conclusion
ABB is one of the largest power and automation companies at a valuation of $47 billion. Its revenues have stagnated over the past few years, with the company reporting $34.16 billion in revenue in 2015. However, ABB still has more upside given its growing market dominance in the rapidly evolving power and automation industries. Moreover, it is growing a strong presence in promising emerging markets, putting the company at an advantage against its peers. ABB's focus on emerging businesses like smart grids, renewable technology integration, electric transportation, robotics, and IoT technologies should help drive the company to new heights.
Disclosure: I/we have no positions in any stocks mentioned, and no plans to initiate any positions within the next 72 hours.
I wrote this article myself, and it expresses my own opinions. I am not receiving compensation for it (other than from Seeking Alpha). I have no business relationship with any company whose stock is mentioned in this article.