MACROECONOMIC NEWS
BOLIVIA. It is trying to sell up to US$1 billion in 10-year bonds in the coming months, according to Economy Minister Luis Arce Catacora.
BRAZIL. The central bank's latest survey showed that the private sector increased its 2016 IPCA forecast for the 6th consecutive month to 7.29% (versus +7.25% a week ago). Analysts continue to expect a 2017 IPCA of 5.5%. Regarding their GDP estimate, they kept both the 2016 and 2017 forecasts unchanged at -3.4% and +1.0% YoY. As for the Selic (benchmark) rate, analysts see it ending the year at 13.25% (versus 13.0% expected last week).
BRAZIL. According to the Getulio Vargas Foundation (FGV), consumer confidence rose in June by 3.4 points MoM to 71.3 points - its highest level in the last 12 months. The increase was entirely determined by improved expectations, as the indicators that measure the perception of the current situation were stable.
BRAZIL. CAGED job creation reported 72,615 layoffs in May (versus 62,844 layoffs in April). Breaking down the figure, services (-36.9k), retail (-28.8k), construction (-28.7k), and manufacturing (-21.2k) were the main culprits behind the performance. Conversely, farming (+43.1k) and public service (+1.4k) prevented job creation from falling further. Six of the eight categories comprised in the figure decreased in May.
MEXICO. Larger manufactured exports and lower imports of goods helped to somewhat reduce pressures on international trade, with May's trade deficit falling 53% YoY to $0.53 billion. Overall exports increased 0.3% YoY despite 10.0% and 1.3% retreats in mining and car exports.
Latin American ETFs (June 27): Latin America (NYSEARCA:ILF) -2.3%, Argentina (NYSEARCA:ARGT) -2.6%, Brazil (NYSEARCA:EWZ) -1.6%, Chile (NYSEARCA:ECH) -1.9%, Colombia (NYSEARCA:GXG) -4.8%, Mexico (NYSEARCA:EWW) -2.2%, Peru (NYSEARCA:EPU) -1.6%.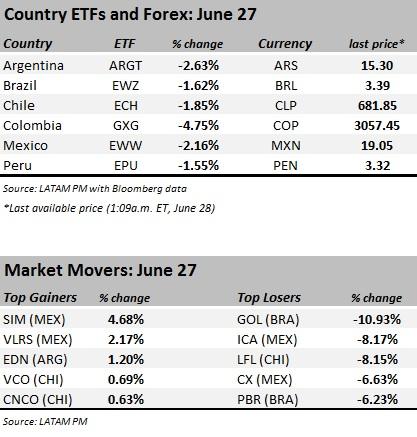 CORPORATE HIGHLIGHTS
ARGENTINA. Power company Pampa Energia (NYSE:PAM) will hire four banks to lead a new international bond sale that will refinance debt taken out to fund its acquisition of Petrobras's Argentine (NYSE:PZE) assets. According to chairman Marcelo Mindlin, Pama plans to hire Deutsche Bank, Citigroup, ICBC and Banco Galicia to lead the bond sale, which will refinance a $700 million bridge loan extended by the same lenders.
ARGENTINA. Petrobras Argentina is preparing an up to $500 million bond sale to fund a tender for all of its $300 million of outstanding 5.875% 2017s. It seeks to raise 10-year money and has mandated Citigroup and Deutsche on the deal.
BRAZIL. Petrobras (NYSE:PBR) fell 8.8% as Brexit-driven uncertainty continues to affect oil prices, which dropped (COA) 0.8% in Monday's trading session. Brent settled down $1.25, or 2.6%, at $47.16 a barrel. It fell to a seven-week low of $46.69 during the session. Oil is being affected by the USD's strength triggered by the Brexit. Still, it is noteworthy that Brexit itself should not have a material impact on oil demand, as UK represents less than 2% of the world's consumption.
MEXICO. After reaching the 20-day-limit suspension, ICH and Simec (NYSEMKT:SIM) will be taken out of the IPC and IRT, effective Monday (yesterday). ALPEK and VOLAR (NYSE:VLRS) will join the indices. SIM and VLRS ADRs rallied 4.68% and 2.17% during Monday's bearish trading session, respectively.
MEXICO. Empresas ICA (NYSE:ICA) expects to delist from the New York Stock Exchange (NYSE) after July 17 as the company struggles to restructure its debt burden. The ADR fell 8.2% on bloody Monday.
PERU. Odebrecht (BRAZIL) sold 57% of Rutas de Lima to Brookfield. The Canadian private equity firm purchased 57% of the company's Peruvian highway concessionaire, Rutas de Lima, in a deal estimated at R$1.3-1.5 billion. Odebrecht Latinvest retained 25% of the venture and a construction contract with the concessionaire. The Brazilian conglomerate is also close to selling a gas pipeline in Peru and a sanitation subsidiary.
Disclosure: I/we have no positions in any stocks mentioned, and no plans to initiate any positions within the next 72 hours.
I wrote this article myself, and it expresses my own opinions. I am not receiving compensation for it (other than from Seeking Alpha). I have no business relationship with any company whose stock is mentioned in this article.
Editor's Note: This article covers one or more stocks trading at less than $1 per share and/or with less than a $100 million market cap. Please be aware of the risks associated with these stocks.