The S&P 500 was breaking below 2000 Monday morning for the first time since it bounced last March. The excuse-du-jour is Brexit. The reality - obscene overvaluations and record leverage - are always a train wreck waiting to happen. It's just a question of which event finally serves as the breaking point.
Nice start the past 2 days, but a long, long way to go in the mean reversion that will complete the coming bear market. The fundamental and economic supports for stocks have been absent for at least 3 years+. But as shown here in Cory Venable's chart of the S&P 500 since 2013, there is also little to offer any technical support between current levels and 1800 on the downside.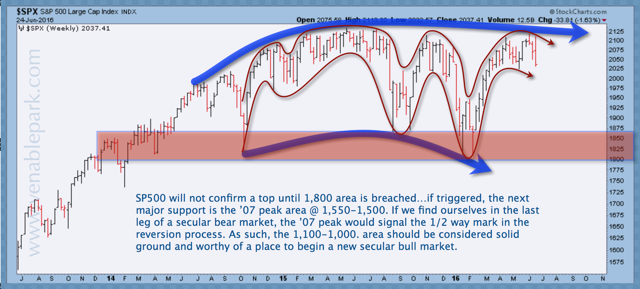 When 1800 breaks, we should look for the 2007 cycle peak in the 1550 area for the next cyclical test. If prices break below the 2007 cycle top, then the 2009 lows will be back in focus as potential downside.
With all the usual long-always-advisers/managers out in full force to assure everyone that Brexit is no game changer or cause for panic, I would agree. It's not Brexit that is the justification for a major repricing cycle in risk assets. It's the years of reckless financial policies and decisions that have earned the next loss cycle.
Looking to shelter life savings from the likelihood of a major market storm is not panic – it's very wise risk management.
Disclosure: No positions