In the past few weeks, Visa has experienced escalating public backlash from merchants supporting their card networks as Wal-Mart (NYSE:WMT) Canada announced that it will be banning the use of Visa cards across Canadian stores due to high credit fees. The latest challenger in this increasingly tense relationship between merchants and network providers has been Kroger (NYSE:KR), as the company filed a lawsuit against Visa (NYSE:V) citing its dispute over the accepted authorization methods of debit transactions throughout its stores. In addition, the company highlighted the potential threat that Visa poses to its current business model as the network provider continues to intimidate the retail organization in accepting more expensive payment infrastructure. Currently, Kroger only accepts debit transactions if the customer inputs their PIN (Personal Identification Number) to confirm the settlement. WSJ writer, Robin Sidel, broke the news on Monday and writes:
"Kroger said the dispute began after it was informed by Visa that the configuration of its new terminals didn't comply with Visa's rules. Like Wal-Mart, the grocery chain required customers to verify debit-card purchases with a PIN instead of a signature. Visa's rules require merchants to allow customers to choose between a PIN and a signature verification."
While this has been an accepted practice for the industry, Visa has been pushing to update existing terminals in an effort to offer customers the option of either inputting their PIN or using their signature to confirm the settlement. When considering the overall dispute, Visa has been pushing partner merchants to install newer versions of payment equipment in order to accept this additional form of customer confirmation in line with EMV standards.
In the past few years, major card network providers like Visa and MasterCard (NYSE:MA) have been leading the implementation process of EMV chip technology. This technology encompasses the transition to microprocessor chips from older versions of cards which were dependent upon magnetic strips. While the push to secure these payment networks has been proactive in response to the increasing importance of data security, the implementation of these processes has been costly for many major retailers which need to upgrade existing terminals and standards to comply with EMV regulation. Surprisingly enough, the retail sector has already gone through a cycle of updating terminals as national retailers like Kroger have previously invested in payment equipment to begin accepting micro chips. However, in light of the recent security concerns and public data breaches, network providers have once again decided to push newer payment terminals which would require further investment by retailers like Kroger. The company is rightfully angered by such suggestions as only just several months ago, Kroger made the switch to solely enforcing PIN entry to confirm debit transactions.
With 2,700 stores across 35 states, the company has argued that it can't reprogram the "tens of thousands" of terminals to give cardholders this additional choice. In response to this pushback, which has been increasing throughout the industry, Visa has levied fines of $7 million against the retailer while threatening to cut off Kroger's ability to accept all Visa debit cards. This tactic which has bullied the chain in the past is one of the main arguments in the company's filing as $29 billion of Kroger's 2015 annual revenue came from Visa debit card transactions. By threatening to cut off its ability to accept debit cards, Kroger argues that Visa has "threatened catastrophic consequences for their business model." The suit declares that Visa has no rational basis to make such a threat unless it "intended to punish Kroger." It remains evident that Visa uses such tactics during the negotiation process in order to push businesses to accept cost increases rather than losing a major payment avenue. While Kroger's ability to stand up for itself is a positive in the thinly regulated card industry, there is a great debate comparing the security of customer signatures versus PIN entry.
When considering the level of security for the two types of settlement methods, from Visa's perspective, a signature is a much safer option to confirm a transaction rather than using the cardholder's PIN. Looking at the major data breaches seen across the retail space in the past few years, the risk of losing millions of card numbers and related PINs is a major concern for companies like Visa. Not only does the firm financially lose in such a situation, but it also harms the consumer as the trust that exists throughout the card network lessens in response to this breach in security. On the other hand, PINs are used to access ATMs and other banking services which have become part of the consumer's financial lifestyle. By integrating the PIN into their purchasing habits, retailers build off this secure infrastructure to offer quick and convenient settlement methods which ensure a more accurate form of confirming the identity of the cardholder. A study published by Joanna Stavins from the Boston Fed confirms that there is a marginal advantage given to PIN users as seen in the graph below.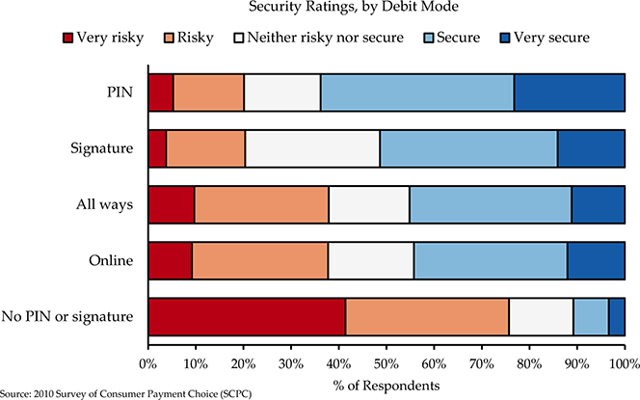 Source: BostonFed.org
From Visa's perspective, the company believes that offering the option between signature and PIN for transaction confirmation is a much better way of protecting consumers. However, based on the study conducted by the Boston Fed, results are skewed towards Kroger's perspective as debit transactions confirmed by PIN remain the safest choice. In addition to the security of the confirmation, there are several cost advantages for Kroger as the company is able to route these PIN-confirmed transactions to the consumer's bank through the most cost-effective network. This is possibly another major reason why Visa has pushed for the signature option as it is more beneficial for the company because it forces Kroger to use their infrastructure. WSJ writer, Robin Sidel, confirms this question of security and cost:
"Wal-Mart and Kroger say PIN-debit transactions are more secure than when customers sign for the transaction, which can be easily copied. The PIN transactions can also be cheaper for the merchant because they have a choice of routing the transaction among a number of competing networks."
As with any other major business decision, the current dispute illustrates the tension between the high upfront costs that come with longer-term intangible investments. For Kroger and many other retailers throughout the global economy, it has become increasingly difficult to remain competitive through a low-cost strategy as supply chain optimization technology reaches a point of maturity while business facing expenses related to card networks continue to increase. In search of protecting such margins, many of the larger retailers have begun to question these security costs which only threaten Visa's business model. On the other hand, by acting to reduce current costs, the company forgoes the potential longer-term protection that comes with higher standard security measures. In the end, it is up to the majority shareholders to determine which strategy is better suited for the respective company.
Not The First Time For Visa
While tension has always existed between the merchants and network providers, recent suits filed by Costco (NASDAQ:COST), Wal-Mart, and Home Depot (NYSE:HD) signal an alarming change to the negotiation leverage that Visa holds over businesses. Historically, Visa found itself in a very profitable position as the company offered a valuable avenue of transaction volume for the merchant through its growing card network. The shift towards a cashless economy has created an enormous amount of shareholder value as the company offers businesses more convenient payment technologies. There is no doubt that the company remains a top player in the payment space as its network of 2.4 billion cardholders made up around 56% of global credit transactions in 2015 totaling $27.9 billion.
However, when considering the increasingly more public disputes with major retailers, investors should properly appreciate the risk that comes with this pushback. Not only is the retail industry among the major business lines for the company, these partnering merchants contribute a significant portion of Visa's 42.86% of overall transaction volume coming from the US market. Just under two weeks have passed since Wal-Mart announced its decision to ban Visa Credit Cards and the company is already facing further public tension from another major retailer. Although Wal-Mart's recent dispute with Visa was centered around the company's credit card infrastructure, Wal-Mart International has already filed a similar lawsuit against Visa in May of this year. The company cites in its lawsuit that Visa forced Wal-Mart to accept a signature option for its debit card transactions which are considered "fraud-prone" by representatives. The similar tactics employed by Visa during its negotiations with Wal-Mart signal to investors that this intimidation has become an industry practice for major card networks which will only fuel future tension.
These public disputes have set a precedent which encourage more businesses to resist the leverage imposed by Visa throughout the payment space. There is a major moral conflict as investors consider which of the two sides represents the interests of the consumer. While companies like Kroger offer services and goods for millions of Americans to shop and take advantage of low prices, the tradeoff that comes with lesser security is an intangible risk ignored by the business. On the other hand, Visa's effort to increase consumer protection is masked by the company's intimidating tactics which hide an agenda which would force partnering business to route their transactions through Visa's own payment infrastructure. The limited regulation of the network industry allows companies like Visa to act in such a manner which only encourages the company to pass on majority of the cost increases experienced throughout its infrastructure to partnering businesses. The outcome of Kroger's lawsuit is nominal when considering the larger shift in leverage and pushback from Visa's major clients and investors should be worried.
Conclusion
When considering the payment landscape in North America, 2016 has marked a year of significant change for the card network provider as merchants begin to question the cost structure of the sector. The recent dispute between Kroger and Visa illustrates this shift as major North American retailers are beginning to stand up against the beneficiaries of an oligopoly in the network space. Visa's request to implement the signature feature in confirming debit transactions is questionable at best as both studies and merchants agree that PIN confirmation is more secure. With the option of routing these debit transactions through the lowest cost network, Visa is unable to capture much of this transaction value if the consumer remains on this PIN infrastructure. By suggesting to update the existing payment systems at Kroger stores, not only is the company acting in its own interest to capture further revenue but it is also putting the customer at risk. With Kroger already paying hundreds of millions of dollars in network fees, the potential cost increases needed to implement this signature feature is not worthwhile from a business perspective. For investors, this dispute once again raises the question of whether the network provider or retailer is acting in the better interest of the overall market. Regardless of the outcome from this lawsuit, Kroger's stance against such a force in the payment space confirms a major change in the dynamic relationship between merchants and card providers.
Disclosure: I/we have no positions in any stocks mentioned, and no plans to initiate any positions within the next 72 hours.
I wrote this article myself, and it expresses my own opinions. I am not receiving compensation for it (other than from Seeking Alpha). I have no business relationship with any company whose stock is mentioned in this article.