We constructed a heatmap that contains most of Latin America's ADRs - or at least the most traded ones. We also included country ETFs. We will provide you with a weekly update and some basic analysis on what is happening in our all-LatAm sample. Comments are based on closing prices for the previous week (i.e., Friday, June 24).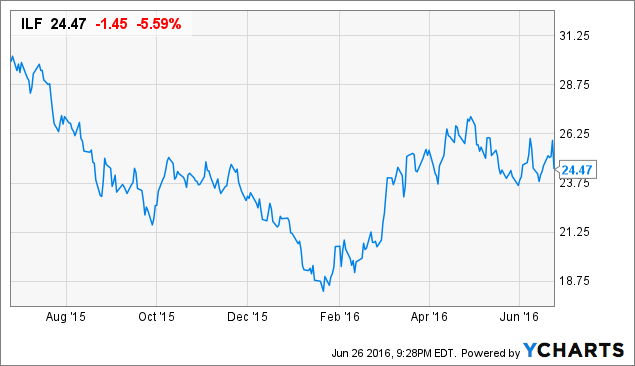 Weekly gains in Brazil and Colombia despite Friday's sell-off following Brexit
The Colombia fund, Global X MSCI Colombia ETF (NYSEARCA:GXG), and the Brazil fund, iShares MSCI Brazil Capped ETF (NYSEARCA:EWZ), closed up 1.5% and 1.3% respectively despite Friday's sell-off. The Argentina fund, Global X MSCI Argentina ETF (NYSEARCA:ARGT), along with the iShares MSCI Chile Capped ETF (BATS:ECH) and the iShares MSCI Mexico Capped ETF (NYSEARCA:EWW) were the major losers closing the week, down 3.1%, 2.9% and 2.8% respectively. The iShares Latin America 40 ETF (NYSEARCA:ILF) closed lower 2.1%.

Argentina ETF dropped the most across LatAm even though the central bank cut interest rates
ARGT ended the week 3.1% lower, 14 out of 16 stocks from our sample closed down and 10 of them fell more than 1.5%. Banco Macro (NYSE:BMA) posted the greatest weekly loss of 7.2%, followed by BBVA Banco Frances (NYSE:BFR) 6.5% and Ternium (NYSE:TX) 5.6%. Only Real Estate companies IRSA (NYSE:IRS) and BrasilAgro (NYSE:LND) closed up 0.7% and 3.9%, respectively.
During the week, the Argentinean central bank, BCRA, cut its 35-day key interest rate by 75 bps to 31.5%. BCRA said that latest data on inflation expectations shows that the market is expecting that consumer prices ease through the rest of the year to levels close to 1.5% MoM in 4Q16 - in line with BCRA's target by year-end. It is noteworthy that the central bank has slashed its key rate by a total of 650 bps in debt auctions over the last seven weeks.

Brazil up despite sell-off
Brazil's EWZ closed 1.3% up despite Friday's decline of 4.2%. Only 5 out of 22 stocks in our sample posted a decline. The EWZ now shows the second best 6-month performance of 29.1% in our LatAm sample.
Mixed macro news: Brazil's annual inflation scored its lowest level in 12 months, climbing 0.4% MoM and 8.98% YoY in mid-June. On the other hand, President Michel Temer said the government may start talks with states to renegotiate their debts with Brazilian development bank BNDES. On the political front, the instability continues. Brazil's Supreme Court agreed to add more criminal charges to those already pending against suspended House Speaker Eduardo Cunha in connection with a corruption investigation centered on state-run oil company Petrobras (NYSE:PBR).
Oi (NYSE:OIBR) plunged 54.1% after it filled for bankruptcy on no agreement with bondholders. Brazil's largest fixed-line phone carrier and no. 4 mobile operator is seeking protection from creditors on $19.2 billion in liabilities. As Brazilian state banks account for about 17% of Oi's total debt, Finance Minister Henrique Meirelles said the bankruptcy petition poses no threat to the country's state banks or the wider financial system. In the meantime, state-controlled Banco do Brasil is planning to book additional loan loss provisions of $192 million.
GOL Linhas (NYSE:GOL) rallied 43.2% on removal of investment caps from foreigners in airlines. Brazil's lower house approved a bill allowing for up to 100% of foreign ownership in airlines. The bill is pending approval from the Senate.
Petrobras closed 1.8% up despite the announcement that its Petros pension fund made a loss of $6.77 billion in 2015, pressuring to increase contributions to reduce the deficit.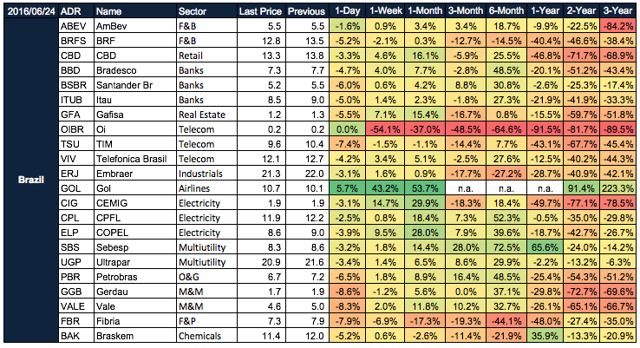 Chile ETF hit by global volatility
ECH closed 2.9% down as the second-largest loser in our LatAm country sample.
Cencosud (NYSE:CNCO) declined the most in our sample by 3.3%. Despite the decline of the Chilean equity market, Itau Corpbanca (NYSE:ITCB) posted a strong 5.6% weekly return as Goldman Sachs started coverage with a Buy rating and 18% potential return.
Chile's central bank survey showed that economists left inflation expectations practically unchanged at 3.1% for the next twelve months. Analysts expect policymakers to keep the MPR stable during the next six months at 3.5%. They also think the central bank will hike rates by 25 bps to 3.75% in the next 12 months.
Pension funds' AUM grew 1.7% MoM to US$163 billion. Exposure to fixed income increased by 80 bps to 64.2% of total AUM. Exposure to local equities decreased, after four months of growth, by 40 bps to 7.6% of total AUM, accruing US$12.3 million.
Congress approved the government's proposal to gradually increase the monthly minimum wage by 26,000 pesos (around $39) to 276,000 pesos ($412) within 18 months. The minimum wage hike proposal is now ready to be signed into law.

Mexico took the largest hit across LatAm in Friday's session with the weakest economic growth released during the week
The EWW had the largest decline (6.7%) of our LatAm sample following Brexit. The EWW maintains the worst 6-month performance of our LatAm sample with a -7.5% return, and is the only one with negative return in the period.
Cemex (NYSE:CX) and America Movil (NYSE:AMX) were down 7.3% and 2.6% in the week, respectively, taking a strong hit from Brexit. For Cemex, 12.7% of EBITDA comes from Europe (half directly from UK), and for AMX, 9% of EBITDA comes from Europe.
Empresas ICA (NYSE:ICA) ended up 6.3% despite Friday's decline of 10.5%, as odds of debt restructuring seem better. Short interest for the stock decreased 38.9% in June.
Santander Mexico (NYSE:BSMX) closed 3.9% lower despite Barclays' analyst upgrade to "equalweight" from "underperform".
In April, Mexico's monthly economic indicator, IGAE, contracted 1.2% MoM (+0.7% YoY) - the weakest annual print in 29 months. Manufacturing and construction slowed down sharply versus 1Q16, driving industrial output to retreat 0.9% YoY in April - a low since September 2013. Meanwhile, services lost steam at the beginning of the second quarter, growing at a 16-month low of 2.0% YoY - down from the 3.9% annual hike averaged in 1Q16. Lastly, the primary sector expanded for the third time in the year, advancing 1.9% YoY in April (versus +2.4% YOY in 1Q16).
Consumer prices kept marking record lows at the end of 2Q16, with CPI (the inflation proxy) climbing 0.02% MoM to an annual figure of 2.55% in mid-June - the lowest-ever figure for a similar period.

Andean countries: Colombia up despite increase in interest rates, and Peru affected by Brexit

GXG closed up 1.5%, with Avianca (NYSE:AVH) posting the strongest gain of 3.3% in our LatAm sample.
Ecopetrol (NYSE:EC) posted a 1.5% weekly decline. During the week, the state-owned oil company offered 20 oil & gas blocks for auction, with 138 companies from 21 countries attending the auction launch. EC has been selling assets in a bid to fund its investment plan - down by $1.8 billion this year.
Colombia's central bank raised its benchmark interest rate by 25 bps to 7.5% on June 22nd, 2016, as expected by consensus. This was the 10th consecutive hike, bringing borrowing cost to a fresh seven-year high, with an aim to curb rising inflation.
The Peru fund, the iShares MSCI All Peru Capped ETF (NYSEARCA:EPU), closed the week 1.1% lower, with Credicorp (NYSE:BAP) and Southern Cooper (NYSE:SCCO) leading the losses specially in Friday's session following Brexit.
Disclosure: I/we have no positions in any stocks mentioned, and no plans to initiate any positions within the next 72 hours.
I wrote this article myself, and it expresses my own opinions. I am not receiving compensation for it (other than from Seeking Alpha). I have no business relationship with any company whose stock is mentioned in this article.
Editor's Note: This article covers one or more stocks trading at less than $1 per share and/or with less than a $100 million market cap. Please be aware of the risks associated with these stocks.