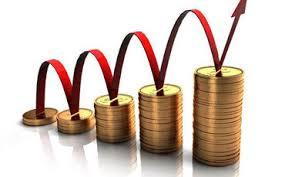 Omega Healthcare Investors Inc. (NYSE:OHI) is a U.S. REIT. It invests in long-term healthcare facilities. As of March 31, 2016, the REIT owned or held mortgages on 969 skilled nursing facilities, transitional care facilities, and senior housing facilities, with over 90,000 available beds located in 42 states (plus the U.K.) and operated by 83 third-party healthcare operating companies. These are well diversified both by state and by management company. As of Q4E 2015, no operator exceeded 10.0% and no state exceeded 11.2% of OHI's rent/interest.
The charts below describe the facilities type distributions and revenues distributions of the portfolio of Omega Healthcare Investors Inc. .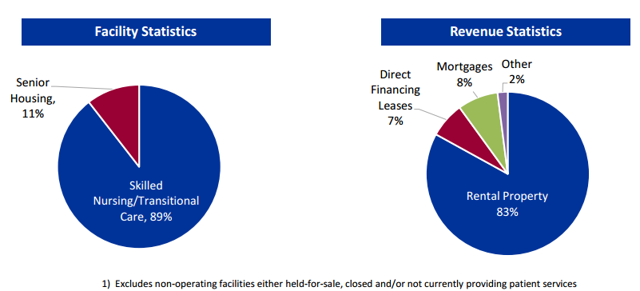 Thus far the US has not been "technically hit with a new recession", although it has had an earnings recession for more than a year. Q2 2016 is as of June 26, 2016 estimated to have an S&P500 blended earnings decline of -5.2%. If this happens as forecast, that will make five consecutive quarters of earnings declines. Notably the last time that happened was from Q3 2008 - Q3 2009 (the last recession). Those paying attention know that the US government has since changed the way US GDP growth is calculated. This puts a big question mark around the current "non-recession" declaration by the government. It also makes one think that a new "technically correct" recession may be much worse than many are imagining. The recent Brexit makes such a recession much more likely. The UK is already forecast to go into recession as a result of the Brexit; and many think that the EU will follow shortly thereafter. On top of that there is worry that countries such as Spain and Italy may leave the EU. Even France is thought to be considering such a move. Any such additional exits from the EU would likely both ensure an EU recession; and such further exits would likely deepen any recession that may occur in the EU.
With this in mind, it seems appropriate to be conservative in your investments. FactSet gives investors a clue for immediate term investments. The Q2 2016 earnings decline estimate for S&P 500 companies is only -2.8% for companies with more than 50% of their sales within the US. It is -9.9% for S&P 500 companies with less than 50% of their sales within the US. Remember the blended decline overall is -5.2% for Q2 2016. OHI has almost all of its sales within the US, so it should qualify as a stock investors might still want to invest in. The chart below shows OHI's geographic distribution.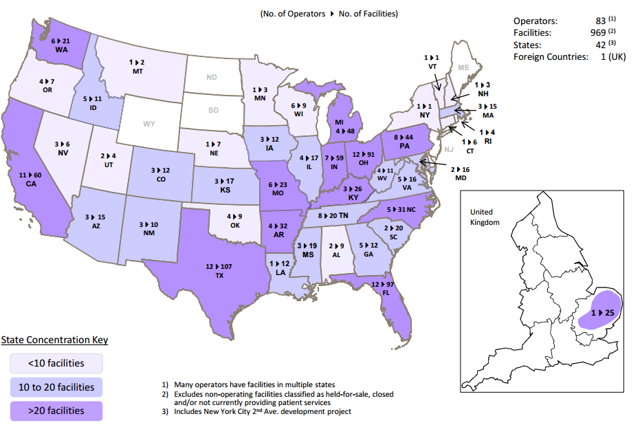 The right side inset shows that 25 of OHI's 969 facilities are in the UK (about 2.6%). Additionally in Q2 2016, OHI acquired another 10 facilities for $113.8 million.
"The 10 care homes with 743 registered beds were added to the existing operator's 12-year master lease which has an initial cash yield of 7% with 2.5% annual escalators."
The operator may shield OHI from problems a bit. However, it may have to seek some form of relief from OHI eventually if the UK goes into recession. Any relief OHI gives to its operator(s) will hurt OHI's profits.
Further the leases are almost certainly in British Pounds or in Euros. I didn't find out which yet. Either means a decline in revenues, since the USD spiked upward against both currencies after the Brexit was approved by UK voters. The Euro is currently down about -3.6% since immediately before the Brexit at the time of this writing June 27, 2016. The British Pound is down almost -12% after the Brexit. The new 10 facilities bring the total of UK facilities to 35 (about 3.6% of OHI's total properties). This is still a small percentage. However, the loss in value of the GBP is large; and the loss in value of the EURO is non-negligible.
After saying all of the above, OHI still looks to have a rosy future in the longer term. The fundamentals for growth in the healthcare system in the US are extremely strong due to the Baby Boom Generation reaching retirement age for many years to come. Plus those Baby Boomers will be aging still further for many years after that. As the graphic below shows about 43% of all hospital patients are sent to some form of post acute care after a hospital discharge.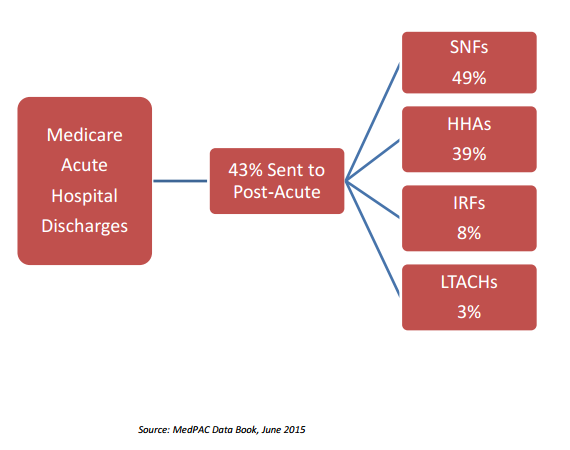 As readers can see, 49% of those 43% that are sent on for further care are sent to Skilled Nursing Facilities (or about 21.5% to SNFs). SNFs are 89% of OHI's business. That business should grow steadily as the US population ages. The charts below show some of the positive demographics.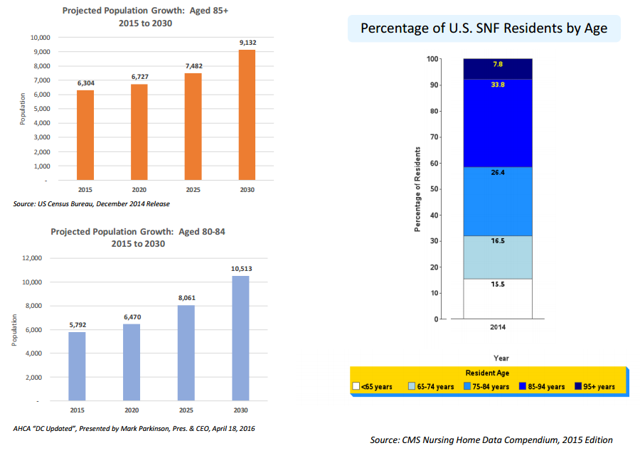 The charts below elucidate the situation a bit more.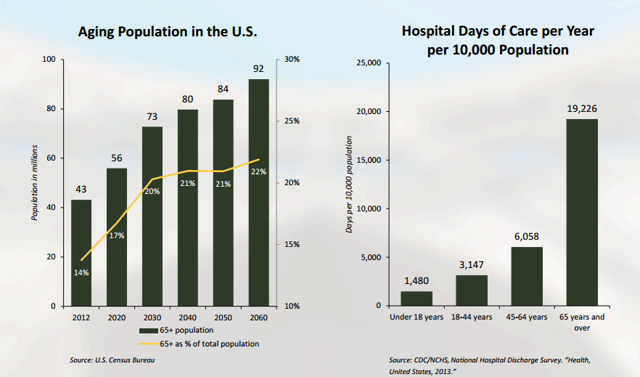 As readers can see, the retirement age population is growing quickly. Adding to that, the hospital days of care per year per 10,000 in this population is roughly triple that of the 45-64 year old age group. In other words the aging of the population will be multiplied three or more times. When you look at the steady growth in Medicare and Medicaid rates per person per day, you have to be encouraged that revenues for OHI and other companies in its industry will grow rapidly (see charts below).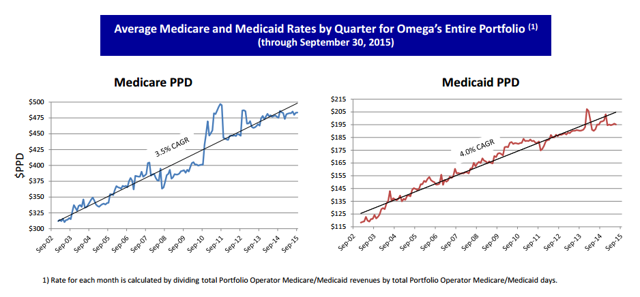 On top of the growth in per person per day revenues, there will also be a growth in the overall volume of Medicare and Medicaid days. This is substantiated by the demographic information presented above. However, it is still nice to see much the same thing from the Medicare Trustees' Report (see chart below).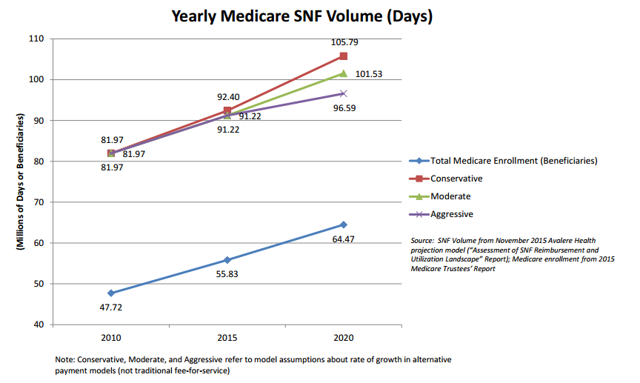 Again this growth ensures revenues growth for OHI and many other companies in its business. Fundamentally OHI appears to have a very solid business model. It seems as close to a sure thing as you can find in the stock market. Further it pays an approximate 7.05% annual dividend. This should help investors wait through any troubling times.
OHI has good current fiscal fundamentals too. It had TTM rent coverage of 1.8x (EBITDARM) and 1.4x (EBITDAR) as of December 31, 2015. These made it an industry leading company (see chart below).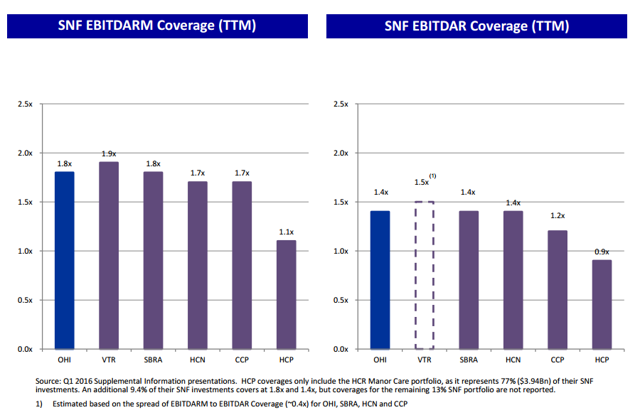 OHI is also set up extremely well with 89% of its loans expiring after 2020. 56.7% expire after 2024. In other words, if we see another credit crisis soon (and/or a recession), OHI should not suffer from it unduly.
To further add to readers positive feelings about OHI, the chart and tables below give comparative information about OHI's outperformance relative to its industry peers.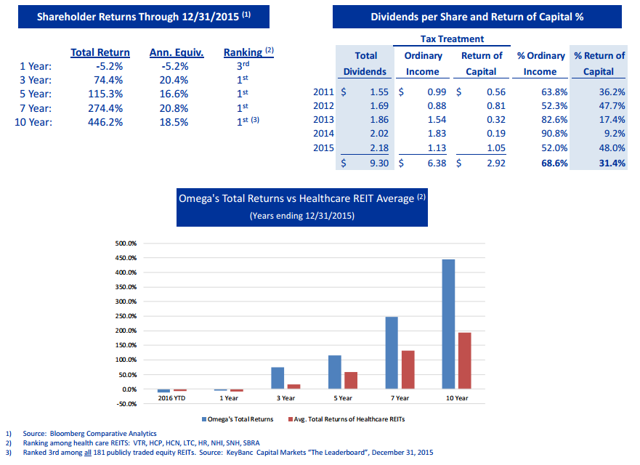 Those who are paying attention will see that there is a lot of return of capital. That is good in the sense that it is not taxable as a dividend. Also OHI's capital does not really seem to be disappearing. Therefore investors will likely have to eventually pay capital gains taxes on the capital paid out as "Return of Capital". This may be a tax issue, so investors will likely want to make sure they can track this issue, although the company is likely doing it for you.
In Q1 2016 (the near term) OHI looked good. Operating revenues for Q1 2016 were $212.9 million. Operating expenses were $116.3 million. Broken down, the expenses were:
$62.4 million of depreciation and amortization expense
$34.6 million in provisions for impairment on real estate assets
$7.7 million of general and administrative expense
$5.1 million in provisions for uncollectible straight line receivables
$3.8 million of acquisition and merger related costs
$2.8 million in stock-based compensation expense.
NOTE: The $5.1 million in provisions for uncollectible straight line receivables primarily resulted from the company repositioning assets from one operator to another. Other income and expense was a net expense of $39.7 million.
With respect to Funds From Operations in Q1 2016, Reportable FFO was $153.6 million ($0.77 per common share) compared to $79.6 million ($0.59 per common share) in the year earlier quarter. Adjusted FFO was $165.4 million ($0.83 per common share) compared to $95.5 million ($0.71 per common share) for the year earlier quarter. Funds Available For Distribution -- FAD -- were $0.75 per diluted share, while the declared Q1 2016 dividend was only $0.58 per share. This is only a 77% payout ratio, which is generally thought to be safe. The dividend to AFFO ratio is only about 70%.
OHI had $494 million in new investments in Q1 2016. As of May 4, 2016, OHI already had $220 million in new investments in Q2 2016. Even without any further new investments in Q2 2016, OHI is most of the way to its $745 million guidance for new investments in 2016 ($494 million + $220 million = $716 million).
For Q2 2016 OHI raised its stock dividend to $0.58 per share from $0.57 per share. This was the fifteenth consecutive quarterly increase. With it the annual dividend is now about 8% higher than in the year ago quarter. OHI also reclassified 24 properties as "to be held for sale". It recorded $35 million in impairment charges to reduce the price of 14 properties to the prices they were expected to sell at. It had 25 total properties "held for sale" as of March 31, 2016. The 25 facilities are all expected to be sold in 2016. Six of these were the result of operators notifying OHI of their intent to exercise their options to purchase the property. On April 29, 2016, four of the six were sold for $24 million. This will result in a $9 million gain for Q2 2016. The operator also paid $55.4 million to OHI to repay several facility mortgages and notes.
Guidance For FY2016 For AFFO And FAD (unchanged after Q1):
Annual FAD is expected to be between $2.95 and $3.00 per diluted share for FY2016.
Annual AFFO is expected to be between $3.25 and $3.30 per diluted share for FY2016.
NOTE: If you quadrupled the AFFO for Q1 2016 of $0.83 per diluted share, you would get a FY2016 AFFO of $3.32. This is already better than OHI's FY2016 Guidance. Since OHI will continue to buy properties throughout 2016, it seems likely that the company will exceed the current FY2016 AFFO guidance. No doubt OHI is being conservative so as not to disappoint. The Brexit could derail profits to some extent. OHI may not be as susceptible as many; but it still has to worry. Still I am currently looking for a good beat on the FY2016 AFFO Guidance. Such a beat would help the stock move upward. Even without an upward movement in the stock, OHI still pays a 7.05%+ annual dividend. It will pay you to wait for better days if there is a recession.
The 10 year chart of OHI provides some technical direction for a trade/investment.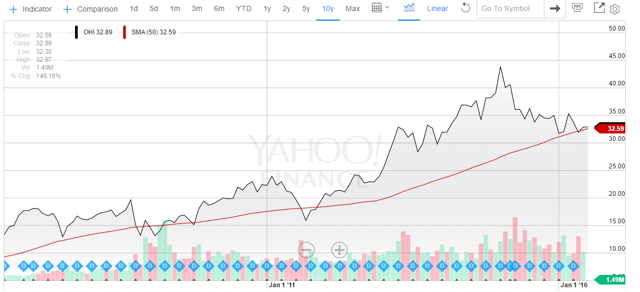 The ten year chart above shows that OHI held up well during the Great Recession. One hopes that it will be able to do so again, if there is another recession soon. We are over due for a BEAR MARKET. The average is one every four years. The current bull market is already over seven years long. The Brexit could be one of the triggers for a new BEAR MARKET. If you want to get some income without worrying unduly about the long term viability of the stock you are invested in, OHI looks like a good long term choice. I rate it a buy.
Due to the increased risk to overall markets and world economies after the Brexit, I might lower that rating to a low buy. Still OHI is a keeper, and it does have little risk outside of the US. That means it should see only secondary effects due to the higher USD. It should be relatively safe in the short term, and its fundamentals look fantastic for the longer term. It is a stock that serious income investors have to like. Additionally the Price/AFFO ratio is about 10.04 using the midpoint of the FY2016 AFFO Guidance of $3.275. If you use four times the Q1 2016 AFFO result of $0.83 per share, it is an even lower 9.91. If you postulate that the Guidance is an underestimate, then the Price/AFFO for FY2016 could be even lower. That makes OHI a great bargain even in a worrisome economy.
NOTE: Some of the fundamental fiscal data above is from Yahoo Finance.
Good Luck Trading/Investing.
Disclosure: I/we have no positions in any stocks mentioned, but may initiate a long position in OHI over the next 72 hours.
I wrote this article myself, and it expresses my own opinions. I am not receiving compensation for it (other than from Seeking Alpha). I have no business relationship with any company whose stock is mentioned in this article.