Over the last 30-day period I've offered three publications alerting investors and traders as to the troubling deterioration in the price of SPDR S&P Retail ETF (NYSEARCA:XRT) shares. The price depreciation has come on the heels of a very disconcerting trend with brick & mortar retailers and after reporting a dismal Q1 sales quarter. Below are links to the aforementioned articles for ease of use and reference:
Within each article I aimed to identify the trending deterioration of the XRT while juxtaposing it with a necessary retest of the May trading low.
As I look at the XRT chart, we may have to retest the most recent low trading price of $39.95 before calling a bottom in retail stocks. If the chart breaks and closes below $39.95, retail stocks will likely be in for a long summer leading up to Q2 2016's reporting cycle.
On May 18th, the XRT hit $39.95, which formed a base for which shares bounced and headed higher with the overall market. From $39.95, shares rose as high as $43.16 on June 8th and in spite of all the negative sentiment surrounding retailers and their struggles with growing sales. One of the reasons that the XRT has bucked the overall trending brick & mortar retail sales trends is that its two most heavily weighted holdings are Amazon.com (NASDAQ:AMZN) and Ulta Salon (NASDAQ:ULTA). These two stocks represent over 3% of the total XRT. Both stocks have exhibited great strength in recent quarters. The chart below identifies the top holdings within the XRT.
| | | |
| --- | --- | --- |
| Company | Symbol | % Assets |
| Amazon.com, Inc. | | 1.54 |
| Ulta Salon, Cosmetics & Fragran | | 1.48 |
| Outerwall Inc. | | 1.47 |
| The Michaels Companies, Inc. | | 1.42 |
| Caseys General Stores, Inc. | | 1.39 |
| Big Lots, Inc. Common Stock | | 1.39 |
| Dollar Tree, Inc. | | 1.37 |
| Burlington Stores, Inc. Common | | 1.33 |
| PriceSmart, Inc. | | 1.33 |
| Liberty TripAdvisor Holdings, I | | 1.31 |
Whether it was the recent dismal Bed Bath & Beyond Q1 2016 reported results or the Brexit pressuring the major indices, the XRT did break through the $39.95 level on June 27th as expected. Shares of XRT hit an intraday low on this trading day of $39.50, but did not close below $39.95, which is of great significance. Given the backdrop of a significant 6% correction in the major averages, give or take, over the last 2 trading sessions and the XRT closing above $39.95, I would be of the opinion a "dead cat bounce" awaits the ETF. This bounce may prove to recapture $41-$42 a share.
Having said that, some key economic data will be out this week that may also impact investor sentiment for retail stocks and the retail sector. In fact, over the next two days there are a series of key economic data reports to be delivered on the economy and the consumer at large. The table below presented by MarketWatch offers the data reports forthcoming:
TUESDAY, JUNE 28

8:30 am

Gross domestic product

1Q

1.1%

0.8% (1Q)

9 am

Case-Shiller home price index

April

--

5.4%

10 am

Consumer confidence index

June

93.5

92.6

WEDNESDAY, JUNE 29

8:30 am

Personal income

May

0.3%

0.4%

8:30 am

Consumer spending

May

0.4%

1.0%

8:30 am

Core inflation

May

0.2%

0.2%

10 am

Pending home sales

May

--

5.1%
This will be our last look at Q1 GDP in the United States and with it expectations are for an upward revision as indicated in the table above. Additionally we will get a reading on consumer confidence on June 28th. The University of Michigan's consumer sentiment for the United States came in at 93.5 in the last June 2016 report, down from a preliminary reading of 94.3 and a final of 94.7 in the previous month. Consumers were less optimistic about current conditions and future economic prospects. Consumer Confidence in the United States averaged 85.91 from 1952 until 2016, reaching an all time high of 111.40 in January of 2000 and a record low of 51.70 in May of 1980. Expectations are for a modest increase in consumer confidence for the upcoming report. But it should be recognized that this report was likely derived post the Brexit vote and thus void of the greatest viable read on consumer confidence. The following chart identifies U.S. Consumer Sentiment results as delivered in the University of Michigan Consumer Sentiment Survey over a one-year period.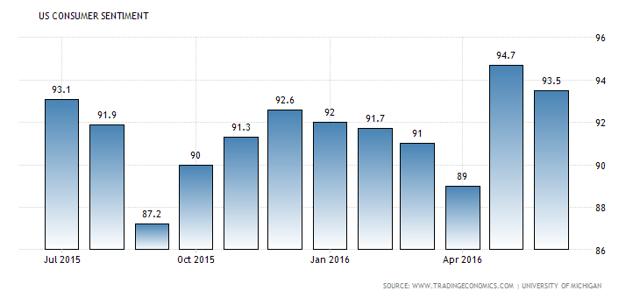 A more broad and real time indication of the strength or weakness of the consumer will come on June 29th by way of the May Personal Income and Consumer Spending report. Both are expected to show a down tick from the previous monthly report. The down tick comes on the heels of a stellar April consumer spending report, which showed the largest surge in consumer spending since August of 2009 as consumer spending rose 1% during the period. It remains to be seen as to whether or not consumption will maintain strength in light of Brexit and what appears to be modest economic growth through Q1 and Q2 2016.
I'm not of the opinion that the current trend in consumer spending and retail sales is sustainable and with modest strength. With each passing year, consumption growth is decelerating and retail sales are moving in lock step with that trend, hovering around growth trends akin to the pre-financial crisis level. Please see the graphic below for a depiction of monthly retail sales.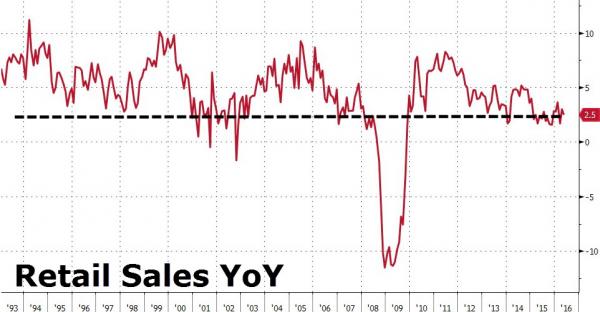 As one can see from the graph above, retail sales have even produced declines on several occasions. As such and given the surmounting headwinds for retailing in the United States, I believe that a near-term dead cat bounce in the XRT is a selling opportunity and not a buying opportunity. Shares may become over extended beyond $42 for which may be presented an opportunistic short trade.
Disclosure: I/we have no positions in any stocks mentioned, and no plans to initiate any positions within the next 72 hours.
I wrote this article myself, and it expresses my own opinions. I am not receiving compensation for it (other than from Seeking Alpha). I have no business relationship with any company whose stock is mentioned in this article.