Buy when everyone is fearful?
Not everyone is still fearful. The way market professionals are behaving belies the fear being peddled by the news media. Here is how their issue-by-issue price range expectations compare to the market quotes of some 2500 widely-held stocks and ETFs, in Range Index terms.
Figure 1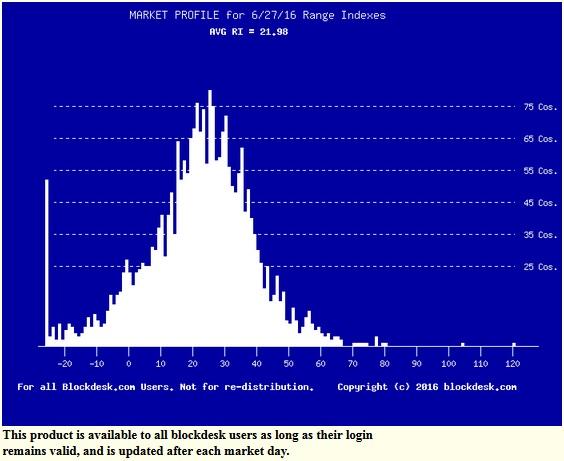 (used with permission)
Now the typical widely-held equities are priced with near 4 times as much upside price change potential as downside exposure. The population now averages a Range Index of ~22, compared to their Friday average of 25. It has been lower only on rare occasions, never to remain more than a few days.
The count of issues with current market prices radically below the bottom of their forecast reasonable price ranges has climbed to over 50. They're on the bargain rack.
Here is how the Market-Maker [MM] hedging implied forecasts for the VIX Index have changed day by day over the past week, leading up to the UK vote, and following it:
Figure 2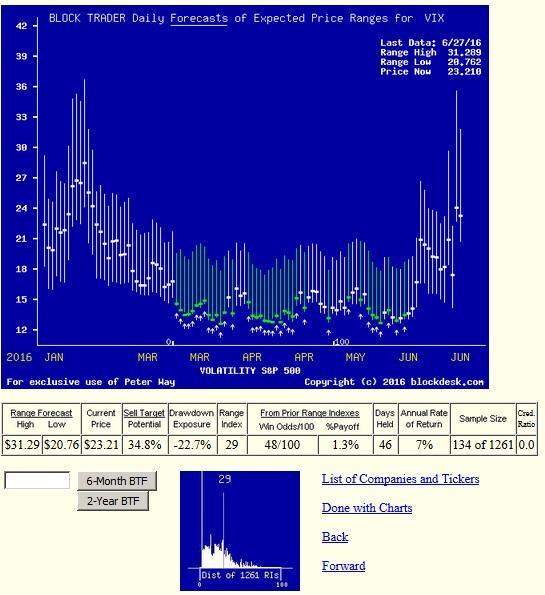 (used with permission)
The vertical lines in this picture are FORECASTS of price ranges held likely to occur, as seen by market professionals on both sides of hedging trades to buy and sell price change protection. They track the daily activities of essential providers of market liquidity over the past 6 months, a continuation of daily analyses from the time of Y2K.
When the VIX has gotten down to or approaching a minimal level of 12 the S&P500 Index which it reflects is usually seen to rise. In a fear-induced setting like early 2016, the VIX spikes up temporarily and violently. Then usually it just as suddenly deflates as the fears are resolved.
This time around, as the approach of the UK vote on whether to remain involved in the EU entered the attention of the daily equity market, the VIX popped up from ~15 to above 20 in just two days. Then the concerns of a possible "Brexit" eroded day by day until more complete understanding of voter agitation suddenly was reflected and above-20 was revisited.
An intense campaign to make that outcome seem unlikely was waged by the financial and business community the day before the vote and the VIX subsided some on Thursday. Then with the outcome known on Friday the fears earlier sensed returned and the VIX climbed into the mid-20s.
Now on Monday, with the weekend to think it over, clearer heads in the professional investing community caused the VIX to back off a bit. Not really surprising, given the apparent severity of possible international political disruptions and economic adjustments that may lie ahead.
The pros looked at what lesser problems in the recent past had done to the VIX. They can be seen in Figure 3, a two-year condensation of Figure 2 and its predecessors, done by taking once-a-week samples from the daily record.
Figure 3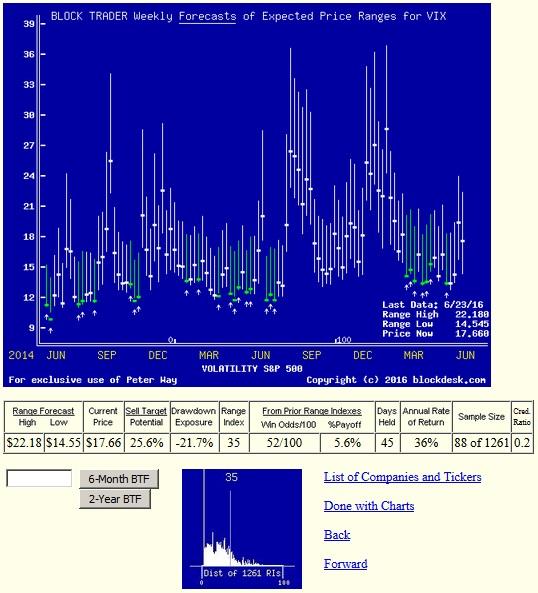 (used with permission)
Listening to the media turn surprise into a tragedy of investor life savings destruction (by -3+% market declines) produced an impression that the surprise was handled comfortably well by the derivatives markets where the VIX is created. The "fear index" never got as high as 30 or as much as 40+, where it sometimes had in times past.
So the Monday settlements brought the VIX back to 23 from Friday's near-26.
And where to, next?
For future likely VIX prices, look to the futures markets.
As we did over the weekend, here is the current "strip" of VIX futures contracts, from the "spot" price to each monthly-expiration contract out to January of 2017:
Figure 4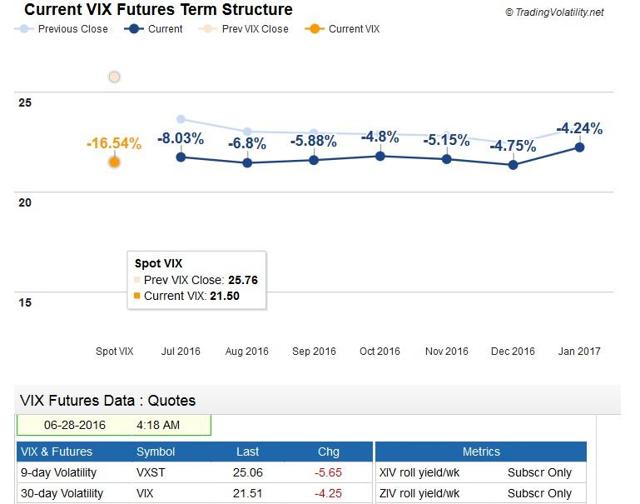 source: TradingVolatility.net
Now the VIX contracts have lost the "backwardation" pattern of declining prices seen briefly after the Thursday vote surprise outcome. Neither is there a comforting "contango" pattern of rising contract prices over time that translates into a potential rising outlook for the S&P500 index. See our weekend article for comparisons.
But without a significant new complication arising from what is now known, the usual outcome is for the storm to pass and markets to get back to "normal", whatever that may be.
Conclusion
Equity markets are stronger than have been recognized. The Brexit reaction provides bargain-hunting opportunity that should not be ignored, For many investors cash reserves that have been built up may find attractive applications.
Additional disclosure: Peter Way and generations of the Way Family are long-term providers of investment perspective information (20 th century, earlier) helping professional and (now, 21 st century) individual investors discriminate between wealth-building opportunities in individual stocks and ETFs. We do not manage money for others outside of the family but do provide pro bono consulting for a limited number of not-for-profit organizations. We firmly believe investors need to maintain skin in their game by actively initiating commitment choices of capital and time investments in their personal portfolios. So our information presents for their guidance what the arguably best-informed professional investors, through their own self-protective hedging actions, believe is most likely to happen to the prices of specific issues in coming weeks and months. Evidences of how such prior forecasts have worked out are routinely provided. Our website, blockdesk.com has further information.
Disclosure: I/we have no positions in any stocks mentioned, and no plans to initiate any positions within the next 72 hours.
I wrote this article myself, and it expresses my own opinions. I am not receiving compensation for it (other than from Seeking Alpha). I have no business relationship with any company whose stock is mentioned in this article.