The mystery of a bankruptcy that has been filed and granted in Brazil, recognized as a foreign main proceeding in the USA, England and Wales, but also needs to be ratified by all shareholders in a few weeks.
Last week, OI Brazil (NYSE:OIBR) filed for bankruptcy protection under the Brazilian Corporations Law (Recuperação Judicial or "RJ"). Although we did expect it to happen, we were not planning to anticipate it by just a few hours.
The request for RJ will "be submitted to a Company's General Shareholders' Meeting resolution", that will be held next July 22nd.
OI's hasty bankruptcy filing was a decision of the Board of Directors, supported by the company's largest shareholder, Pharol, and made in accordance with Art. 51 of Law No. 11,101/05 and Art. 122 of the Brazilian Corporations Law (emphasis added):
Sole Sub-section. In case of urgency, the filing for bankruptcy or the request for reorganization may be made by the officers, as agreed with the majority shareholder, if any, immediately calling a general meeting in order to vote on the matter (Text as determined by Law n. 10.303, of October 31, 2001)
Oi's bankruptcy filing has already been followed by a USA Chapter 15 filing, and is spreading its effects (automatic stay) not only in Brazil, but also to the USA and England.
You may notice that Holland is missing from the picture. Court proceedings in the Netherlands will not be suspended by OI's soon-to-be-confirmed-but-already-in-place bankruptcy request, as Reorg Research underlined in their latest tweet:

As some documents about Capricorn's (Aurelius) court case have been filed in the US Chapter 15 proceeding, we had a quick look at the latest developments on that front, too.
While some comments may now be seen in a completely different light, we think it is still worth highlighting that it was during this court case that PTIF bonds were discovered to be already in potential default (the Potential Event of Default referred to was remedied on May 27th):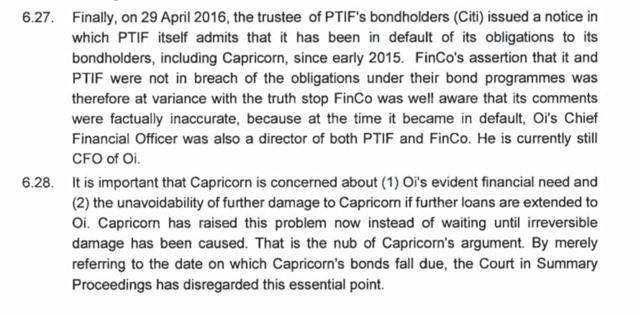 Here are the latest information available on the Aurelius-Capricorn legal front, from Reorg Research:
The Dutch appeal judges will strive to rule on the case by July 19. During the case it emerged that Capricorn owns around $206 million of the PTIF bonds.
On Monday, another unit of Aurelius Capital Management asked a Dutch court to start bankruptcy proceedings against Oi Brasil Holdings Coöperatief UA:
The petition was filed in an Amsterdam district court, which is expected to schedule hearings on the process shortly.

Under Dutch law, if the court approves the petition, a bankruptcy trustee will be appointed to defend the interests of creditors in Oi Brasil Holdings.

Apart from participating in the proceedings, the trustee will investigate Oi Brasil Holdings' prior and current management teams and enforce the company's claims against parent Oi and other affiliates, the statement said.
ISDA and a key question: "Has a Bankruptcy Credit Event occurred with respect to Portugal Telecom International Finance B.V.?"
ISDA Credit Derivatives Determinations Committee has already met two times last week to answer the question whether a Credit Event has occurred with respect to Portugal Telecom International Finance B.V.
On Friday, all 15 ISDA members decided to postpone the decision until this week, waiting for further "Brazilian law advice regarding the proceedings" - unsurprisingly, given the fact that, as already pointed out, we are talking about a bankruptcy that does exist, but will be officially validated in a few weeks.

Oi's bankruptcy hitting negatively some sectors more than others
Oi's bankruptcy proceeding is obviously hitting several classes of creditors. Among them, the National Telecommunications Agency or Anatel, that is listed as a R$ 10 billion ($3 billion) creditor:

The impact on the Brazilian banking system and some specific sectors has already been covered in the news:
Oi is seeking protection on over 500 million reais (101.38 million pounds) of accounts payable to international providers from Nokia Corp (NYSE:NOK) and Ericsson to IBM Corp (NYSE:IBM) and Alcatel-Lucent SA (ALUA), according to court documents reviewed by Reuters.
As long time investors in the colocation (data center) Telecom sector, we looked of the impact to this specific niche that is offering key interconnection services to large Telecoms like Oi.
According to PeeringDB, Oi is mainly using two peering points, internationally: Verizon (NYSE:VZ) Miami (former Terremark), and TelX New York - now part of Digital Realty Trust (NYSE:DLR).

In spite of no mention on PeeringDB, we also looked for Equinix (NASDAQ:EQIX), the world-wide leader in colocation and peering services that also owns some Brazilian operations (former ALOG).
To our surprise, we found out that the impact to this sector is relatively small, with Digital Realty TelX as the largest creditor with the equivalent of $ 150.000, Verizon due $ 47.000, and Equinix at risk of losing $ 22.000 only.



Conclusion
Oi's bankruptcy proceeding is still in its infancy, and it's too soon to make reasonable predictions about its outcome.
Morgan Stanley's analyst Michel Morin sees a Recuperação Judicial that "is unlikely to be easy to complete swiftly given [I] the complexity of Oi's corporate structure, [II] different creditors' profiles, [III] the importance of Oi for the Brazilian telecom ecosystem, [IV] the exposure from Brazilian financial institutions and [V] the complexity of the Brazilian bankruptcy law".
Oi's guidance for the next three years forecasted an increase in revenues that may now be harder to achieve, as explained by Luiz Azevedo, an analyst with Bradesco BBI:
"Oi's competitors were already facing a more favorable competitive scenario, which may improve further with Oi in trouble".
As we still expect an equity for debt outcome from OI's restructuring (now under court supervision), watching closely the company's performance and execution in the next few months will be key to figuring out expected recoveries.
A side effect of Oi's bankruptcy could also be a delay in the much needed consolidation process of the Telecom sector in Brazil:
Brazilian phone carrier Oi SA faces long odds in trying to reorganize under the country's complex bankruptcy law, offering rivals a chance to bolster their market dominance while leaving hopes for consolidation in the $45 billion industry on hold for now.
In other news, Tim Brazil is also rumored to consider selling its fiber network and corporate business to private equity firms.
Unless a white knight interested in acquiring both companies appears soon, OI's bankruptcy may end up acting as a negative catalyst for consolidation purposes, in spite of all hopes for the opposite.
According to Reuters, some creditors, including Aurelius, are joining New York-based investment bank Houlihan Lokey Inc and Metrica Investments LLC in a group aiming to develop strategies supporting the request of higher recoveries for some specific bonds:
A group representing holders of Oi SA's bonds not guaranteed by unit Telemar Norte Leste SA is growing, two sources familiar with the matter said, underscoring the challenges facing Brazil's largest fixed-line phone carrier as it enters bankruptcy protection proceedings.
In light of all these fact, we reiterate our "wait and see" approach. There's no real need to rush into securities (both equity and bonds) whose recovery rates are easier to guess for a wizard rather than an analyst, at this stage.
Disclosure: I am/we are long EQIX.
I wrote this article myself, and it expresses my own opinions. I am not receiving compensation for it (other than from Seeking Alpha). I have no business relationship with any company whose stock is mentioned in this article.
Editor's Note: This article covers one or more stocks trading at less than $1 per share and/or with less than a $100 million market cap. Please be aware of the risks associated with these stocks.