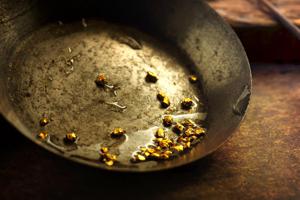 Sandstorm Gold Ltd. (NYSEMKT:SAND)
This article is an update to my preceding article on Sandstorm Gold published on May 9, 2016, about the First-quarter 2016.
On June 28, 2016, SAND announced the following:
Has entered into an agreement with a syndicate of underwriters co-led by National Bank Financial Inc. and BMO Capital Markets (the "Underwriters") pursuant to which they have agreed to purchase, on a bought deal basis, 11,236,000 common shares of Sandstorm (the "Common Shares") at a price of US$4.45 per Common Share, for aggregate gross proceeds to Sandstorm of US$50 million (the "Offering"). In addition, Sandstorm has agreed to grant to the Underwriters an option to purchase up to an additional 1,685,400 Common Shares on the same terms and conditions as the Offering, exercisable at any time, in whole or in part, until the date that is 30 days following the closing of the Offering. In the event that the option is exercised in its entirety, the aggregate gross proceeds of the Offering to Sandstorm will be US$57.50 million.

The Company plans to use the net proceeds from the Offering to reduce the balance of its revolving credit facility, for the acquisition of streams and royalties and for general working capital purposes....

.... The Offering is scheduled to close on or about July 6, 2016,
Here we go again... Have we experienced this situation before or am I dreaming?
On October 27, 2015, the Company entered into three agreements with Yamana Gold Inc. (NYSE:AUY) that included commodity streams from up to five of Yamana's mining projects. For consideration of $152 million in cash and 15 million warrants of the Company, Sandstorm received a multi-asset silver stream that includes production from Chapada, Minera Florida and Cerro Moro, a copper stream on Chapada, and an early deposit gold stream on Agua Rica.
On October 26, 2015, the Company amended its revolving credit agreement, to allow the Company to borrow up to $110 million for acquisition purposes. As part the Yamana transaction, the Company fully drew on the $110 million in available credit.
On November 3, 2015, the Company completed an equity financing for aggregate gross proceeds of $28.8 million. Upon closing of the equity financing, the majority of the net proceeds were used to reduce the balance of the Company's revolving credit facility.
On June 8, 2016, Sandstorm Gold announced amendment to credit facility and operations update.
On January 22, 2016, I commented about the acquisition of 56 royalties from Teck Resources and its affiliates for total of US$22 million, payable in US$1.4 million in cash and $20.6 million or 8,365,863 shares at CAD $3.57 (USD $2.50).
In the company 1Q'16 results, it is indicated:
As of May 5, 2016, the Company had 138,286,017 common shares outstanding. As disclosed previously, the funds from the issuance of share capital have been used to finance the acquisition of Gold Streams and royalties (recent acquisitions are described earlier in greater detail), with the net proceeds of the 2015 equity financing used to reduce the balance of the Company's Revolving Facility
Assuming that the option is exercised, SAND will add 12,921,400 extra-shares and will have approximately 151,207,417 common shares outstanding, when the deal is done.
This is an increase of 9.34% of the common shares outstanding to pay for, the Yamana transaction, in fact, and let the company in a position to do it again with a brand new clear $110 million credit line. As I said earlier, the revolving credit agreement was extended to July 2020 on June 8, 2016.
I have been always skeptical about the use of equity to finance acquisitions. What I understand is that the brunt of the expansion potential through acquisitions is supported totally by shareholders, and I do not like it.
Yes, it is true that this new equity financing comes at a higher price per share, but the fact remains, and I am clearly disappointed.
Let's see what has been going on with production and revenue the last six quarters.

In one hand, revenue in 1Q'16 were considered good, however, they were down 13.6% year over year.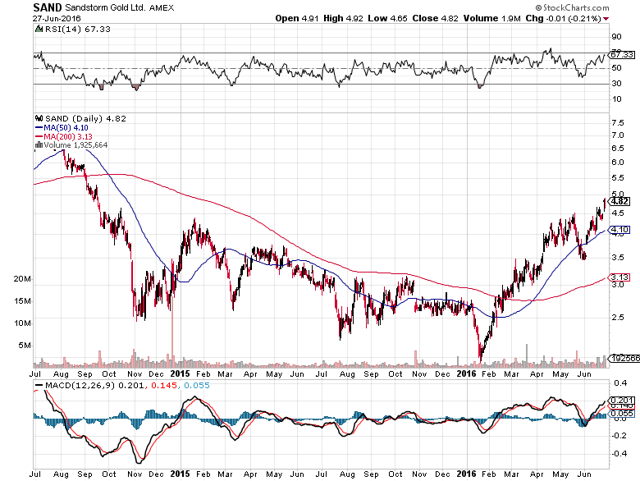 On the other hand, the stock price is now up over 80%, since the all time lows in early 2016. The stock price closed at $4.82 and is slightly higher than what it was in 4Q'14, which seems to bear a strong correlation between production and PPS. SAND has been outperforming gold price by a factor of x3.4 -- See Chart below.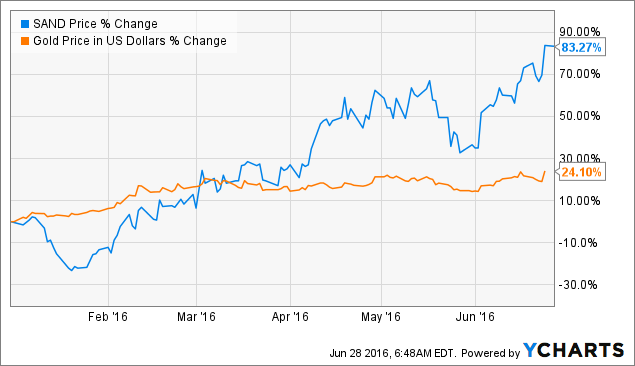 Outlook for 2016 and beyond:
Based on the Company's existing Gold Streams and NSRs, attributable Gold Equivalent production (individually and collectively referred to as "Attributable Gold Equivalent") for 2016 is forecasted to be between40,000 - 50,000 Attributable Gold Equivalent ounces. The Company is forecasting Attributable Gold Equivalent production of approximately 65,000 ouncesper annum by 2020.
In my preceding article I indicated:
One particular issue, that I will talk about here is the debt and liquidity segment.

I was again pleased that SAND had only $64.5 million in debt, and about $44.5 million available in the revolver.
Furthermore, M. Watson, CEO, confirmed that the company was not interested in further equity raising, that could potentially dilute the actual shareholders. This was my main issue last year, and we have now approximately 138 million shares outstanding and many warrants as well.
And I was speaking too fast, unfortunately, because the shares outstanding will be soon nearly 152 million.
Conclusion:
SAND has gone up very fast since the start of 2016, due mainly to a strong momentum in gold price and a little on its own virtue, as I explained above. Most of the large acquisitions in 2015 and 2016 will not really affect positively gold production this year and a little in 2017. However, the company has used equity to extend and grow at the expense of the long-term shareholders who are just lucky to get even after two years of patience.
1Q'16 Production was encouraging, but this equity move tells me that we may be disappointed with the 2Q'16 production and results, despite a gold price that should be much higher, quarter over quarter. I expect a sharp down day based on the price of the deal.
The future potential is based on the price of gold, which has been bullish recently due to the Brexit surprise. The question is whether gold price can continue to move up? The street is still divided on this issue.
Disclosure: I/we have no positions in any stocks mentioned, and no plans to initiate any positions within the next 72 hours.
I wrote this article myself, and it expresses my own opinions. I am not receiving compensation for it (other than from Seeking Alpha). I have no business relationship with any company whose stock is mentioned in this article.
Additional disclosure: I trade SAND exclusively.