Holding True Gold (OTCQX:RVREF) Shares Convert to Endeavour Mining
My investment in Endeavour Mining (OTCQX:EDVMF) came about by chance through my buying into True Gold Mining in 2013. True Gold had an intriguing gold mining project "Karma", in Burkina, Faso, West Africa. Karma was a relatively simple mine project of open pit mining and heap leaching in the gold rich Birimian belt of West Africa. Interestingly Franco Nevada (NYSE:FNV) and Sandstorm (NYSEMKT:SAND) also took an interest a year later 0.and invested $120 million on August 12, 2014 for a gold stream. True Gold started mining and had been stockpiling ore from late 2015 to now. First gold production from the heap leach was slated to come in the spring of 2016.
Well, now 2016 rolls around and there came the inklings of a new "Gold Bull" market. True Gold which was about to come into gold production was eaten for a 46% stock premium, by a larger West African miner - Endeavour Mining. The buyout was announced on March 4, 2016 and completed by April 26, 2016.
Upon being granted Endeavour Mining shares as a result of my True Gold buyout, I was in a dilemma as whether to sell or hold. Because of the rising prices for gold, I decided to hold and did research into Endeavour Mining.
Stock Price of Endeavour Mining in 2016
A chart price of Endeavour Mining to date in 2016 is presented following for your admiration. The chart is in Canadian dollars where Endeavour trades as "EDV" on the TSX. A portion of the gains is attributable to the depreciation of the Canadian dollar versus USD for 2016 since January 1.
Figure 1: Endeavour Mining - Price Performance of 2016, versus GLD and GDX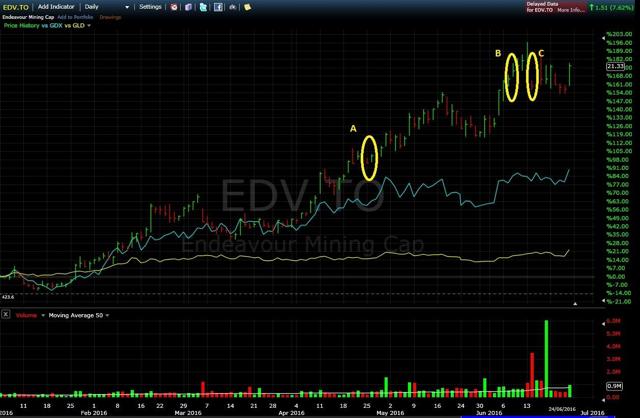 The wonder of this chart is the 175% move upwards of Endeavour Mining's stock price since January 1st, 2016. This is painted against a backdrop of a much smaller push up in the Gold price of ~20% (using the GLD as a proxy). A leveraged move upwards of the gold miners in the GDX (ETF of major gold miners) of about 80% is also charted for comparison. Endeavour Mining has doubled the leverage move upwards of a typical gold miner with a 170% move upwards. Never mind the musings about if only one was prescient and invested prior to the run-up; the best may be still to come as I will elaborate following. The following events are pointed out in the above chart of Endeavour's stock price:
A. Endeavour closes True Gold Acquisition - April 26, 2016. Stock moves higher after digesting news of the acquisition and the new mine Karma produces gold.
B. Endeavour gains market capital and was announced to be added to the S&P TSX Composite Index - June 10, 2016. Stock moves higher from the Index Funds buying in to add to their portfolio as the Index changes.
C. Endeavour announces $125 Million Bought Deal - June 13, 2016. Stock price drops initially from the financial dilution but the market rethinks the situation and as there were no warrants in the bought deal, the stock moves higher.
The above points were elaborated upon to identify the core underlying interest and strength in the stock of Endeavour Mining.
Synopsis of Endeavour Mining
The Endeavour name has been associated with the mine financing, merger advisory and merchant bank business for over 25 years. Endeavour Mining itself was structured into a gold mining business on November 9, 2011. Endeavour has 4 operating mines and projects in Ghana, Ivory Coast, Mali and Burkina Faso, all situated in West Africa. Endeavour operates administrative offices in George Town, Grand Cayman Islands, Paris, France, Monaco and runs an operations office in Abidjan, Ivory Coast.
Endeavour Mining's AISC (All-In Sustaining Costs) for their gold production are stated to be US $870-920 per ounce produced as per the company's projections. Endeavour Mining's 2016 production is estimated to be 535-560 k ounces of gold. The Hounde Project in Burkina Faso is coming on-line and is expected to add ~200k gold ounces production in Q4, 2017. Further information about Endeavour Mining in a presentation is here.
Ramp-up Projection
After a great deal of ruminations over the details of the research, it seems to me that the risk versus reward profile of Endeavour Mining is asymmetrical slanted towards more gain than downside. This may only be apparent to those who are familiar to the gold and mining industry. This story is about a small-medium size miner endeavouring to become a major world-class gold miner.
Concisely, Endeavour is in the midst of a re-rating cycle, driven by competent management with a sound financial focus and firmly backed with a deep pocket investor.
The deep pocket investor is Egyptian billionaire, Naguib Sawiris who purchased 30% of Endeavour Mining through his La Mancha vehicle as related in the news release of September 21, 2015. La Mancha is granted the option of maintaining their 30% ownership through any stock increases as was demonstrated in the True Gold buyout and also the recent June 13, 2016 $125 million stock placement. La Mancha infused more millions to maintain their ownership percentage.
The sound financial focus is evidenced by Endeavour's survival of the last 5 years of declining gold prices. This is confirmed by Endeavour Mining's financial filings validating their reduced debt and increased cash flow while maintaining a strong balance sheet.
The competent management is evidenced by their historical operations which brought their new projects operational and their optimizations and cost reductions of existing mines.
Why I say re-rating cycle what I mean is the work done to increase production and increase efficiencies. Endeavour Mining's stated objective is to grow larger to become a million ounce producer. Because of these positive changes the company would deserve a much higher stock price multiple.
Endeavour Mining's proposed increase in gold production is akin to the sweet spot that in the following chart which hypothesizes about a theoretical mining company that is coming into production and the resulting increase in stock price. The spot is considered sweet due to the increasing production driving an increasing share price while the risk of downside is reduced.
Figure 2: Model of Classic Mining Company Share Price Cycle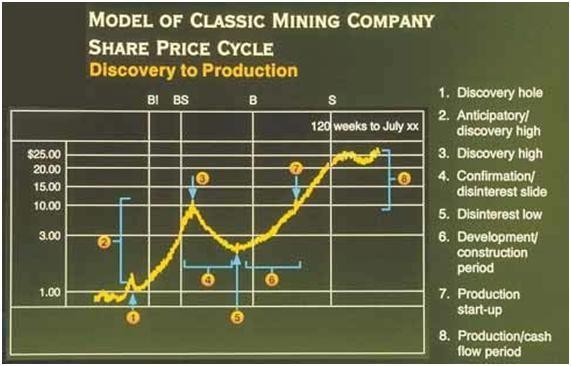 Goombarh postulates that Endeavour Mining is at about point #7 in this "Discovery to Production" cycle chart.
Another example of a company ramping up mining production with a similar type of performance was a stock price run by First Majestic Silver (NYSE:AG) from 2010 to 2011 in their ramp-up to production in multiple mines.
Possible Acquisitions in West Africa
As I was preparing this article, I was researching other West African miners for an interesting acquisition candidate. I found and settled upon Teranga Gold (OTCQX:TGCDF), which operates the Sabodala gold mine in Senegal. Lo, I was too late as Terenga just announced their own acquisition of Gryphon Minerals on June 20, 2016. There are many other West African miners which may be targeted by Endeavour Mining. Endeavour has good war chest with cash and their high stock price.
Risks and Possible Downside
There is always a risk in investing, as the world is a chaotic place and defies your or my best guess or prediction and even sample polling. Recent examples of conventional wisdom being proven wrong are the "Brexit" leave vote or the "Trump" candidacy. Therefore, this is only my opinion and not a solicitation to buy. Invest at your own risk.
From history, the political turmoil and terrorism in West Africa has been mostly quiet so far but disruption is always possible as in the Islamic Maghreb attack on Burkina Faso in January 2016. On the plus side, Endeavour Mining is diversified across 4 different countries, but they are all in West Africa.
In the mining industry, possible hiccups in the mine operations can happen anytime and disrupt gold production plans. On the plus side, Endeavour's operations are diversified across multiple mines and projects and the mining operations are relatively simple open pit mining and heap leach processes.
The best defense against possible downside is a competent management team and a sound financial basis, both qualities of which Endeavour Mining appears to possess.
Summary
There are quite a few strong supports for the positive case for Endeavour Mining:
1. Performance history of the stock price so far is amazing. This is attributable to the company management and their financial control and mine engineering impact.
2. Endeavour chooses to mine in low-cost jurisdictions in the Birimian greenstone belt in West Africa. Endeavour's projects are all simpler and lower-cost operations, such as strip mining or open pits with heap leaching or gravity milling processes.
3. Financial support of an unwavering billionaire, Naguib Sawiris. He has and will maintain his 30% share with more money infusion. One could do far worse than be dragged upon his coat-tails.
4. Increased production from new projects coming on-stream and optimization of existing mines. This projected stock move upwards does not depend upon a gold bull market as the company is growing gold production; but having a gold bull market emerging cannot hurt.
Any one of the above strengths would be good to support the rise in stock price for any miner. To have all four strong supports makes for an enviably robust case. The timing may be right for a position in Endeavour Mining as they rise to become a profitable world-class gold miner.
Disclaimer: As disclosed in the article, I hold stock in Endeavour Mining and I also hold Terenga Gold. I wrote this article myself, and it expresses my own opinions. This is information that I am sharing and this is not an investment solicitation; the reader should always seek their own investment advice. I am not receiving compensation for it (other than from Seeking Alpha). I have no business relationship with any company whose stock is mentioned in this article.
Supporting Documents
Disclosure: I am/we are long EDVMF.
I wrote this article myself, and it expresses my own opinions. I am not receiving compensation for it (other than from Seeking Alpha). I have no business relationship with any company whose stock is mentioned in this article.
Editor's Note: This article discusses one or more securities that do not trade on a major U.S. exchange. Please be aware of the risks associated with these stocks.