The Resilience of the MLP Sector
Looking back, we came out of a really rough 2015. And a rough start in 2016 that I frankly did not see coming. As many people are aware, technical issues really kept things under pressure in 2015, and it was my expectation that since the underlying fundamentals of most of the midstream companies were still much better than the market reflected, that after we cleared out from some of these technical issues we'd start to see improvement as soon as we turned the corner into 2016.
Unfortunately, we did not. We saw instead a drop of about 30% right through the bottom which was around February 11th of this year. But since that time we've seen a pretty dramatic improvement as this graph would indicate.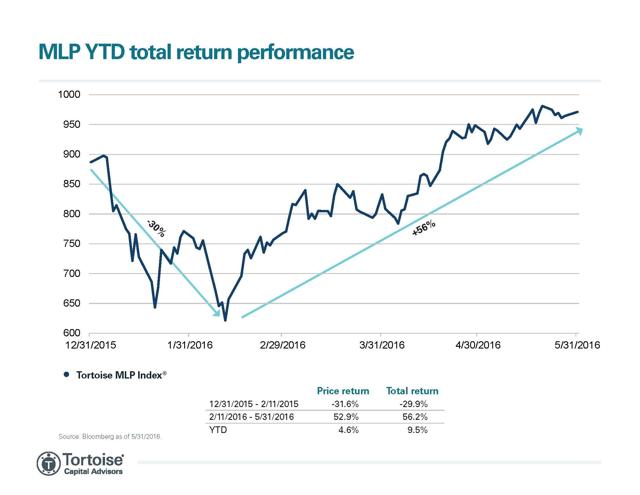 I break these improvements up into two sections. The first 4 to 6 weeks of the rally were driven by improved commodity pricing which in my opinion was driven more by headlines and thoughts that OPEC would intervene with production caps.
What we've seen since that time is real data that the U.S. production levels are coming down and that supply/demand can come in balance in the latter half of this year which has improved commodity pricing obviously, but it's also improved market sentiment in the midstream space.
MLPs are not Created Equal
It's also important to look back to Q3 and Q4 of last year when there were concerns over companies' distributions. For instance, concerns about a specific company potentially cutting its distribution was applied throughout the sector to other companies with very different business models.
We are now starting to see evidence where people are really recognizing individual company concerns and not applying them to the entire sector which I think has helped drive improved market sentiment.
The other thing that's different, and I think is unique to the sector, is there are a number of companies where there could be a distribution cut already priced in. Particularly companies trading at yields above 10%. And it's quite possible that investors could benefit from holding onto those companies through a distribution cut.
I don't think we would have agreed with that view in 2014 or 2015, when one of the things we prided ourselves in was not holding companies that we felt might cut their distribution. But today, there are some names in our portfolios that frankly could benefit from some sort of simplification or distribution cut.
MLP Fund Flows are Rebounding
Fund flow for the last few years has been very strong in closed-end funds, open end funds and exchange traded products. However, in the third and fourth quarter of last year that dropped considerably.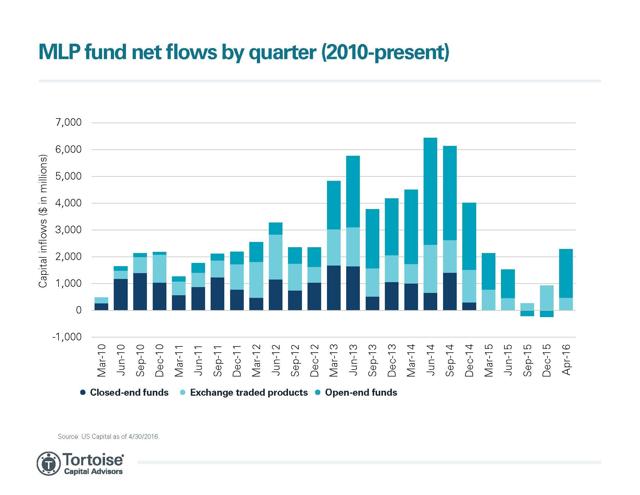 But we have seen a rebound with many investors entering the space, even with the significant volatility that we experienced in January and early February. Especially investors with a 12-month or longer time horizon. So as we near midyear, midstream investor appetite continues to be strong.
Disclaimer: The Tortoise MLP Index® ("the Index") is the exclusive property of Tortoise Index Solutions, LLC which has contracted with S&P Opco, LLC (a subsidiary of S&P Dow Jones Indices LLC) ("S&P Dow Jones Indices") to calculate and maintain the Index. S&P® is a registered trademark of Standard & Poor's Financial Services LLC ("SPFS"); Dow Jones® is a registered trademark of Dow Jones Trademark Holdings LLC ("Dow Jones"); and, these trademarks have been licensed to S&P Dow Jones Indices. "Calculated by S&P Dow Jones Indices" and its related stylized mark(s) have been licensed for use by Tortoise Index Solutions, LLC and its affiliates. Neither S&P Dow Jones Indices, SPFS, Dow Jones nor any of their affiliates sponsor and promote the Index and none shall be liable for any errors or omissions in calculating the Index. No portion of this publication may be reproduced in any format or by any means including electronically or mechanically, by photocopying, or by any other or manner whatsoever, without the prior written consent of Tortoise Index.
Disclosure: I/we have no positions in any stocks mentioned, and no plans to initiate any positions within the next 72 hours.
I wrote this article myself, and it expresses my own opinions. I am not receiving compensation for it. I have no business relationship with any company whose stock is mentioned in this article.