AltaPacific Bank (OTCPK:ABNK) is a five-branch bank located in the state of California. The company started business in 2006 and by 2010, the bank was incorporated. There are a lot of positive dynamics at play, which alludes to upside potential. Furthermore, given the company's low operating costs and future plans, the company may be a great long-term holding.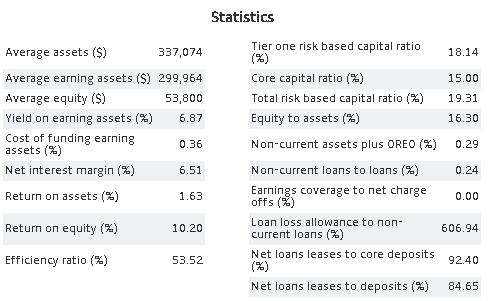 Source: CompleteBankData ABNK
Strong Earnings, Growth Prospects and low Operating Expenses
There is a lot to like about AltaPacific Bank. First and foremost, the company has a strong 6.51% NIM. The reason for the strong NIM relies upon the absolute low interest expense paid and low overall operating costs. The company is also growing its total interest income at a decent clip. For an example, from 2014 to 2015, total interest income grew at a 17.96% rate. Moreover, in the past five years, total interest income grew at a 29.43% annualized rate.
There are a few positive implications to having a high NIM and an attractive growth rate. First, with such absolute low operating expenses, all incremental growth flows straight down to the bottom line. YOY, net income has grown 52.81% and the five-year annualized growth has been 78%.
Secondly, with low absolute operating expenses and a solid growth trajectory, the company is on the acquiring side of the playing field. For an example, on May 2nd, 2014, AltaPacific Bank completed a merger with Mission Oaks Bancorp for an all cash transaction of $3.5mm. The merger not only added two new branches for the company, but also increased the company's total assets to $335mm, from $238mm back in 2013.

Source: CompleteBankData ABNK
In addition to the merger back in 2014, the company did another small bolt-on acquisition in 2012 significantly increasing the company's assets from $115 mm to $215 mm. Moreover, I believe AltaPacific Bank will continue to do strategic acquisitions in the Southern California area, subsequently increasing their market share and the overall value for shareholders.
Notwithstanding the tight run operations, the company also has an industry beating ROE of 10.20%, coupled with a respectable efficiency ratio of 53.52%. Furthermore, the company has much stronger profitability metrics than the majority of its peers.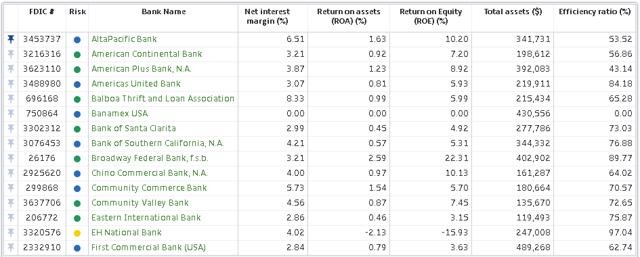 Source: CompleteBankData ABNK
Aside from the stronger profitability metrics than its peers, AltaPacific Bank is trading at a P/B ratio of 1.04x. Ask yourself, should a company with stronger relative metrics than its local peers, a strong growing asset base and absolute low operating expenses be trading around book? In my opinion no. Given the quality of the assets, the inclination for further bolt-on acquisitions and the high profitability metrics, AltaPacific Bank deserves a multiple of 1.25-1.50x.
What should Investors Do?
There are a few things investors can do if they are interested in purchasing AltaPacific Bank for their portfolio. First, they could be the typical buy and hold guy. As the company continues to grow, more money will flow to the bottom line, eventually rewarding long-term shareholders. Also, given AltaPacific Bank's solid loan portfolio, there should be low absolute non-systematic risk associated with this security.

Source: CompleteBankData ABNK
For the case of the more aggressive investor, playing the low liquidity may be advantageous. Given the low shares outstanding and limited liquidity (avg. three-month volume of 3,362), putting limit orders ominously below the share price may work out in your advantage. Interestingly, there have been multiple times in the past two years where a limit order below the market price would have worked out in the aggressive investor's favor.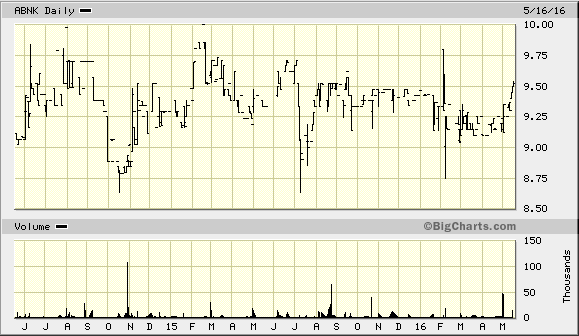 In short, I believe that there is decent probabilistic upside for investors in AltaPacific Bank coupled with low downside. In addition, many investors do not have this tiny community bank on their radar, giving the enterprising microcap bank investor a leg-up. As AltaPacific Bank continues to grow its asset base and pump out strong earnings, the market will eventually start to notice this tiny community bank. Based on the strong historical performance, I have a near-term upside target of $12.50-15.00/share.
Disclosure: I/we have no positions in any stocks mentioned, and no plans to initiate any positions within the next 72 hours.
I wrote this article myself, and it expresses my own opinions. I am not receiving compensation for it (other than from Seeking Alpha). I have no business relationship with any company whose stock is mentioned in this article.
Editor's Note: This article discusses one or more securities that do not trade on a major U.S. exchange. Please be aware of the risks associated with these stocks.