Oil prices have fallen sharply for a second successive day as BREXIT continues to weigh down market sentiment. On Friday, both the U.S. and global benchmark dropped 5%. On Monday, Brent and WTI were down by another 2%. The United States Oil Fund LP (ETF) (NYSEARCA:USO) was down more than 2% on Monday. USO has had an excellent run since February as supply outages and improving fundamentals boosted oil prices. The question is whether BREXIT has changed the outlook for oil. I believe we might see some short-term pain but oil's improving fundamentals should provide a floor to USO.
The Rally And Post BREXIT Sharp Correction
Like most other risk assets, oil began 2016 on a disastrous note. Oil prices have been sliding since June 2014 after the Organization for Petroleum Exporting Countries (OPEC), led by Saudi Arabia, refused to lower its output despite a pullback in prices. In February, oil prices dropped below $30 per barrel.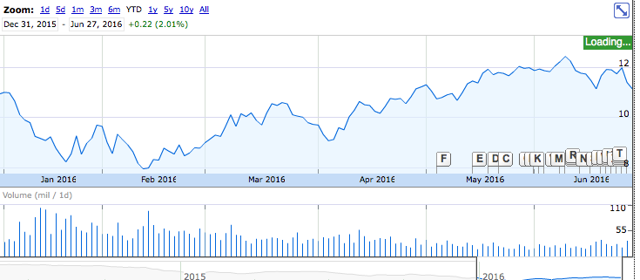 Google Finance
The year-to-date price chart for USO shows the sharp recovery since the February lows. The initial jump in oil prices was driven by expectation that OPEC and non-OPEC countries such as Russia will reach an agreement on freezing production. The meeting in Doha though failed as Saudi Arabia refused to freeze production unless regional rival Iran did the same. Interestingly, the failed meeting did not result in a sell-off. On the contrary, oil prices jumped. This was because around the time of the meeting, Kuwait's oil production dropped significantly due to strikes. The supply outage in Kuwait was followed by outages in Libya, Nigeria and Canada. These outages, combined with robust demand, have helped in improving the fundamentals of the oil market. While the days of $100 per barrel probably over, most analysts and even industry insiders expected prices to rebound to around $70 per barrel in the medium term. But then BREXIT happened.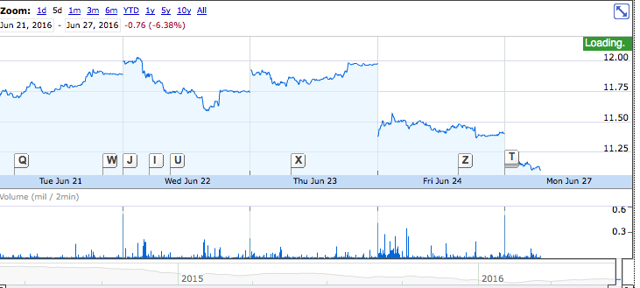 Google Finance
The chart shows the shape decline on Friday after the referendum results took market participants by surprise. Ahead of the referendum, the market was pricing the remain campaign to clinch a victory. But as things have turned out, Britain has voted to leave the European Union (NYSEARCA:EU). I believe BREXIT has changed the sentiment. The fundamentals for the oil market remain have not changed. The British economy will feel the impact of BREXIT, which of course will hurt oil demand in the country. Britain could have a knock on effect on the euro zone economy as well. But neither Britain nor the euro zone are likely to be drivers of demand growth. Growth mainly will be driven by non-OECD countries as the International Energy Agency (NASDAQ:IEA) noted in a recent report.
Fundamentals Continue To Improve
Last week, a report from the American Petroleum Institute (NYSEMKT:API) once again showed a sharp decline in U.S. inventories. According to API, U.S. crude supplies dropped by 5.2 million barrels for the week ended June 17.
The higher than anticipated draw downs in recent weeks highlight the declining production in the U.S. While supply outages have helped in improving prices, the medium-term outlook has benefited from this trend. In a recent report, the IEA noted that non-OPEC production is expected to fall by 0.9 million barrels per day in 2016. This includes a 500k barrels per day fall in the U.S. shale output.
The declining production and supply outages are coinciding with stronger-than-expected demand growth. In the first quarter of 2016, demand grew 1.6 million barrels per day, compared to expectations of 1.2 million barrels per day. The IEA now expects 2016 demand growth to be at 1.3 million barrels per day. In 2017, the IEA expects demand growing at a same rate as in 2016. At the same time, non-OPEC supply is expected to grow at just 0.2 million barrels per day.
Fundamentals certainly point further upside in USO.
Stronger Dollar A Risk
BREXIT will lead to near-term pain for USO but based on the improving fundamentals, I am bullish on USO in the mid-to long-term. The only risk to the bullish case is a stronger dollar. A stronger dollar is negative for oil prices. The dollar has been strengthening after the referendum results last week, given the demand for safe haven assets. However, the dollar's gains will be capped. This is because following the referendum results, the Federal Reserve is unlikely to raise rates in 2016. In fact, the Fed could even consider cutting rates as some analysts suggest. The Fed certainly would be concerned about a stronger dollar, which could hamper U.S. economic growth. Remember that unlike the Fed, other developed world central banks are implementing easing measures.
While a stronger dollar is still a risk, I believe that this does not significantly impact the bullish case for USO. Any pullback in USO over the coming days therefore should be seen as a buying opportunity.
Disclosure: I/we have no positions in any stocks mentioned, and no plans to initiate any positions within the next 72 hours.
I wrote this article myself, and it expresses my own opinions. I am not receiving compensation for it (other than from Seeking Alpha). I have no business relationship with any company whose stock is mentioned in this article.