In the past few days the market has went through a wild downward spiral following the result of the Brexit vote. During times when the market seems to be in a free for all, with zero signs of slowing up, it can be very challenging to keep your psychological mind-state intact.
Before anything else in the investing world, I am a self-taught value investor, who has learned to become greedy when others are fearful. Being greedy when others are fearful is easier said than done and much harder in practice than in theory.
Everywhere you look in finance land its Brexit this Brexit that. To be honest, I don't care what is going on with the Brexit and what will happen to the economies of Europe. What I am more concerned about is buying cheap companies.
There is a significant amount of companies on my watch-list that have taken a good beating in the past few days. What is funny is that a lot of these companies were already very cheap to begin with and have gotten cheaper due to macro turmoil overseas. Even more, it is fascinating that the majority of the microcap stocks that I watch will not be affected at all by the Brexit, yet will still follow market movements.
With that being said, I would like to highlight a few companies on my watch-list, which may be great candidates, for the value investor focused on being greedy when others are fearful.
JW Mays
I highlighted JW Mays (NASDAQ:MAYS) on May 31st, 2016 as an attractive buy target due to the significantly discounted NAV, 75% of legacy lease revenue rolling off by 2021 (a time arbitrage), and very real potential for a free cash flow uptick of 334-613% in five years.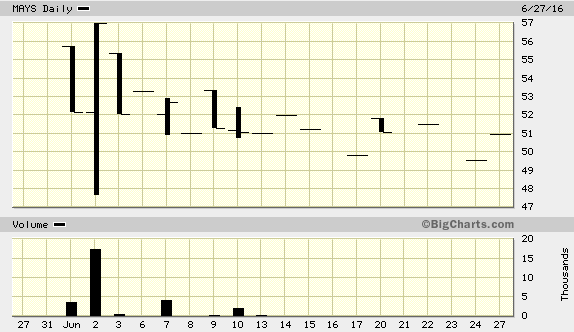 Since publication, the stock price has tumbled around ~8.00%.
For readers who did not catch my original article on MAYS I will give a quick synopsis. MAYS was founded in 1924 and leases seven commercial real estate properties that are wholly owned by the company. My thesis was based upon the severe discount to the company's NAV (75-140% upside), combined with high double-digit revenue growth by 2021; 75% of the legacy lease revenues will have rolled-off by then, giving the company the ability to raise prices in-line with comps. On average the company is currently charging $14.58 per rentable square foot, yet I believe by 2021th ey could conservatively charge $20-25 per rentable square foot.
When I published the article on MAYS, the company was selling for a strong $53.90/share. As of this writing, the price has pulled down to $49.50/share, or an -8.16% decrease.
The pullback in the stock price has given investors a great opportunity to pick up shares of a company with a strong and discounted asset base, and with an effective time arbitrage. Furthermore, the assets on this company's balance sheet are not going to disappear and should continue to increase in price as the New York City real estate market continues to gain traction. Finally, as the legacy revenues roll-off and new leases are signed, the company will have much needed operational leverage, translating into double-digit FCF growth.
MAYS looks very attractive at the current price and holds a high margin of safety against absolute capital loss. Furthermore, these assets are not going to evaporate due to the Brexit and overtime, should appreciate in value. If the stock price pulls back to ~$45/share, I will not hesitate to initiate a large position.
Highway Holdings
I have written about Highway Holdings (NASDAQ:HIHO) a few times on Seeking Alpha, highlighting an attractive company with double-digit upside and a >10% dividend yield.
The first time I wrote about HIHO was on August 11th , 2015, with a stock price of $3.54/share. By September 10th , 2015, the stock price shot up ~60%, to $5.66/share.
The second time I wrote about HIHO was on February 21st, 2016, when the stock price fell back to earth, at $3.23/share. By March 15th, 2016, the stock price ran up ~50%, to $4.83/share.
Since the Brexit, the stock priced has taken a decent beating…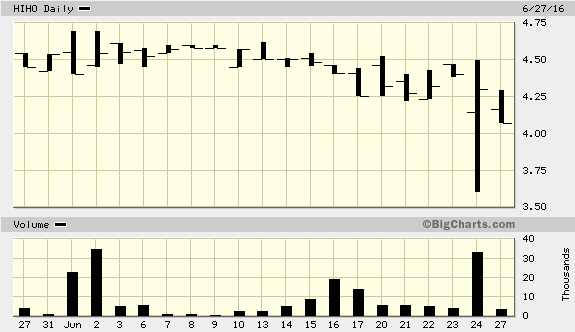 For those who have not followed HIHO, the company is a manufacturer and producer of blue-chip products for OEM's. The company has the majority of their operations in China, however, HIHO is not a Chinese company and is ran by a German CEO. Furthermore, the company is investing a significant amount of money into the neighboring country of Myanmar, in order to take advantage of cheaper labor.
Every time I have highlighted HIHO as an attractive buy opportunity, my thesis was based upon the company's strong balance sheet, a double digit dividend yield and attractive valuation multiples.
Currently the company has a P/E of 13.13x, a P/B of 1.36x, an EV/Revenue of 0.33x and an EV/EBITDA of 4.46x. Furthermore, the company has $8.92 million in cash, with zero debt. Based upon the current market cap, cash equals 56.67% of the market cap.
As of right now, HIHO does not have the best risk-reward that I am looking for and will probably fall further due to their international operations and coupled with the Brexit concerns. I believe that if the current Brexit turmoil continues, we will continue to see downward pressure on HIHO. My buy target is anything under $3.50/share.
Otelco Inc.
I have written about Otelco (NASDAQ:OTEL) several times, highlighting a misunderstood company with high debt loads yet very attractive upside potential. I first highlighted the company on July 28th, 2015 at $4.70/share, only to see the stock price shoot up to $7.40/share by September 11th, 2015; a ~57% gain.
For readers who have not heard of OTEL before, the company operates eleven rural exchange carriers (RLECs), with subscribers in Alabama, Maine, Western Massachusetts, Central Missouri, Western Vermont and South West Virginia.
In my original thesis, the company was severely undervalued (FCF equaled 78% of the market cap). The reason for the deep value play was due to a looming debt overhang; $109.5 million in debt that needed to get either refinanced or paid off by April 30th, 2016.
Needless to say, the company ended up refinancing their debt, although at less attractive rate than the former one.
OTEL has been experiencing a rapid sell-off and is currently priced under where I originally highlighted the company.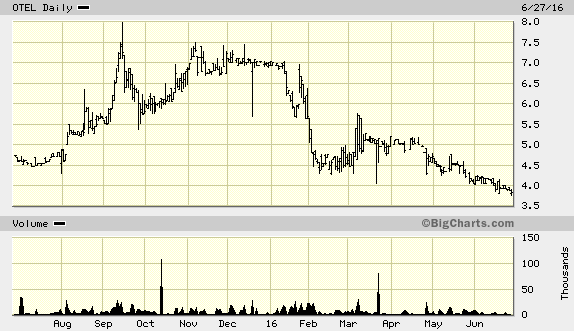 What is interesting is that the looming long-term debt got refinanced and is now at $91.90 million. Sure interest expense is up 21.19% YOY, however, the company has more than enough FCF to continue making interest and debt payments.
Another reason for the precipitous drop in the stock price, besides the increase in the interest expense, could be from six banks unloading Class B stock that recently converted into Class A. These shares have been available to convert for some time now and these six banks did not show up when the company needed to refinance a second time around this April. Given that OTEL doesn't have much liquidity, indiscriminate selling makes sense at this point.
Finally, I believe that if the market continues its downward trajectory, OTEL will continue to see downward pressure given its high debt loads. However, the business model is sound, the company has free cash flow galore, it's sitting at a 52/week low and it has an EV/EBITDA multiple of 3.57x (one of the lowest in the industry). Moreover, I don't think rural US citizens are going to cancel their internet service because of the Brexit. I feel like OTEL is attractively priced and I may take a position in the next week or so.
Takeaway
The Brexit has left the market feeling uncertain about the near-term future, resulting in a much needed selloff. In reality, I have no idea how long the selloff could last and nor do I care. What I care about is buying cheap companies. If the market wants to act bipolar, well then let the market act bipolar. Furthermore, in my opinion, it's better to have a bipolar market in order to take advantage of the deals produced by a panic, than an optimistic market and extended valuations.
In conclusion, I do not really care what the market does next. All I care about is buying dollars for fifty cents.
Disclosure: I/we have no positions in any stocks mentioned, and no plans to initiate any positions within the next 72 hours.
I wrote this article myself, and it expresses my own opinions. I am not receiving compensation for it (other than from Seeking Alpha). I have no business relationship with any company whose stock is mentioned in this article.
Editor's Note: This article covers one or more stocks trading at less than $1 per share and/or with less than a $100 million market cap. Please be aware of the risks associated with these stocks.