I have always enjoyed short-term actionable investing ideas. I am not sure why, there is just something about making that quick short-term gain that gets the endorphins in your brain fired up. One of my favorite actionable ideas in this past year was ArPetrol; a liquidation play that yielded my readers, between 20-40% in a quick month or so. Since then I have been on the lookout for more short-term, actionable ideas.
Recently I stumbled upon a merger between First Mid-Illinois Bancshares (NASDAQ:FMBH) and First Clover Leaf (NASDAQ:FCLF). I originally profiled the merger in this article, but did not go into any details on the deal.
Before we jump into the details and risks of the merger, investors should read this well written article by Maudes Capital, profiling the merger on May 5 th, 2016. Maudes Capital did a great job highlighting the merger and how investors can take advantage of it.
I also suggest that interested investors read both financial filings from each company…
I believe that this deal is still relevant and further analysis into the merger will not only be beneficial to existing followers, but new followers as well.
The Deal

Source: FMBH S-4
On April, 26th, FCLF entered into a merger agreement with FMBH, where FMBH will acquire 100% of the outstanding shares of FCLF. Thus, FCLF will merge into FMBH and FMBH will be the surviving entity. Each share of FCLF will be converted into or become the right to receive either $12.87 in cash or 0.495 shares of FMBH common stock. The deal is anticipated to be complete in the second half of 2016.
Currently there is a -0.92-4.63% spread; the fractional shares getting the -0.92% spread and the cash payout of $12.87 getting a 4.63% spread. The deal is set so that 25% of the FCLF shares will be converted into cash and the remaining 75% will be converted into FMBH common stock. If you do not make an election prior to the election deadline, you will be deemed to have the stock consideration.

Source: Created By CompleteBankData
Within the agreement, the directors and officers of the surviving company, or FMBH, will become the directors and officers of the newly merged company.
Probability of Deal Going Through
In order for the deal to go through, stockholders from both FMBH and FCLF will need to approve the merger. Furthermore, the companies will also need to obtain governmental approvals.
On April 26 th, 2016, FCLF's directors agreed to vote in favor for the merger. This represents 14.7% of the common stock.
FCLF also has around 5.20% of the shares held by institutions.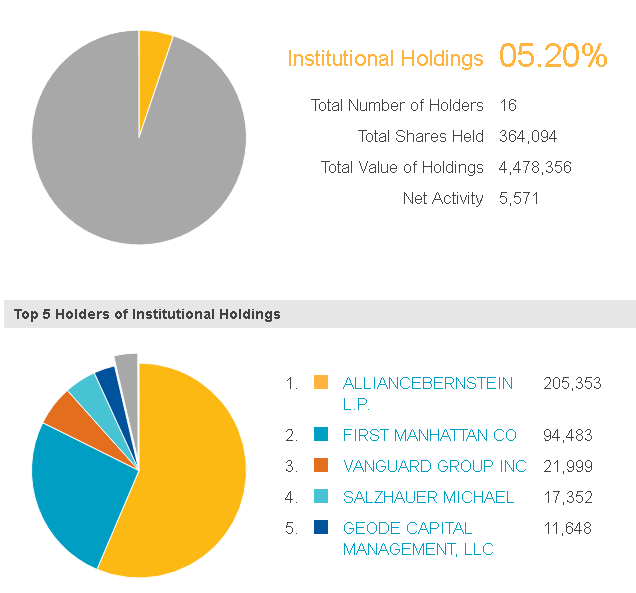 Source: NASDAQ FCLF
Thus, the decision for the deal to go through, on FCLF's side of the equation is based almost entirely on the vote of the retail investor.
At FMBH, 21.6% of shares outstanding are held by directors and executives. In addition, 11.84% of the shares are held by institutions.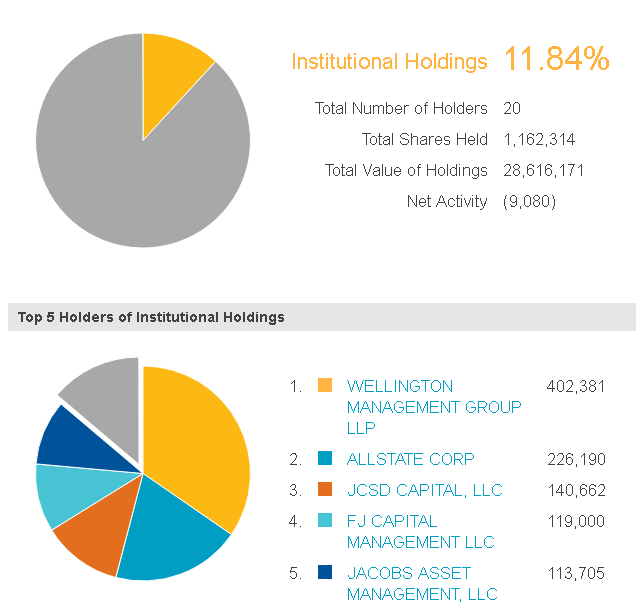 Source: NASDAQ FMBH
FMBH has more insiders and institutional investors holding the company, however, the end result of the deal going through will depend upon the vote from the retail investor.
Based upon the market reaction of both FCLF and FMBH, it appears as if the market is optimistic of the deal pulling through…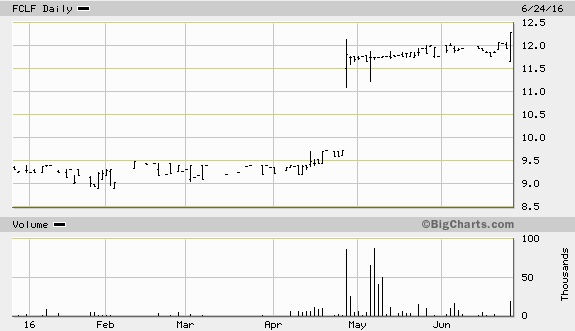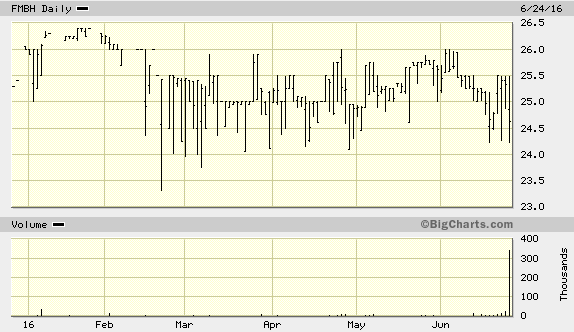 Finally, I believe that the merger is in advance stages given that William Barlow, the EVP and CLO of FCLF resigned on May 5 th, 2016. Furthermore, the two companies have been talks about merging since the middle of 2012 (taken from FMBH's S-4)…
On July 27, 2012, William Rowland, who was then the Chairman, President and Chief Executive Officer of First Mid, and Dennis Terry, who was then the President and Chief Executive Officer of First Clover Leaf, met at First Clover Leaf's headquarters in Edwardsville, Illinois for an introductory meeting. During this meeting, Mr. Rowland mentioned First Mid's potential interest in expanding into First Clover Leaf's market territory and asked that First Clover Leaf keep First Mid in mind for strategic options in the future. On September 7, 2012, Mr. Terry met with Mr. Rowland and expressed interest in continuing discussions with First Mid.
Assuming an investor buys FCLF and the merger goes through, they will stand to make a ~-0.92-4.63% spread. If the merger fails, an investor is expected to lose around 21%; if FCLF falls back to its original price pre-merger.
Based upon the market's reaction, rapid consolidation in the banking industry, and a successful vote based upon the retail investor, I believe that the merger has a high probability of going through.
Combined Entity
FMBH has total assets of $2.1 billion, gross loans of $1.2 billion, deposits of $1.7 billion and shareholder equity of $219 million. FCLF has total assets of $636 million, gross loans of $441 million, deposits of $2.2 billion and shareholder equity of $303 million. When combined, FMBH will significantly increase all of the former metrics at double digit rates.

Source: Created By CompleteBankData
The merger should have long-term benefits for FCLF's shareholders given their poor earnings and asset statistics in the past few years…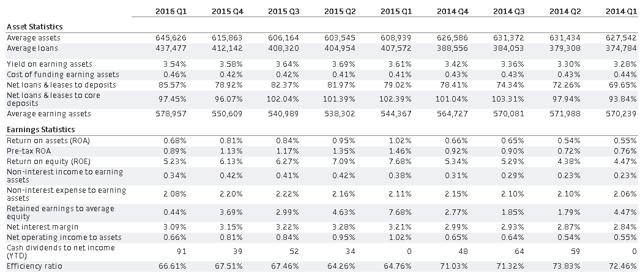 Source: CompleteBankData FCLF
However, FMBH may be getting the short-end of the stick given that they are paying significantly above TBV to acquire FCLF. On the flipside, FMBH should be able to cut operating costs and increase their bottom-line at a decent rate going forward.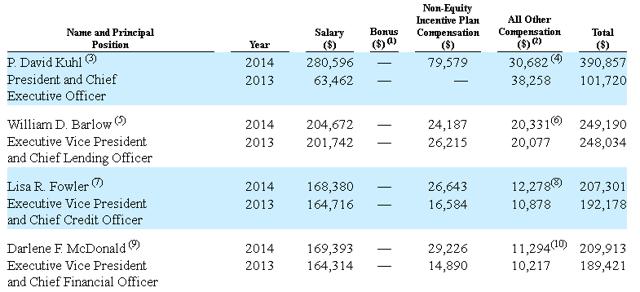 Source: FCLF Recent Proxy
Based upon management's salary in the most recent proxy, FMBH has potential to immediately cut $1,057,261 in corporate expenses, which will trickle right down to the combined entities bottom-line.
The opportunity to merge will also bring a few other benefits to FMBH's table. First, FMBH will have the ability to expand its presence into the St. Louis, Missouri market and thus establish a presence outside of Illinois for the first time in history.
Secondly, FMBH will be able to expand its wealth management, trust and insurance services, not offered by FCLF, into the St. Louis, Missouri market.
Thirdly, FCLF has mortgage services that it can bring to the table for FMBH, benefiting current and future customers.
Finally, with an increase in the asset base, the combined entity will be able to make more loans, grow their topline and incrementally expand their bottom-line.
Risks
If the balance sheet of FCLF on the last day of the month preceding the closing date of the merger reflects consolidated shareholder equity less than $80,700,000, for every $50,000 shortfall, the cash consideration will be reduced by $0.0075/share and the exchange ratio reduced by 0.00025/share.
Secondly, if at any time during the ten business days starting on the twelfth day following the effective date of the merger, if the average closing price of a share of FMBH is below $21.30/share or decreases by more than 20% in relation to the NASDAQ Bank Index, FLCF will have the right to terminate the merger; that is, unless FMBH elects to increase the exchange ratio.
If FCLF breaches its covenant not to solicit an acquisition proposal from a third party or if the company terminates the merger agreement in order to enter a better deal, the company will have to pay a $3.6 million termination fee.
There has been a lawsuit filed against FCLF by a shareholder of the company, seeking to challenge the merger. To complete the merger, there must not be any order, injunction, or decree, issued by any court or agency and be in effect. If this shareholder is successful in obtaining an injunction, it may prevent the completion of the merger in the expected timeframe, or all together.
Conclusion
The merger between FCLF and FMBH doesn't have a very attractive spread at the moment given that 75% of investors will lose -0.92% at the current prices. However, the reason for the negative spread is due to the substantial rise in FCLF's stock price (from $11.67-12.30/share with one trade), right before the close on Friday, combined with the -2.80% fall in FMBH.
Given the lack of liquidity in FCLF and FMBH, I believe that the market will even the spread out, thus, giving investors another chance of taking advantage of this opportunity. Based upon the current price of FMBH, anything below $12.00/share with FCLF would be advantageous.

Source: Created By CompleteBankData
Furthermore, any rise in the stock price of FMBH will help to create a larger spread.
As of right now, I will be not be investing in this deal. However, if the spread begins to widen, which I believe it will, I may take a second look and initiate a small position.
Disclosure: I/we have no positions in any stocks mentioned, and no plans to initiate any positions within the next 72 hours.
I wrote this article myself, and it expresses my own opinions. I am not receiving compensation for it (other than from Seeking Alpha). I have no business relationship with any company whose stock is mentioned in this article.
Editor's Note: This article covers one or more stocks trading at less than $1 per share and/or with less than a $100 million market cap. Please be aware of the risks associated with these stocks.