The junk bond market in 2016 looks to be a favorable investment for investors that are looking for high yields and a reasonable amount of risk as the global economy leaves the troubled year of 2015 behind. Returns for the riskier bonds in 2015 were negative for the first time since 2008 dropping to -5.15 percent by December 15, according to HighYieldBond.com.
Small-cap energy defaults weighed on the performance of the high yield sector as oil prices approached its bottom at the end of the year. In fact, "the U.S. speculative-grade default rate" in 2015 reached highs not seen since October 2013 when it reached 2.8 percent. An already unstable junk market came into 2016 expecting short-term interest rates to be on the rise as the Federal Reserve had proclaimed their desire to raise rates, and as a result, analysts were wary in their projections for 2016.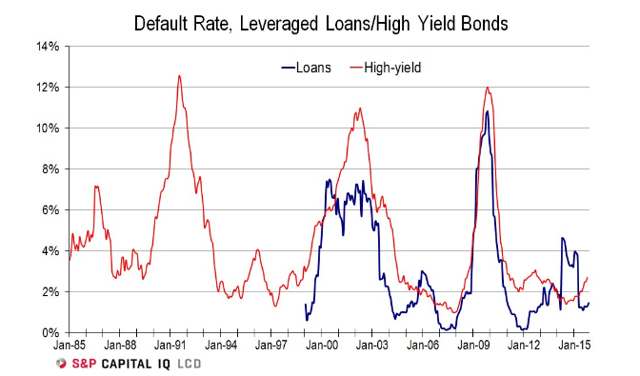 From HighYieldBond.com
Both Bank of America and Deutsche Bank claimed a bearish outlook for 2016 projecting -2.5 percent and -1 percent return respectively. Other banks voiced their optimism with J.P. Morgan, Morgan Stanley, Credit Suisse, and Barclays pegging their estimates between 4-6 percent. A 2016 scenario reflecting average predictions would be relatively flat, and that mindset seems reasonable considering the unpredictability of a lot of the sectors of the economy going into the new year. No one really knew where oil prices were headed with OPEC still in talks of a freeze at the time.
Weakness in China appeared to have reached a bottom, and the central bank kept rates low in hopes of a smooth ride back to the top. However, weak earnings forced uncertainty on the optimists. Bank of America Merrill Lynch U.S. High Yield rates reached their near-term highs around the time that these projections were coming out reflecting the perplexing trend in default rates and earnings. If we jump forward to the current state of the bond market in June, almost seven months later, the reservations voiced at the beginning of 2016 are evident, and due to recent events, refutable.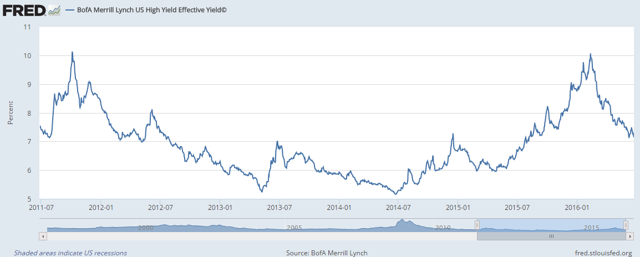 High yield rates peaked after the sell-offs at the beginning of 2016, but since February 12th, have fallen almost 300 basis points. Investors have been buying up these junk bonds pushing their rates closer to Treasury rates even though safer rates have fallen as well. Falling yields signal the strength of a market that is posting above-average returns. Morningstar's high-yield bond fund data reports a year-to-date 5.69 percent return for the year of 2016 so far with many of the best high-income funds boasting rates well over 8 percent.
The BofA Merrill Lynch High Yield Index, a popular symbol of the market as a whole, has returned 8.15 percent year to date. So far, junk bond returns have beaten many of the banks' projections, and there may be more optimism going forward from here. Because these securities typically have short maturities, their fundamentals rely heavily on short-term outlooks, and these outlooks are bullish due to recent developments in the commodity market and monetary policy.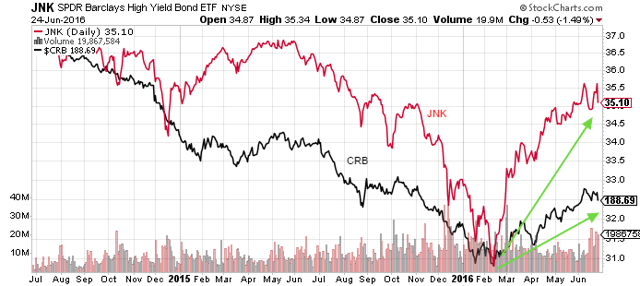 Junk bonds in the energy sector performed poorly in 2015 because of defaults and low oil prices. In 2016, the sector has turned around in response to the uptrend in energy spot prices. In Calamos Investments' most recent High-Yield Market Review and Outlook, the energy sector led all other sectors for the third month in a row posting a return of 2.6 percent in May 2016. In the same month, Brent and WTI oil prices threaten to top $50 as global demand showed a robust recovery and U.S. supply shrunk.
With mining and mineral default growth mitigated by commodity price growth, investors have been more confident in trading high-yield bonds as shown by the comparison of SPDR Barclays High-Yield Bond ETF (NYSEARCA:JNK) and the Commodity Research Bureau's basket index (CRB). Both bottomed at the beginning of the year and have been recovering aggressively in the first half of 2016 up to June. In 2009, we saw junk bonds stage an impressive 55 percent recovery in the year after the financial crisis. If oil prices continue to show more upside and approach $55 to $60 a barrel, a strong recovery reminiscence of 2009 could take place.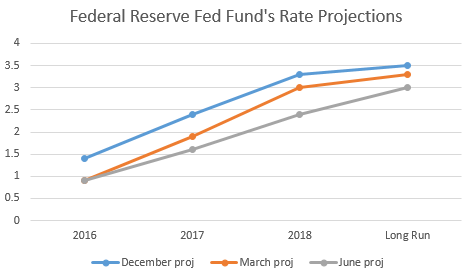 Up until the June Fed meeting, stock and bond investors have been preparing their portfolios for the change in interest rates as communicated by the Board of Governors in December 2015. Janet Yellen and the other FOMC members appeared ready to initiate a series of three gradual rate hikes throughout 2016 and were even able to sneak one in at the beginning of the year. After the June meeting, investors can take a deep breath and adjust their expectations. The FOMC has consistently reduced its median Fed Funds rate projections since December 2015.
In June, the Fed adjusted 2016 projections to 0.9 percent, 0.5 percent below the 1.4 percent estimate in December. Long-run expectations for 2017 and 2018 have been adjusted too with June estimates 0.8 percent and 0.9 percent lower respectively. These dovish maneuvers will bode well for the high-yield market, which was threatened by the pressure of rate hikes that were all but guaranteed by the Federal Reserve's crystal ball. Market instability caused by Brexit will likely delay rate hikes even more as the G-7 central banks called for liquidity measures to be preserved after losses on June 24th.
The junk bond market has performed well so far this year, but investors can look forward to even more growth in the third and fourth quarter of 2016. As shown by the decline in high-yield interest rates, traders are increasingly buying into the market, which will bolster bond prices and liquidity in the near term. Rebounding oil prices will also provide a crucial support for mineral and mining debt as opportunities from profit arise from high-yield energy securities in the latter half of 2016.
Finally, dovish expectations inspired by the Fed's June remarks should reverse any adverse developments caused by Brexit instability. All three points should combine to support a bullish push in the junk bond market, which could post returns of 8-10 percent by the end of 2016.
Disclosure: I/we have no positions in any stocks mentioned, and no plans to initiate any positions within the next 72 hours.
I wrote this article myself, and it expresses my own opinions. I am not receiving compensation for it (other than from Seeking Alpha). I have no business relationship with any company whose stock is mentioned in this article.