Source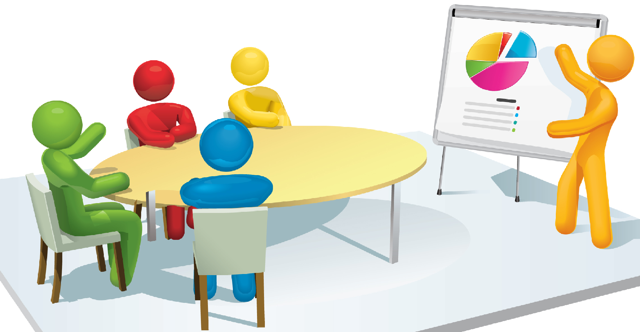 G-III Apparel Group (NASDAQ:GIII) is a manufacturer and distributor of quality branded apparel. In the earnings call reviewing the fourth quarter of fiscal 2016 (ending January 31st, 2016) G-III Apparel suggested the idea of doubling its business.
The opportunities we have between Bass, Karl Lagerfeld, Tommy Hilfiger and the organic growth that's still achievable and that we still factor into our businesses can double the size of our business.
Significant progress is not a foreign concept for G-III. From fiscal 2011 to fiscal 2014, G-III doubled its revenue from $1.06 billion to $2.12 billion. But, a revenue double at this point would require adding another $2-plus billion since fiscal 2016 revenue totaled $2.34 billion.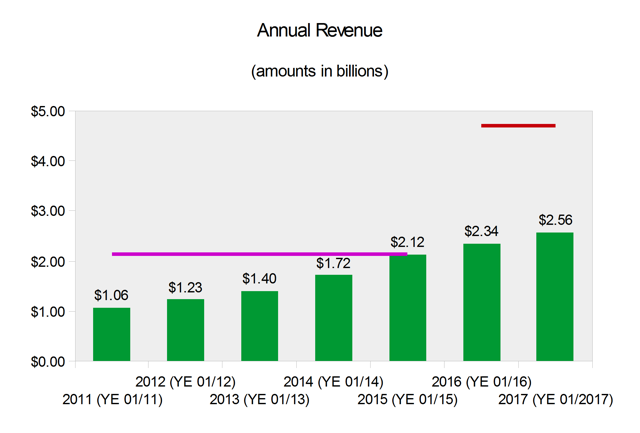 Source: Author-created from company data
Alas, the feat is at least twice as hard. The path to $3.6 billion is already plotted - Calvin Klein at $1 billion, G.H. Bass at $1 billion, Tommy Hilfiger at $1 billion, Karl Lagerfeld at $500 million and Ivanka Trump at $100 million. So, the yet-to-be-determined leg is the jump from $3.6 billion to $4.7 billion.
Complicating the trek is the state of retail. To declare the retail environment for clothing and clothing accessories "challenging" is like declaring the sun "warm". Headlines discussing clothing retailers include phrases such as "meltdown", "weak", "downtrend", "contraction".
In its first quarter of fiscal 2017, even G-III Apparel struggled with its specialty retail business. Retail sales slipped $7.5 million from the prior year's first quarter. In spite of retail, G-III Apparel Group set a record for first quarter revenue of $457 million, a 6% year-over-year improvement.
G-III's wholesale business grew 9% from $352.5 million in the fiscal 2016 first quarter to $382.4 million. That type of progress is encouraging for a company at the onset of another revenue double. Even more encouraging, in the earnings call, Mr. Goldfarb, G-III's CEO, described the wholesale segment as "gaining momentum". G-III expects wholesale to accelerate in the second half of fiscal 2017.
Last year, the company explained the dynamic of growing its wholesale business during a challenging retail environment.
In difficult times, retailers cull down their risky pieces of business and marry to a safe, profitable proposition. And, we have proved out to be that safe, profitable proposition. Resources that are second tier are generally eliminated in difficult times and space is given to success stories.
As an example, G-III elaborated on its performance in the quarter at Macy's (NYSE:M). In fiscal 2016, sales to Macy's (which included both Macy's and Bloomingdale's stores) accounted for approximately $487 million, almost 21% of G-III's net sales total.
Our sales to Macy's grew over 13% versus last year and our retail sell-throughs continued at a strong double-digit rate.
Comparatively, on May 11th, Macy's reported a 7.4% decline in sales year-over-year for its first quarter. The contradiction between wholesale sales improvement and retail sales decline proves G-III's explanation that retailers migrate toward safe and profitable during difficult times.
And Macy's was not an outlier:
We're seeing this kind of outperformance broadly in department stores.
Department stores and shopping malls have been battling FTT (Failure To Thrive) due to consumers' embrace of online commerce. Performance in the physical store is but one factor for today's retailers and is, likely, no longer the key determinant. G-III Apparel is as well-positioned for online commerce as any wholesaler. The beauty of supplying well-known brands such as Calvin Klein, Tommy Hilfiger, Karl Lagerfeld, Vilebrequin, G.H. Bass, Wilson's, Andrew Marc, Eliza J or Jessica Howard leans toward consumers having fewer qualms about buying online. They already trust the quality, the value they get for the price. Marrying quality and convenience is a definite advantage.
There's little argument Amazon (NASDAQ:AMZN) is retail's prime disruptor. G-III addressed the Amazon factor in its latest call.
We are very active in business with Amazon through most of our brands. We manage our business uniquely. A lot of the product that is on Amazon is not available at the store level. We've tried to discriminate how the distribution works. We are currently building a site for one of our brands on Amazon and we take them seriously. Yet, we look to protect our business with our department stores. They also have online businesses that we support. And, currently, we are managing our businesses really well. We are looking at initiatives with Amazon that would provide them with private label product, with unique brands, either their own or some of our brands that aren't distributed to department stores. So, it serves their desires. And, it solves some of our issues with our department store retailers.
Discounted retail is also bucking the challenging retail environment. In its most recent quarterly reporting, TJX Companies (NYSE:TJX) saw comparable store sales (CSS) improve 7%. Though its performance disappointed analysts, Ross Stores (NASDAQ:ROST) also delivered CSS improvement of 2%. Both companies, as well as membership clubs such as Sam's Club (NYSE:WMT) and Costco (NASDAQ:COST), are wholesale customers of G-III Apparel Group.
G-III didn't necessarily offer a time frame for doubling its fiscal 2016 revenue. It has projected its businesses will grow at a double-digit pace. It also believes the pace is supported because its addressable market is still very large. G-III reaffirmed its fiscal 2017 full-year guidance when it reported first quarter results. Net sales (inclusive of intercompany adjustments) are forecast at approximately $2.56 billion, representing a 9+% increase. It is pertinent G-III's original projections for fiscal 2016 were cautious. Applying a consistent double-digit growth pace of 11%, G-III could reach the intended revenue double in seven years by early 2023. The estimate is based solely on organic growth.
In contrast, earnings per share for fiscal 2017 are expected to increase from $2.46 to a range of $2.55 to $2.65. At the midpoint of $2.60, the increase is just 5.7%. Until G-III Apparel improves its retail operations, the bottom line will bear the impact.
In the first quarter of fiscal 2017, the loss in the retail segment more than doubled from $(6.8) million in fiscal 2016 to $(17.1) million. Comparable sales were -13.6% at Wilsons and -5.1% at Bass. The mild winter impacted sales at Wilsons. The company has been focused on revitalization efforts for the Bass brand. These efforts include upgrading designs and quality of the shoe collection as well as testing a remodel of stores. If the remodel test proves advisable, the capital investment will not be draining on G-III.
The company actually expects both Wilsons and Bass to achieve mid-single-digit comps for the full year. It expects better store productivity, better sales and better gross margins for both brands in the second half of fiscal 2017.
Organic growth, however, is not likely to be the only contributor to G-III's business doubling. The company has no debt and $95 million in cash. It expects its cash balance to build further in fiscal 2017. G-III is very open about being ever on the lookout for acquisition opportunities. Its track record of nurturing and expanding brands speaks for itself. Expanding its business through acquisition or joint venture will obviously shorten the potential time frame for a revenue double.
In the meantime, shareholders won't receive a dividend from G-III. They'll have to rely on share price appreciation instead. In the beaten-down retail industry, share price multiples will be modest until the industry recovers and confidence returns. G-III Apparel is cautiously valued compared to its historical multiple. Trusting the company's planning and ability to execute on such, the opportunity to build shares below $46 should pay off handsomely.
Disclosure: I/we have no positions in any stocks mentioned, and no plans to initiate any positions within the next 72 hours.
I wrote this article myself, and it expresses my own opinions. I am not receiving compensation for it (other than from Seeking Alpha). I have no business relationship with any company whose stock is mentioned in this article.