Warren Buffet's Berkshire Hathaway (NYSE:BRK.A) is a company that operationally fires on all cylinders most of the time. The really cool thing about Berkshire is that it manages to achieve operational excellence across all kinds of different and completely unrelated businesses.
This level of performance has nothing to do with Buffett's own ability to run these businesses. Instead it has everything to do with his ability to pick managers who excel at running the businesses for him.
Our investing approach here at the Superinvestor Bulletin is much like Buffett's approach to running Berkshire's operations. We invest quite comfortably across different sectors not because we trust our own expertise, but rather because we think we've identified the right Superinvestors to follow.
For instance when European stocks crater we can look into our rolodex and pull out an investor with proven long term success in that particular region. In this case we would be referring to Oakmark's David Herro.
We thought we'd provide for readers today a glimpse into some of his large European financial holdings all of which have stock prices far below what he paid for them. We think that building a basket of these European financials could work out well over time provided Brexit isn't the end of the world.
David Herro An Enviable Track Record
David Herro has been a manager of the Oakmark International Fund since 1992, and he is also the Chief Investment Officer for International Equities at Harris Associates, which he joined in 1992.
His career honors include being named Morningstar's International Stock Fund Manager of the Year in 2006 and International Stock Fund Manager of the Decade for 2000-09.
He has done very well against the MSCI World Ex U.S. Index over that nearly 25 year period.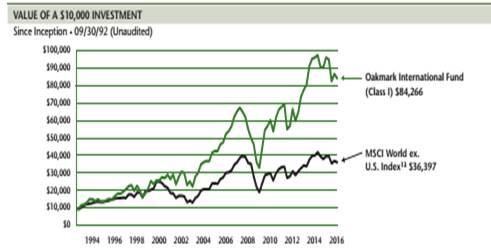 Source: Oakmark International
His track record speaks for itself and we believe investigating his portfolio for ideas is well worth it. As of the end of March 31, 2016 his $26 billion fund had 68 percent of its cash invested in Europe. With the Brexit induced selloff you can bet his portfolio is stuffed full of bargains.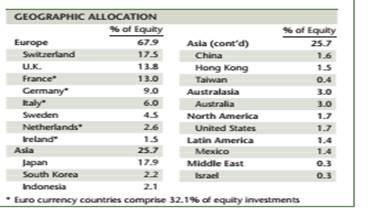 Source: Oakmark International
His top ten holdings at March 31, 2016 are as follows: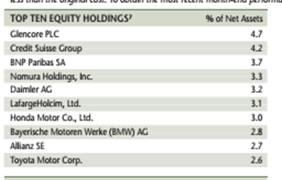 Source: Oakmark International
Perhaps A Basket Of Beaten Down Financials?
With 68% of his portfolio invested in Europe you can imagine that Herro is having a rough go right now. Making matters even worse is the fact that Herro had 30% of his portfolio invested in financials which have taken the brunt of the panic.
We think that given the valuation that these particular financial companies are trading at this could make for a very attractive opportunity. Our preferred approach wouldn't be to take on specific company risk, but rather purchase a basket of these companies.
Herro had been investing in these European financials prior to the Brexit on the basis that their balance sheets and businesses were in much better shape than the market believed.
Here is what Herro had to say about his European financial holdings earlier this year:
What we've seen is very, very little-if any-earnings deterioration. We've seen improving credits. We've seen expenses being cut. We've seen dividends being increased. Very, very inconsistent with share price activity.

Now one of the fears is that with the flat yield curve, lending spreads will shrink. Again, all else being equal, this is true. All else being equal, a flat curve is not good for banks.

However, all else is not equal, as I mentioned. Fee-based income is increasing. Costs are going down. Credit expansion is picking up. And loan losses are dropping.

So, yes. There is a negative. But we don't think that negative-especially when you blend it with some of the positives-at all warrants the share price movement of what we've seen in European financials.

The last thing I will say is, as a group, last time there was this just widespread destruction in value-well, there were two times: The first time was in '08/'09, during the financial crisis. The second time was around 2012 or 2013, during what was a sovereign debt fear.

Now during the financial crisis, the average European bank probably had a Tier-1 capital-this is a measurement of financial strength-of around 5% or 6%. When you look at those numbers today, they're at 11% or 12% or 13%. And the definition of "capital" has become a lot more conservative.

So banks are better capitalized today than they were during '08/'09. That gives them the ability to absorb losses, despite the fact that there aren't widespread losses.

This is what I'm saying: Do not let current markets and pricing jade your picture. Because often, as was the case of 2012/2013, Mr. Market is wrong.
This was before the Brexit collapse. We are doubtful that the Brexit events is going to permanently change these companies for the worse. We aren't certain of it, but we are very skeptical. Either way we would be looking to build a diversified basket of these companies, not place a big concentrated bet on any particular one of them.
Here is rundown of his bank holdings that we think could make for a rewarding basket of companies over the longer term. We aren't saying that these are the finest businesses in the world, but we do trust that Herro knows the balance sheets of these companies pretty well.
We are now able to buy at a significant discount to prices that Herro thought these companies were attractive.
Credit Suisse (NYSE:CS)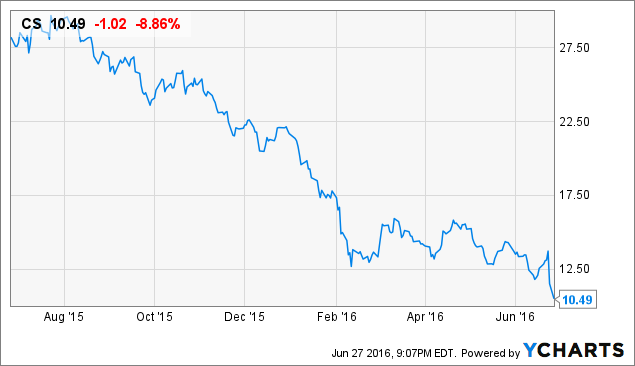 In the first quarter of 2016 Herro was buying Credit Suisse pretty aggressively. He increased his position in the company by 31.3% to 77,319,000 shares. He owns enough of Credit Suisse to have a direct line to management considering he holds 4% of the company. All of those first quarter purchases were in excess of where Credit Suisse currently trades. With 4.2% of Oakmark International in Credit Suisse it is Herro's largest financial holding.
If you believe the balance sheet is anywhere close to being fairly stated this could be a real bargain. With shares near a 10 year low Credit Suisse is now trading for less than half of book value. Its tier 1 capital ratio was 11.4% at the end of the first quarter. That isn't the best in the industry but it is ok provided big writedowns aren't coming. The company is certainly valued as though its situation is dire.
Credit Suisse has been trying to restructure its business by reducing its fixed costs, increasing its Global Markets business and continuing to improve its capital position. The restructuring has created some hits to earnings and is a big reason why the company was so cheaply valued even before the Brexit.
BNP Paribas (OTCQX:BNPQY)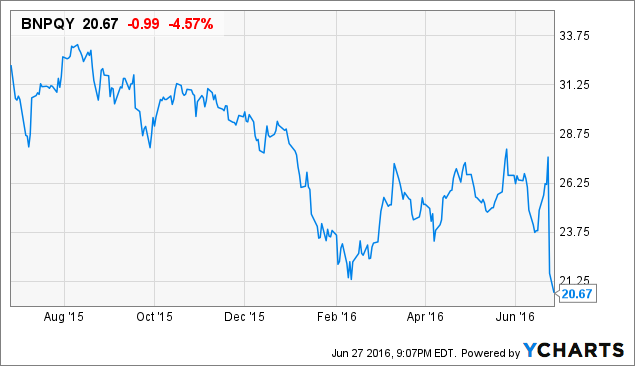 BNP Paribas is another European financial that Herro was buying in the first quarter and it represented 3.7% of the Oakmark International portfolio as at March 31, 2016.
With a tier one capital ratio of 11% it sits in a similar financial position to Credit Suisse and like Credit Suisse, BNP trades for only half its book value.
The market is valuing this company as though significant dilution may be in its future which seems unlikely given that it has net income of 1.8 billion Euros in the first quarter of 2016.
We watched several Superinvestors make out well buying Bank of America (NYSE:BAC), Citigroup (NYSE:C), Goldman Sachs (NYSE:GS) and AIG (NYSE:AIG) at big discounts to book value after the financial crisis was over. Buying a basket of financials at a discount to book value can be rewarding.
We would be concerned that these European banks have a bumpier road ahead of them, but we would note that like the American Banks in 2010 the European banks have had a lot of regulatory scrutiny over their balance sheets so book values should be pretty solid.
Intesa Sanpaolo (OTCPK:ISNPY)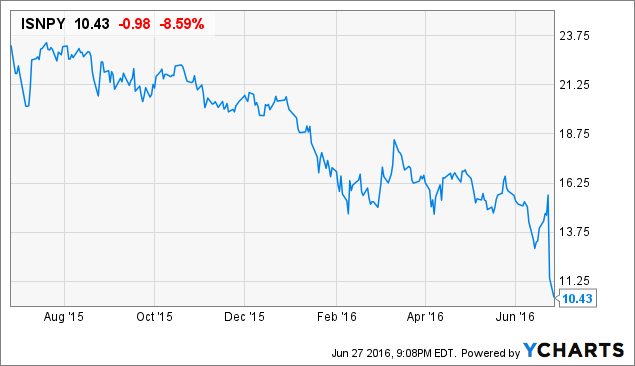 Intesa Sanpaolo is yet another European financial holding of the Oakmark International Fund. This bank is based in Italy where it has 4,100 branches. Again Herro was buying shares in the first quarter of this year at prices considerably above where it can be purchased today. Herro has 2.2% of the Oakmark portfolio in Intesa.
Last year Intesa made 14.4 billion Euros and made another 806 million Euros in the first quarter of this year. Intesa's tier one capital ratio of 12.9% is significantly better than Credit Suisse and BNP.
With a price to book value of roughly 0.7 times this bank seems very inexpensive considering it has been solidly profitable. Another one for the basket.
Lloyds Banking Group PLC (NYSE:LYG)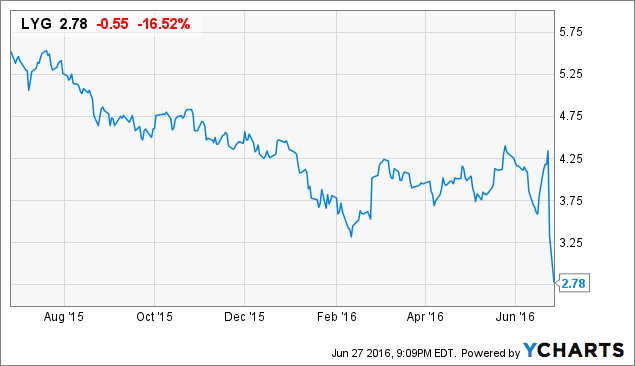 The fourth bank in our basket is one that is within the Brexit nation itself.
The venerable Lloyds Banking Group represents 2.1% of the Herro portfolio as at the end of the first quarter of 2016. Lloyd's is profitable too having made over 2 billion pounds in the first quarter and with a tier one capital ratio of 13% is on even better financial footing than the others.
Lloyd's price to book value of just under 1 time is higher than the other banks that are extremely pessimistically valued but it still seems quite cheap for a profitable bank.
All together these four financial companies represented 12.2% of David Herro's portfolio at the end of March 2016 so he clearly believes in the group. Investors today can get in at a significantly lower price than Herro did.
If the Brexit turns out to be overhyped (these things usually are) this basket of companies should do well in the coming years from current prices.
An Alternative Even More Diversified Option
If you think European financials are bargains right now but want to spread your bets even wider you could take a look at the iShares MSCI Europe Financials (NASDAQ:EUFN). Like the financials in Herro's portfolio the EUFN has also taken a shellacking in the past few days.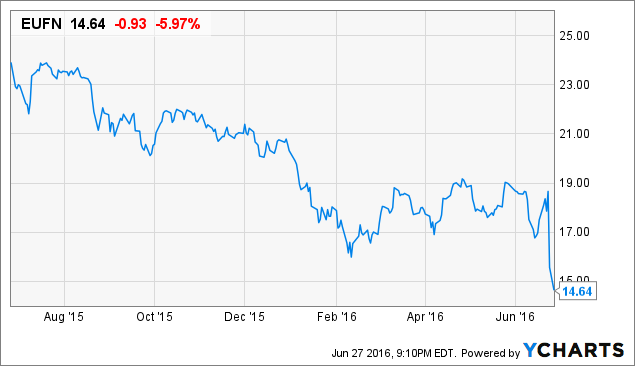 As of June 24 this grouping of European financials was trading at a price to book ratio of 0.77 and a price to earnings ratio of 9.8. That is a cheaply valued bunch. Below are the top 20 holdings of the ETF as of June 24.
| | | | |
| --- | --- | --- | --- |
| Ticker | Name | Asset Class | Weight (%) |
| HSBA | HSBC HOLDINGS PLC | Equity | 8.51 |
| ALV | ALLIANZ SE | Equity | 4.56 |
| SAN | BANCO SANTANDER SA | Equity | 3.84 |
| UBSG | UBS GROUP REGISTERED AG | Equity | 3.64 |
| LLOY | LLOYDS BANKING GROUP PLC | Equity | 3.53 |
| BNP | BNP PARIBAS SA | Equity | 3.29 |
| PRU | PRUDENTIAL PLC | Equity | 3.06 |
| INGA | ING GROEP NV | Equity | 2.84 |
| CS | AXA SA | Equity | 2.78 |
| ZURN | ZURICH INSURANCE GROUP AG | Equity | 2.50 |
| BARC | BARCLAYS PLC | Equity | 2.50 |
| BBVA | BANCO BILBAO VIZCAYA ARGENTARIA OR | Equity | 2.48 |
| SREN | SWISS RE AG | Equity | 1.97 |
| MUV2 | MUNICH REINSURANCE COMPANY | Equity | 1.96 |
| NDA | NORDEA BANK | Equity | 1.88 |
| UL | UNIBAIL-RODAMCO SE REIT | Equity | 1.79 |
| STAN | STANDARD CHARTERED PLC | Equity | 1.78 |
| ISP | INTESA SANPAOLO | Equity | 1.74 |
| GLE | SOCIETE GENERALE | Equity | 1.74 |
| CSGN | CREDIT SUISSE GROUP AG AG | Equity | 1.53 |
| AV. | AVIVA PLC | Equity | 1.46 |
We think that following Herro at this point or using the iShares ETF could work out well over time. One thing we would do however is average into these positions slowly. Chances are you aren't picking the bottom here and that things will get even more hairy in the coming weeks.
As for us we have what we think is an even better idea that we will be releasing to subscribers on July 1. It is a European company that is priced too cheaply for us to ignore and is a massive position in the portfolio of two of our favorite Superinvestors. If you'd like to join our subscribers and get our 20 page report on this company you can do so through the link below.
https://seekingalpha.com/author/superinvestor-bulletin/research
Thanks very much for reading. If you would like to continue getting our free content please select the follow button at the top of the article.

Disclosure: I/we have no positions in any stocks mentioned, and no plans to initiate any positions within the next 72 hours.
I wrote this article myself, and it expresses my own opinions. I am not receiving compensation for it (other than from Seeking Alpha). I have no business relationship with any company whose stock is mentioned in this article.
Editor's Note: This article discusses one or more securities that do not trade on a major U.S. exchange. Please be aware of the risks associated with these stocks.