Lately, the market has been anything but kind to Legacy Reserves (NASDAQ:LGCY) (NASDAQ:LGCYO) (NASDAQ:LGCYP). Over the past week, shares of the common units fell by 15.3%, while shares of LGCYO and LGCYP fell 21.2% and 17.9%, respectively. In part, this has been driven by the Brexit vote and the subsequent drop in oil prices, but another large contributor, in my opinion, has been the fact that investors now assign a higher probability of bankruptcy later this year after management changed its compensation structure in a way that the now-bankrupt Breitburn Energy Partners (OTCPK:BBEPQ) did just months before going under.
In what follows, I will dig into Legacy's financials and discuss why I believe bankruptcy at current energy prices (near term) is highly unlikely and what management should do to protect shareholders.
A look at cash flow
In prior articles on Legacy, I provided a breakdown of what cash flow should look like moving forward. In the table below, I've elected to do the same so that we have an understanding of the firm's current position. This table assumes that oil prices average, between 2016 and 2019, $47.57 per barrel and that natural gas prices average $2.668 per Mcf, the same as where prices are as of the time of this writing.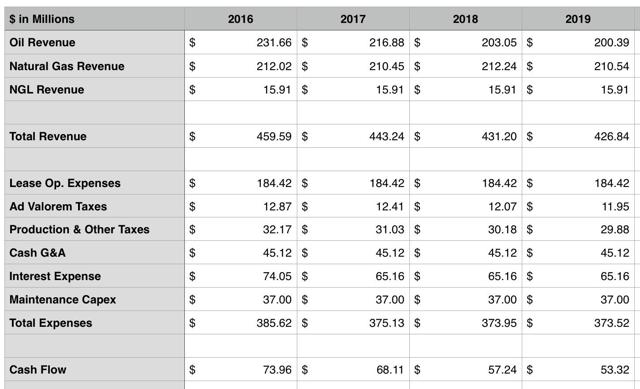 Based on the data provided, it's evident that this year should be a very good year for the firm but even as hedges roll off, Legacy's cash flow should stay robust. Given current assumptions, cash flow next year should average $68.11 million, followed by $57.24 million in 2018 and $53.32 million in 2019. Even in a world where no hedges exist and capex can remain unchanged (which may not be an appropriate assumption but which I have no better data on), Legacy should generate around $31.87 million per year in excess cash.
At first glance, this may seem like Legacy is a no-brainer, especially when the market cap of the firm's common units stands at $126.51 million as of the time of this writing. However, one fear investors have relates to debt, particularly credit facility borrowings. In the image below, you can see the debt picture of the company, including the $560 million in borrowings outstanding under the firm's credit facility.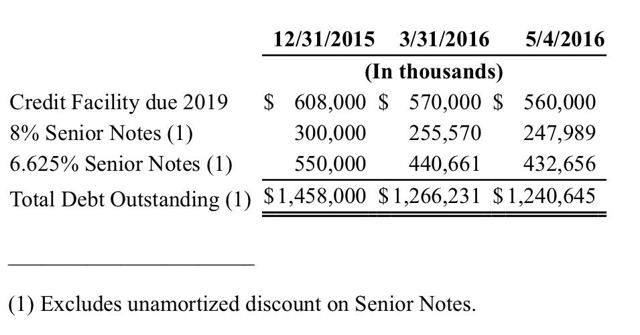 As of this moment, Legacy only has $68.6 million in wiggle room on this facility and with a bi-annual redetermination coming up in the fall, investors are terrified that the facility may drop low enough that the business is either forced into bankruptcy or needs to engage in a firesale of its properties in order to avoid a default. This is a realistic fear, and in the past, I've warned that the firm does risk, at some point in the future, breaching covenants on its facility if something doesn't change.
A restructuring is needed... but not the kind you think
In this article, I am calling for management to engage in a restructuring but not the kind of restructuring that will leave investors worse off in the long run (like a Chapter 11 that would destroy common and likely preferred unitholders). Instead, I believe management would do well by further hedging its production through at least 2017 and possibly even 2018 just to be safe.
As you can see in the table below, Legacy's hedges are limited, especially when it comes to oil. By hedging, at current prices, for 2017 for 100% of oil production, management would see Legacy generate excess cash flow of $13.49 million. By doing the same with natural gas, the number would increase by another $11.42 million to $24.91 million. Following the same approach for 2018 would add cash flow that year of $31.16 million.

This limits upside in the event that oil and/or natural gas prices move materially higher but they will protect the firm and boost short-term cash flow. Furthermore, it will allow management to work on changing its existing capital structure. What I would personally like to see is for Legacy to try and take on second lien debt like how Breitburn did in 2015. The rate in that case (which I am assuming for Legacy as well) was 12% per year but given the change in the energy market and the lower debt levels that the business has relative to its peer, it may attract better terms. Linn Energy (LINEQ)/LinnCo (LNCO) followed a similar strategy.
By taking out, say, $250 million in high-interest, second lien debt, Legacy would be able to pay down their credit facility by that amount, removing all fear (for at least the next year or so and probably longer) of a disastrous hit to the firm from a major hit to its credit facility. This is due to the fact that second lien debt has been, during this cycle, for multi-year periods and because the drop in the firm's credit facility to trigger a breach and/or meaningful cut in the borrowing base below existing borrowings would need to be at least $344.7 million moving forward. This assumes that no additional debt is paid down under the facility from asset sales or cash flows.
If you incorporate with this planned asset sales that were supposed to take place by the end of June totaling (but excluding prior disclosed ones) $26.1 million, the credit facility should fall to about $283.9 million, materially lower than Legacy's PV-10 value at the end of last year of $694.9 million. While interest expense would increase meaningfully, this would be offset by the stronger hedging of the firm and cash flow in 2017 would be $2.89 million higher than the pro forma financials shown above. It would also be about $9.14 million higher in 2018 than shown.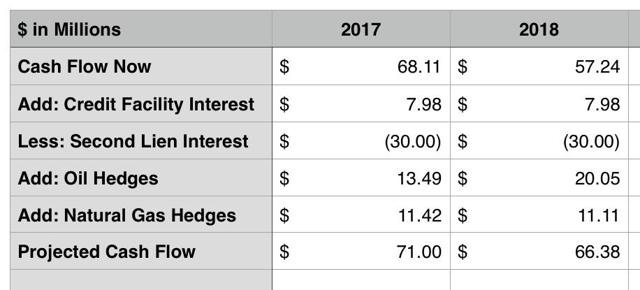 One interesting scenario I entertained would be taking on even more second lien debt (which might be a stretch) and allocating it toward paying down Senior Notes. If, for instance, the firm could take on $100 million in excess borrowings and pay down some of its 8% notes, total debt would fall by $121.88 million and cash flow would increase by $5.75 million even with a 12% rate on the second lien debt.
Buying back the 6.625% Senior Notes with the same amount of money would pay down aggregate debt by $134.49 million and boost cash flows by $3.53 million per year net of the $12 million in interest expense associated with the second lien debt. An approach of this nature would be a great idea but I don't know how easy it would be to convince second lien holders to be okay with this scheme. Rather, Legacy might be better off allocating excess cash flow each year toward paying down these notes at a discount.
Takeaway
At this moment, I really like Legacy but the two things that worry me are the business's credit facility to some extent and its lack of hedging. If energy prices tumble again or if lenders become nasty, the firm could be at a serious risk. By taking the next year or two and hedging out production, the firm risks missing upside in the oil markets but it's highly probable, in my opinion, that the supply/demand imbalance will be long gone by the end of 2018 (absent a material global economic downturn or soaring production). To me, this is a fair tradeoff for Legacy and would help to offset an increase in interest expense associated with a new debt structure that would ultimately reduce the risks of the business to shareholders.
Disclosure: I am/we are long LGCY.
I wrote this article myself, and it expresses my own opinions. I am not receiving compensation for it (other than from Seeking Alpha). I have no business relationship with any company whose stock is mentioned in this article.
Additional disclosure: My LGCY position is in the form of preferred units, not common ones.
Editor's Note: This article covers one or more stocks trading at less than $1 per share and/or with less than a $100 million market cap. Please be aware of the risks associated with these stocks.