Business
United Rental Inc. (NYSE:URI) is the largest equipment rental company in the world with operations in the US and Canada. It has primarily three end markets - Industrial (51% of revenue), Non-residential construction (45% of revenue) and Residential construction (4% of revenue) - with a market share of approximately 12% in a highly fragmented industry. Geographically, the company derives 90% of its revenue from the US and 10% from Canada. The company has significant competitive advantage over its peers owing to its massive scale of operations - it is present in 901 locations across North America and boasts a fleet size of 430,000 equipment units.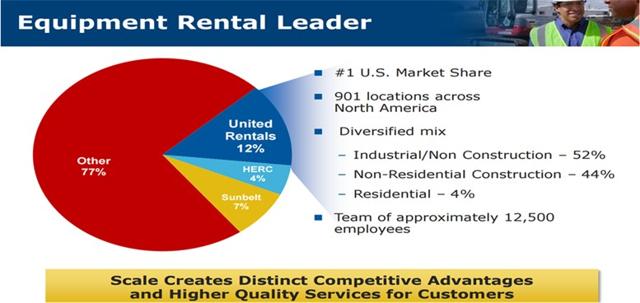 Source: Company presentation
Investment Thesis
United Rentals has been excessively punished for its operations in the oil and gas industry and in a weak Canadian economy. Rental rate cuts and several downgrades have added to the company's share price worries. Such pessimism is unwarranted and hence market correction should help value investors pocket a 58% upside.
Why the market has it wrong
Since September 2014, the company's share price has declined by a little over 44% despite strong and improving fundamentals. Astonishingly, over a 1 year time frame, the company has traded exactly like crude oil futures, thus highlighting that the market perceives United Rentals to be heavily correlated to oil.

Note: Orange line - Crude Oil futures; Blue line - United Rentals
Investors bearish on URI offer 3 major reasons as justifications for their position:
Oil: It is true that decline in oil prices has slowed down production activity which has in turn reduced equipment rental demand coming from the oil and gas industry. What the market has failed to recognize, however, is that upstream oil and gas accounts for only 6% of URI's total revenue. While low oil prices hurts this 6%, it is an impetus for growth of other industries served by the company. Furthermore, the company has successfully been cross-selling its equipment, as mentioned by the CEO Mr. Michael Kneeland:
"In 2015, we generated 22% more revenue from cross-selling versus the prior year, and we believe there's significant more financial benefit to be realized."
(Q4 2015 earnings call transcript)
Canada: Being a commodity-driven economy, Canada's real GDP growth has been sluggish with 2016 growth rate projections of under 1%. Non-residential construction activity grew by a meager 0.25% in 2015 since 70% of it comes from engineering construction, 50% of which is related to oil and gas. However, what the market is missing is that Canada comprises only 10% of URI's revenue. Hence, even a small increase in overall US revenue is more than sufficient to offset a major decline in Canadian operations as reflected in the following table:-

Source: My calculations
Rental rates: The equipment rental industry saw a decline in rental rates due to an oversupply of rental equipment. The excess supply was a result of lower than expected construction growth and decrease in equipment rental to oil and gas companies. With the result, management guided rental rate cuts of approximately 3-4% in 2016. This oversupply, however, will balance out by 2017 as demand strengthens (Rouse Services report).
Growth prospects
Looking ahead, several industry-wide growth opportunities will serve as tailwinds for United Rental since the company can leverage its high market share to maximize profitability. The US construction industry is expected to show strong growth rates on the back of an annualized 3% growth in infrastructure spending up to 2025. Upcoming projects such as the Hudson Yards Redevelopment Project, the biggest real estate development project in US history with a budget of $20 billion, is expected to provide further upside to URI since 3% of all construction contracts are allocated to equipment renting. Value of non-residential construction has been quite strong over the past 3 years and is expected to grow by 8.3% in 2016 and 6.7% in 2017.

The Trench Power and Pump (TPP) segment is a high margin business for the company - Gross profit margins stand tall at 46.3%, 340 basis points higher than that of its General Rental segment. The TPP segment includes the rental of specialty construction products and related services. In 2015, Trench Safety and Power & HVAC increased rental revenues by 21%, 16% of which comes from same-store sales growth, thus reflecting high demand. One of the key growth strategies mentioned in the company's annual report is to expand its TPP footprint, with the company opening up 14 specialty retail branches in 2016 itself. Currently, Trench and Power comprise only 5% of URI's total fleet size and the segment's contribution to equipment rental revenue is only 15%, thus reflecting high upside potential.
Risks
Since the company has been recently trading exactly like oil, a considerable risk is that the market may continue to behave in an irrational manner. Thus, a decline in oil prices will also affect the company.
Continued oversupply of equipment in the industry will put pressure on rental rates and the topline. Since the company has operations in Canada, there is a forex risk involved as well - something beyond the control of investors.
Financials

Source: My calculations
From the table above, a decreasing trend in Forward Price to Earnings ratio indicates that at current prices the company is undervalued, which is a result of the unjustified sell-off by Mr. Market. The company has historically enjoyed a strong ROCE and, looking ahead, an increasing trend in the same reflects the growing economic moat of the company and strong management ability to generate returns. A decreasing EV/EBIT multiple indicates that the company is cheap with respect to the operating profit it is expected to generate. Hence a calculation-adjustment of EV to reflect the growth will lead to a rally in stock price.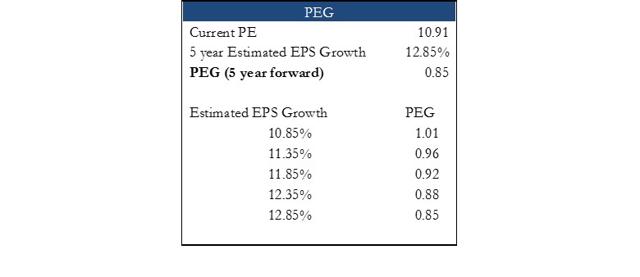 Source: My calculations
The company is currently trading at a low PEG ratio, with 5 year expected EPS growth of 12.85%. However, the common problem with the EPS growth number is that it is subject to several assumptions. A sensitivity analysis in the table above assumes different EPS growth rates and its related PEG. Even if EPS growth estimates are off by 150 basis points, PEG is still less than 1 and hence the company is still undervalued.
Valuation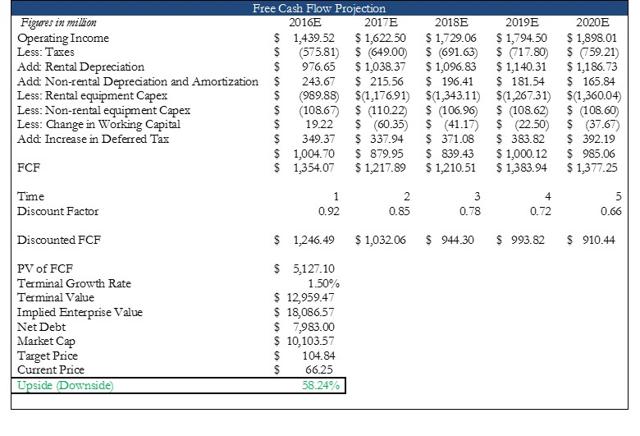 Source: My calculations
Intrinsic valuation of the company shows a strong FCF generation expected over the next 5 years and a resulting upside of ~58%, assuming a WACC of 8.63%. Note that the target price of $104 is the same as the company's share price on June 6, 2014 - the day after which the prices plummeted. This re-instates my thesis - I believe that the market overreacted and the prices should be back at the levels they dropped from.

Source: My calculations
URI has a higher than peer average Dollar Utilization rate and Operating Margin which reflects its better performance. Although the company's D/E is high, an equally high interest coverage ratio covers up for the same. Furthermore, most of its debt matures 2020 onwards and hence investors should not worry about its debt. Hence, even on a relative valuation basis, the company is trading at a discount to its peers.
A significant catalyst to the thesis is earnings surprise. Historically, the company has an average earnings surprise of +4.8% which implies that management has beaten consensus estimates consistently. Although EPS will be under pressure in 2016, the $1 billion share repurchase program will provide support to EPS growth. I re-iterate that United Rentals is a Strong Buy.
Disclosure: I/we have no positions in any stocks mentioned, and no plans to initiate any positions within the next 72 hours.
I wrote this article myself, and it expresses my own opinions. I am not receiving compensation for it (other than from Seeking Alpha). I have no business relationship with any company whose stock is mentioned in this article.