"History must repeat itself because we pay so little attention to it the first time."
-Blackie Sherrod
Anyone following my work on bank valuations should remember (at least I hope!) that the model I use is different from standard valuation methods. The excess returns model circumvents the problems with standard valuations of banks, instead focusing on how the bank invests its assets. If the returns are in excess to those of the market - i.e., can justify the opportunity cost - the valuation of the bank will be high, usually higher than the stock price.
I have run this model on every major bank in the US market. Most, I found, were undervalued relative to the excess returns that they offer. I explained this by invoking "wet feet syndrome": The idea that investors still around after 2008 have a distaste for banks and that the excess returns are not enough to convince these investors to buy.
Somewhat silly from a purely "by the numbers" approach, this mindset now shows to be increasingly justified. The Brexit issue threatens the excess returns of the banks both by stressing the leveraged systems that they use and by threatening interest rate cuts. The latter issue is a new component in this macro environment and should be taken as a possible headwind for the banking sector.
Enter Brexit
Now, after Brexit, Fed funds futures imply a 10% probability of a rate cut in July - up 10% from zero! That is, now the market is pricing in the possibility of reversing the December rate hike. In addition, multiple rate cuts would bring the US into NIRP!
One of the most bullish catalysts for the banking sector was the four rate hikes in 2016, as previously planned. The market is now pricing in no rate hikes for 2016, effectively removing one of the reasons for holding bank stocks. The current Fed fund futures market is not predicting another rate hike until 2018 - we went from four planned rate hikes in 2016 to zero (or possibly a cut).
The most likely scenario for 2016 is status quo: no cuts, and no hikes. Banks have a reason to drop in value, as they've lost an important tailwind. However, in terms of excess returns, banks are still undervalued.
More importantly, the UK's central bank might turn to cutting their interest rate from 0.05% to a ZIRP. If so, expect more capital flight from the UK to countries with positive interest rates. In this light, US banks gain a small but significant bullish catalyst.
Again, the issue with investing in the US banks is not so much valuation but uncertainty. This has become more so, now that rates can go either way. I encourage risk-seeking investors to review the excess returns valuations for the major banks and weigh these theoretical mispricings against the risk factors of taking a long or short position.
Valuations of Major Banks
What follows are the valuations of the major banks from my last four articles. You will notice a similar trend: All banks were highly overpriced prior to the 2008 financial collapse. The collapse brought most of the banks' stock prices back to fair valuation, at which point, the valuation and stock price quickly diverged once more.
Stocks included: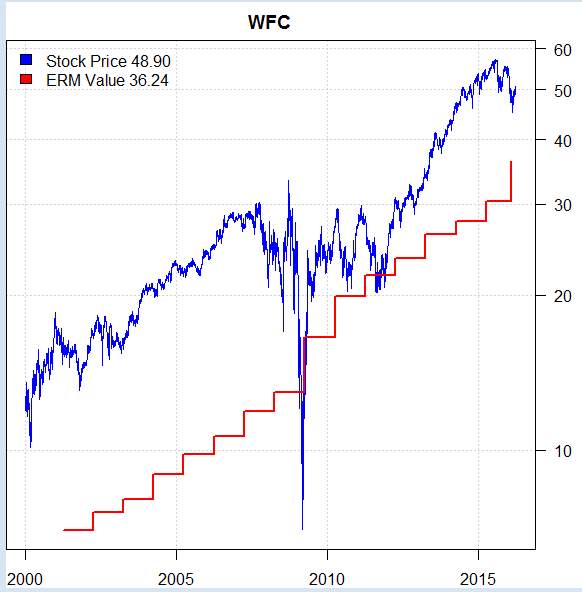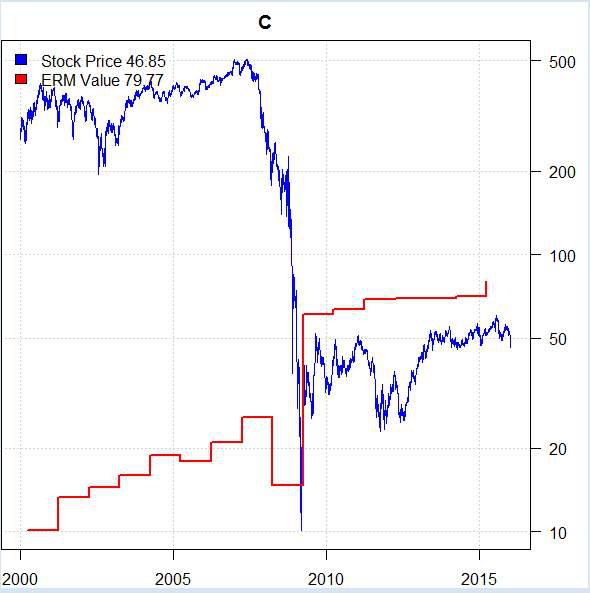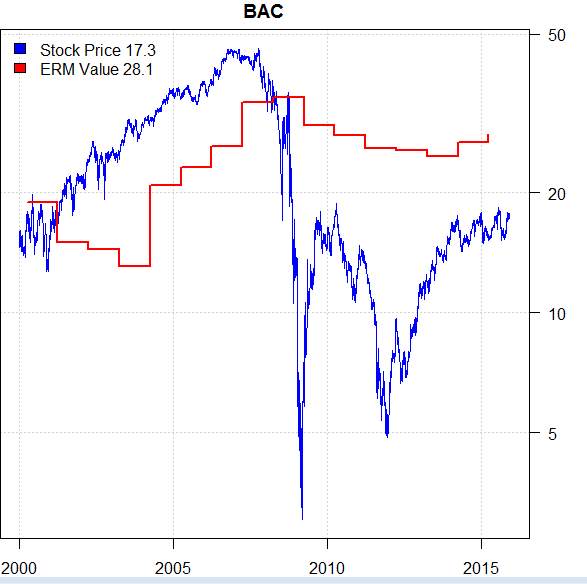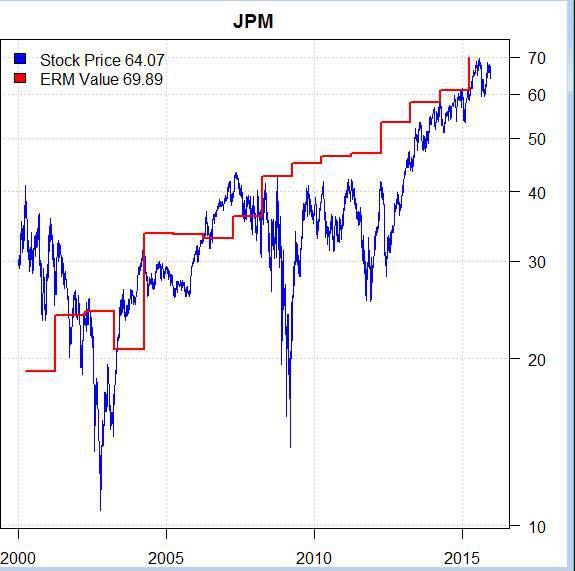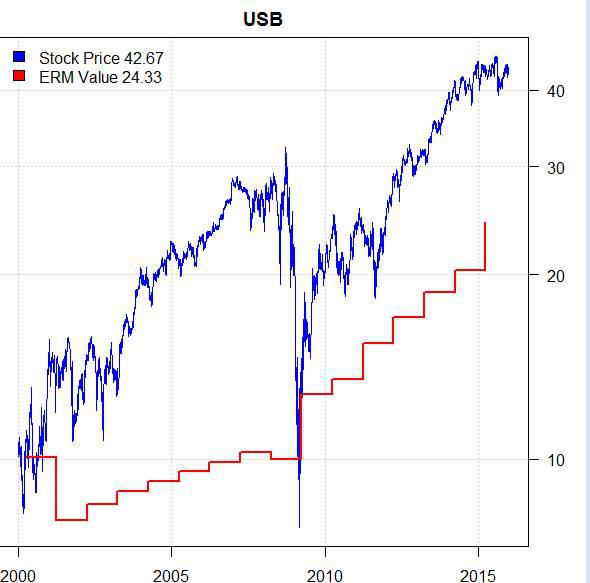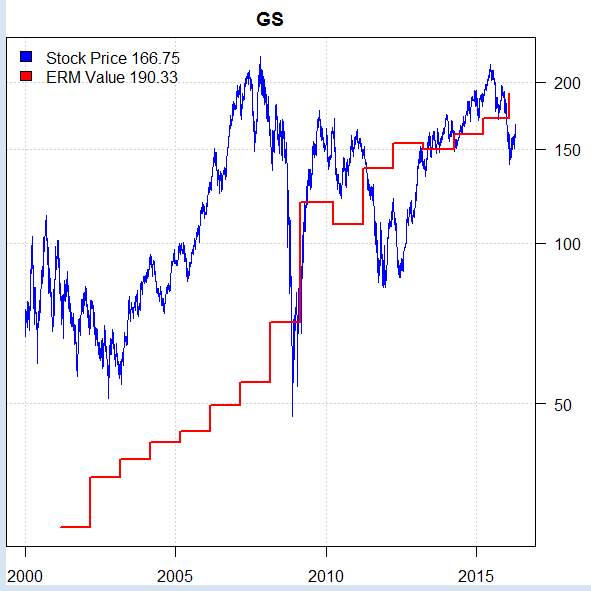 Though these models show possible mispricing, the risks might outweigh the rewards.
Long risks:
Rate cuts
Overleveraging
Exposure to debts in the energy sector
Domino effect of defaults
Short risks:
Dividend obligation
"Too big to fail"
Clearly, the long risks outnumber the short. However, with Brexit bringing bank stocks to relative lows, discount-hunting investors could buy up already discounted stocks when they bottom out. This is actually an ideal time, as many banks will be releasing their earnings reports in July. An earnings beat could spike prices, leveling out the difference between the excess returns valuation and the stock price.
I think the upside here is higher than the downside. From a pure financial basis, much of the banking sector produces returns in excess to what the general market can offer. This fact was recognized before 2008 but ignored afterward. In addition, the downside, in my opinion, has a clear lower limit, as a bailout is more likely than implosion.
The market is likely overemphasizing the overleveraging and energy exposure of many of these stocks, equating uncertainty with downside. The recent drop in price is justified, as in volatile times, leverage does more harm than good. That said, investors looking to pick up scraps from the floor in the aftermath of Brexit should consider BAC, GS, JPM, and C.
Can't decide? Just buy Financial Select Sector SPDR ETF (NYSEARCA:XLF).
Learn More about Earnings
My Exploiting Earnings premium subscription is now live, here on Seeking Alpha. In this newsletter, we employ both fundamental and pattern analyses to predict price movements of specific companies after specific earnings. I offer specific strategies for playing those earnings reports. To-date, we are 92% accurate on earnings report predictions.
Disclosure: I/we have no positions in any stocks mentioned, and no plans to initiate any positions within the next 72 hours.
I wrote this article myself, and it expresses my own opinions. I am not receiving compensation for it (other than from Seeking Alpha). I have no business relationship with any company whose stock is mentioned in this article.