Since Tesla's (NASDAQ:TSLA) Model X SUVs began rolling off the assembly line late last year, substantial anecdotal evidence has accumulated of manufacturing defects and reliability issues. Because the gross margin on the cars appears so thin, the cost of warranty repairs could mean that the Model X is a money loser that the company might be better off without.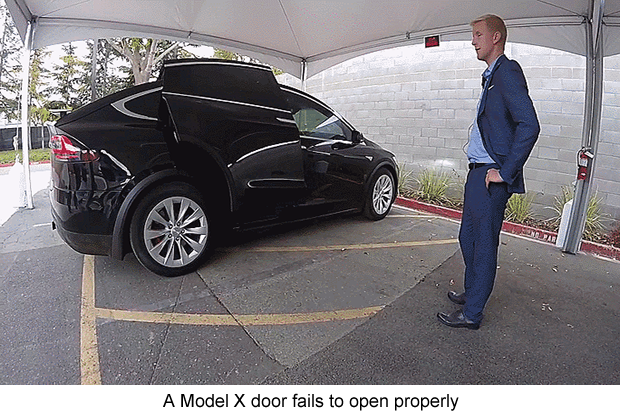 Source: Jalopnik
Of Lawsuits and NDAs
The latest evidence of Model X reliability and quality issues came to light in the form of a successful lawsuit by a Model X owner to force Tesla to take the car back under California's "lemon laws". As reported by Fortune, Barrett Lyon sued Tesla over problems with the automatic doors not working properly, and Autopilot not working in the rain. He also has a video of the car failing to properly self-park in his garage.
At first, I was inclined to discount the rumors, reports and blog posts about claimed Model X reliability and build quality issues. Earlier this year, I still assumed that Tesla's management was too smart to squander Tesla's reputation for quality by rushing Model X cars through the assembly process with known and fixable defects.
There was no way to tell how representative these claims were, and there still isn't. Not enough of the cars have been produced to allow independent assessments of quality and reliability by organizations such as Consumer Reports. However, Consumer Reports did highlight the reports of initial quality issues, and the reports just keep piling up. They're not just anonymous blog posts from questionable sources.
Dan Primack, also writing for Fortune, described the experience of venture capitalist Byron Deeter who took delivery of a Model X last fall. What started out as relatively minor software glitches eventually mushroomed into a host of problems that rendered the car undrivable.
And then there was the blog post by Edward Niedermeyer recounting the experience of a Model S owner whose suspension became corroded and failed. Tesla covered 50% of the cost of the suspension repair, since the car was out of warranty, in return for the owner signing a confidentiality agreement. The agreement read in part (according to Niedermeyer):
The Goodwill is being provided to you without any admission of liability or wrongdoing or acceptance of any facts by Tesla, and shall not be treated as or considered evidence of Tesla's liability with respect to any claim or incidents. You agree to keep confidential our provision of the Goodwill, the terms of this agreement and the incidents or claims leading or related to our provision of the Goodwill.
Niedermeyer implied in his post that this amounted to a coverup by Tesla of a manufacturing defect that should have been the subject of a recall, and that the matter was under investigation by the National Highway Traffic Safety Administration (NHTSA).
Niedermeyer's post provoked a counter-post on the Tesla Motors official blog concerning the incident. Tesla owned up to the non-disclosure agreement (NDA), but said it was never the intent to discourage anyone from reporting any information to the NHTSA or any other government agency. Tesla also stated unequivocally that there was no safety defect with the suspension, and no investigation by the NHTSA.
The WSJ subsequently reported that Tesla had modified the language in the NDA in order to make sure that it was not interpreted as prohibiting lawful reporting of information to Federal agencies. According to the WSJ, regulators had found the original NDA "troublesome".
Questionable Economics
At the very least, the NDAs serve to limit public knowledge of quality and reliability issues of Tesla cars including the Model X. The NDAs make it even harder to gauge the issues that may exist with the Model X.
This isn't a concern that Tesla is covering up safety related issues. Generally, Tesla has been very proactive in addressing safety issues, performing voluntary recalls when safety related defects were found. The concern here is that investors simply have no idea what the warranty repair liability for the Model X is.
The Model X is a magnificent automobile that will undoubtedly become a landmark in automotive history. It's generally been favorably reviewed, the latest by Motor Trend. The car's performance puts it in a class by itself among elite SUVs.
Following the Q1 conference call, I've started to question the financial wisdom of building such a car. Clearly, Tesla would be much better off financially if it had not embarked on the Model X, or had designed an SUV without the falcon wing doors, the self-opening front doors, or the massive front windshield.
I've estimated that the gross margin for the Model X is just 5.9%, compared to an estimated gross margin for the Model S of about 23%. Warranty repairs could easily eat that small amount of margin up. One way to think about Model X warranty repairs is that they amount to a cost transfer from production (booked against gross margin) to operations, booked against operating margin. It may make Tesla's gross margin look better, but it does nothing for overall profitability.
That cost transfer may not even be one-to-one, as correcting production defects under warranty may be less efficient than correcting them (or preventing them) during production. This is why investors deserve much more visibility into Model X repair costs. Tesla has the best information regarding Model X warranty costs, and these should be shared with investors.
When repair costs are factored in, the Model X may simply be doing more financial harm than good. It may be preferable not to produce the vehicle rather than produce it under the current circumstances. The Model X is already a very expensive car which only the wealthy can afford. Producing the car at a loss amounts to providing those wealthy people with a subsidy. Does that make any sense?
Investor Takeaway
Most of my concerns about Tesla have focused on its lack of profitability and increasing losses. The Model X has become the poster child for Tesla's lack of pragmatism and profitability. Investors need to know whether the car is turning a gross profit, and what the average warranty costs are for the car.
If, as I suspect, the car isn't making money, Tesla's choices are pretty clear. Tesla should raise the price of the car to be in line with the gross margin of the Model S. This could well lead to such a decrease in demand for the car that its production becomes non-viable. If so, then Tesla should cease production of the Model X.
These are the kinds of tough decisions Tesla's management needs to make if the company is to survive. If Tesla's management is paralyzed and unable to make these decisions, then new management is needed. Pending those tough decisions or new management, I consider Tesla a sell.
Disclosure: I/we have no positions in any stocks mentioned, and no plans to initiate any positions within the next 72 hours.
I wrote this article myself, and it expresses my own opinions. I am not receiving compensation for it (other than from Seeking Alpha). I have no business relationship with any company whose stock is mentioned in this article.