I'd say the necessary condition for the existence of bargains is that perception has to be considerably worse than reality. That means the best opportunities are usually found among the things most others won't do. After all, if everyone feels good about something and is glad to join in, it won't be bargain-priced. - Howard Marks
There is no arguing Exxon Mobil (NYSE:XOM) is a terrific company with a great culture and run by some of the smartest, most shareholder-friendly management teams in the industry. Recently, Royal Dutch (NYSE:RDS.A) (NYSE:RDS.B) CEO Ben van Beurden announced his main goal is to surpass Exxon. I'm quite skeptical of Ben van Beurden's chances even though I haven't been as positive about Shell's strategic choices in many years. My skepticism is purely a product of Exxon's dominance in big oil. It's a powerhouse consistently delivering the highest returns on invested capital among its peer group.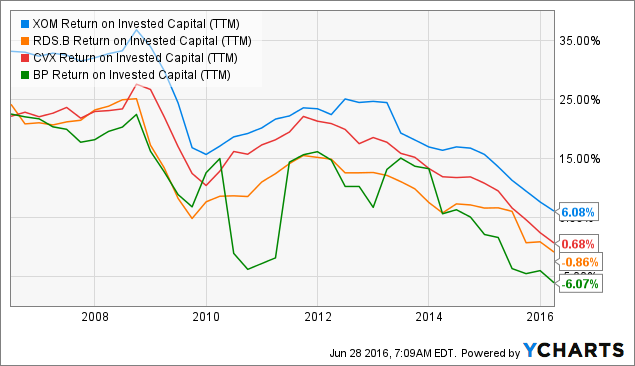 XOM Return on Invested Capital (TTM) data by YCharts
Management did a remarkable job growing tangible book value per share while sustaining this high level of returns. This could very well be the result of a conscious choice, and we'll see how it plays out. Will Exxon be forced to replenish reserves at high prices or will it be able to pick off assets out of the carcasses of its failed competitors? Still, only one competitor, Chevron (NYSE:CVX), clearly made better progress on tangible book value per share.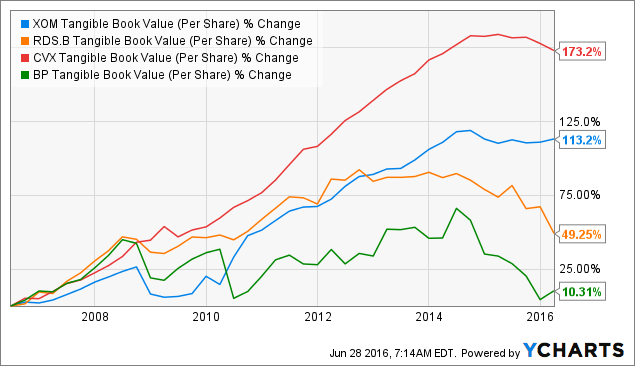 XOM Tangible Book Value (Per Share) data by YCharts
When we review the peer group on free cash flow per share, Chevron's win looks more like a Cadmean victory, and Exxon once again comes out on top.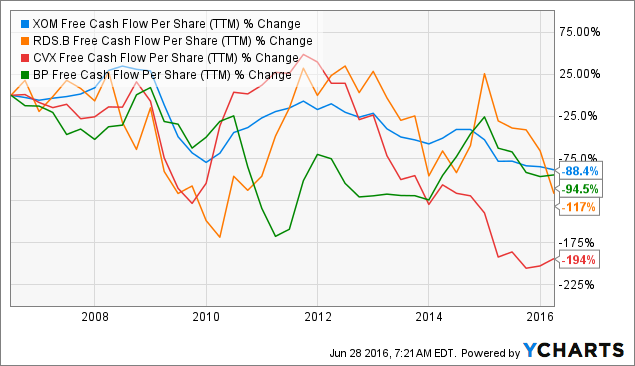 XOM Free Cash Flow Per Share (TTM) data by YCharts
Exxon isn't just a powerhouse compared to its peer group of majors, but it also benefits from the tremendous economies of scale that are hard to match by midsized peers. Exxon invests less per barrel of production compared to almost any group and that's what drives the great returns. Although the immediate outlook for oil & gas isn't all that exciting, it stands to reason Exxon's position as a low-cost producer will last for quite a while. The company secured a number of unique production assets, and as long as these last, it will enjoy quite an advantage.
Why you shouldn't buy Exxon
Maybe it's too obvious Exxon is a great company? Perhaps investors bid it up too far because of its many admirable qualities? Let me take you back a little bit almost two years ago; oil prices exceeded $100 per barrel.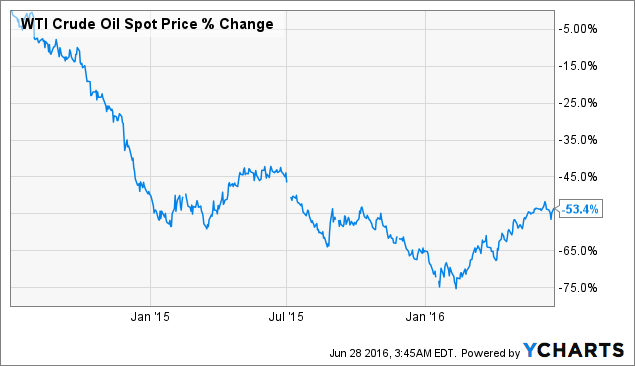 WTI Crude Oil Spot Price data by YCharts
Exxon was pretty much the same dominant company, but obviously making a lot more money per share as we have also observed in the cash flow per share graph.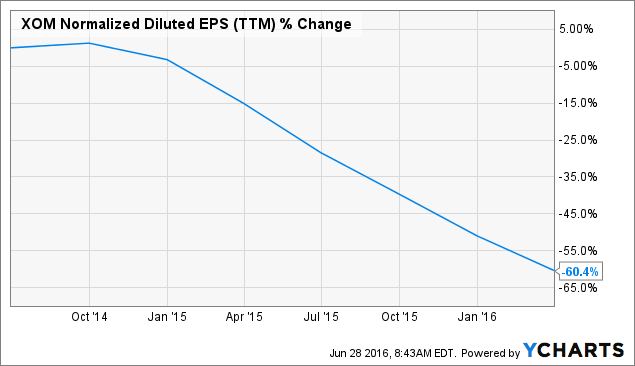 XOM Normalized Diluted EPS (TTM) data by YCharts
EPS decreased by no less than 60% over those two years. Obviously, prospects have soured considerably since that day with energy specialists like Shawn Driscoll expecting a prolonged energy bear market. Obviously, Exxon's share price also decreased to adjust to this new reality.
Or did it?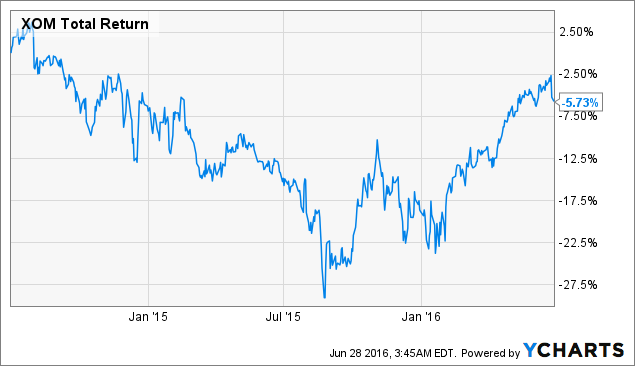 XOM Total Return Price data by YCharts
The graph shows total return; the share price actually did decline somewhat in excess of 10%, but that's nothing compared to the decrease in the price of oil.
That's weird because this is a business with tremendous operating leverage. Operators face a host of fixed costs from investments, salaries and royalties to government levies that are fixed (it's one of the models). When oil prices go through the roof, it's a terrific business, but in a prolonged dry spell of exceptionally low prices you get killed. Oil prices declined by 60% over this period, and Exxon hardly budged. It now trades at a significant premium to tangible book.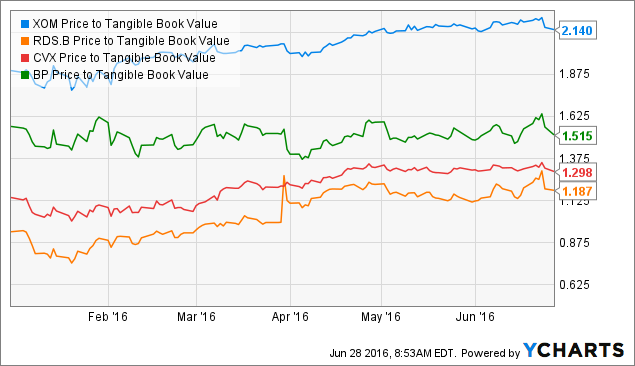 XOM Price to Tangible Book Value data by YCharts
A premium is well deserved, but I fear this is excessive. Is Exxon really that much better than its peers Chevron or Royal Dutch? They both pump up the same stuff, and Royal Dutch's new strategy is to imitate Exxon. Is it really worth it to pay nearly two times as much for Exxon? There is no doubt in my mind Exxon will continue to be the gold standard among oil majors. Yet, paradoxically, I have a hard time imagining Exxon's share price outperform its less efficient peers over the three years.
Disclosure: I/we have no positions in any stocks mentioned, and no plans to initiate any positions within the next 72 hours.
I wrote this article myself, and it expresses my own opinions. I am not receiving compensation for it (other than from Seeking Alpha). I have no business relationship with any company whose stock is mentioned in this article.