Abraxas Petroleum (NASDAQ:AXAS) has provided an update about its capital expenditure plans. Lower than expected fracture stimulation costs have resulted in a modest reduction in 2016 capital expenditure guidance despite its Austin Chalk joint venture plans not coming to fruition. The savings allows Abraxas to take on the Austin Chalk test by itself, increasing the potential reward and risk from that play.
Updated Capital Expenditure Information
Abraxas reduced its 2016 capital expenditure guidance to a range of $30 million to $40 million, while maintaining its production guidance at 6,000 BOEPD to 6,400 BOEPD. Abraxas's previous preliminary capital expenditure guidance was $40 million.
This was helped by lower than expected costs for the fracture stimulation of Abraxas's Stenehjem 10H-15H well, with bids coming in around 50% lower than expected. The lowered costs could potentially be due to a change in techniques in the Bakken (although I'm not sure what techniques Abraxas used in November), combined with low demand for services resulting in lowered bids.
The midpoint of its capital expenditure guidance is $5 million less than before, meaning that Abraxas appears likely to end 2016 with around $100 million to $105 million in bank debt outstanding now if it sells its ranch. This is greater than the $93 million in bank debt that Abraxas indicated that it had outstanding in late May since a $30 million to $40 million capital program is still likely going to result in cash burn during the rest of the year.
The Austin Chalk
Abraxas has around 7,776 net acres in the Jourdanton Prospect of the Austin Chalk with a 100% working interest and the potential for 90+ wells. It drilled its first well there in 2011 as part of a joint venture, which only ended up with a 30-day IP of approximately 100 BOEPD. Improved scouting resulted in an increase in 30-day IP rates to an average of 383 BOEPD for wells that Abraxas drilled there during 2014 and 2015. This is well below the 800+ BOEPD 30-day IP rates for Abraxas's Bakken wells, but the Jourdanton Prospect wells were producing around 93% oil initially, which partially mitigates the production difference.
Those eight Jourdanton Prospect wells had varying results. Below is a table showing the eight wells and their 30-day production rates (Abraxas sometimes used peak 30 days and sometimes used initial 30 days in its operations reports, so they aren't entirely comparable), along with their oil percentages and the month that Abraxas gave an operations update on them.
| | | | |
| --- | --- | --- | --- |
| Well | 30 Day BOEPD | % Oil | Report Date |
| Blue Eyes 1H | 405 | 95% | Feb-14 |
| Snake Eyes 1H | 759 | 92% | Jun-14 |
| Spanish Eyes 1H | 203 | 94% | Jun-14 |
| Eagle Eyes 1H | 221 | 92% | Jun-14 |
| Ribeye 1H | 240 | 93% | Nov-14 |
| Ribeye 2H | 389 | 92% | Nov-14 |
| Cat Eye 1H | 491 | 95% | Feb-15 |
| Grass Farm 2H | 191 | 94% | Jul-15 |
Abraxas is now attempting to improve on those results after seeing another company get strong results on Austin Chalk results in the Karnes trough, which is said to have geographical similarities to the Jourdanton Prospect. Abraxas is allocating $5.8 million to drill and complete one Austin Chalk well using similar drilling and completion techniques. While there is no guarantee that this will be successful, good results will give Abraxas significant potential in this area. With the recent equity raise and relatively stable oil prices, Abraxas is now feeling more comfortable with its situation and is willing to spend a bit to test this promising, but speculative area.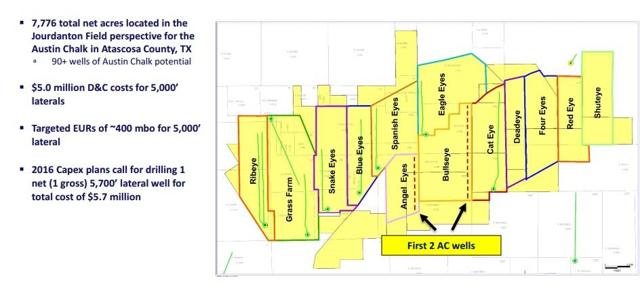 Source: Abraxas' June 2016 Presentation
Abraxas recently started the Bulls Eye Unit 101H well and expects an August completion, with production commencing in September. The next prospective well appears to be Angel Eyes.
Karnes County Comparison
In terms of Karnes County Austin Chalk activity, Abraxas mentions BlackBrush Oil & Gas's Kolodziej-Pawelek Unit #102H well, which initially produced (timeframe unknown) 2,260 BOEPD with 84% oil according to a September 2015 report. EOG has also claimed to have "cracked the code" for making its area in the Austin Chalk a top-tier play with returns in-line with the Eagle Ford and Permian. EOG reported in May that its Leonard AC Unit 101H well produced an average of 2,715 BOEPD over its first 30 days, while its Denali Unit 101H well had average production of 3,130 BOEPD for its first 20 days.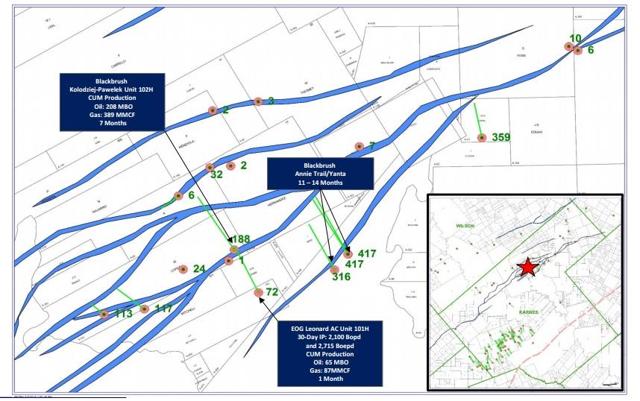 Source: Abraxas' June 2016 Presentation - Karnes Trough
Conclusion
Lower than expected costs are helping Abraxas lower its capital expenditure guidance while also maintaining production guidance. This should result in Abraxas ending up with around $100 million to $105 million in outstanding bank debt at the end of 2016. As well, the cost savings allows Abraxas to proceed with its Austin Chalk test without a partner. With its financial position shored up with the equity offering, the test is relatively low risk (as long as Abraxas doesn't commit too much to the play) and has the potential to open up new opportunities for Abraxas.
Author's Note: If you thought this article was interesting, please scroll to the top of the article and click on "Follow" next to Elephant Analytics. Thanks for reading!
Disclosure: I am/we are long AXAS.
I wrote this article myself, and it expresses my own opinions. I am not receiving compensation for it (other than from Seeking Alpha). I have no business relationship with any company whose stock is mentioned in this article.