Tesla's (NASDAQ:TSLA) offer to acquire SolarCity (SCTY) has largely been met with disapproval bordering on anger by investors and analysts. Elon Musk's decision to aggressively push for this acquisition has been almost universally criticized, which is not so surprising given SolarCity's recent troubles. Despite SolarCity's difficulties, the market is likely overreacting to this potential acquisition news. In fact, there are many reasons to believe that Tesla will benefit from having SolarCity under its umbrella.
While SolarCity's business model requires a huge amount of financing (Tesla will take on ~$2.5 billion in new debt if the acquisition goes through) and could compound Tesla's own financial problems. A SolarCity acquisition could help Tesla in the long run. Elon Musk himself believes that the acquisition could help make Tesla a $1 trillion company. While this view may be optimistic, to say the least, SolarCity should nonetheless be a great addition to Tesla.
The Question of Synergies
Many analysts have scoffed at the notion that there will be major synergies in a Tesla and SolarCity pairing. However, such a dismissal of the synergy idea appears to be somewhat unreasonable. For one, the cross-selling benefits from a SolarCity acquisition would be sizable. Tesla put it best by stating that "because of the shared ideals of the companies and our customers, those who are interested in buying Tesla vehicles or Powerwalls are naturally interested in going solar, and the reverse is true as well." Elon Musk stated that "in terms of the sales process itself, when we're selling someone the Powerwall, very often if not almost always, they're curious about solar and want to do the same thing."
While many have argued that customer interest for SolarCity products would not translate well to Tesla products, there is little reason to believe why this would be the case. Although a sizable portion of SolarCity's customers are motivated by saving money, which would arguably not translate well to a luxury automotive company like Tesla, a healthy percentage of SolarCity's customers are also motivated by going green. These customers will naturally gravitate towards Tesla's electric vehicles.
Furthermore, the operational benefits of integrating SolarCity into Tesla are numerous. For instance, general execution should be a lot easier for Tesla in the future if it had control over SolarCity's businesses. This is especially true considering the fact that Tesla was already planning to become more dependent upon SolarCity. In fact, Tesla and SolarCity are already heavily working together in areas such as energy storage, which makes a SolarCity acquisition all the more sensible. SolarCity also has superior operational capabilities in key areas such as installation, which should come especially handy on the home battery storage front.
Tesla already has a close working relationship with SolarCity. As such, a SolarCity acquisition only makes sense.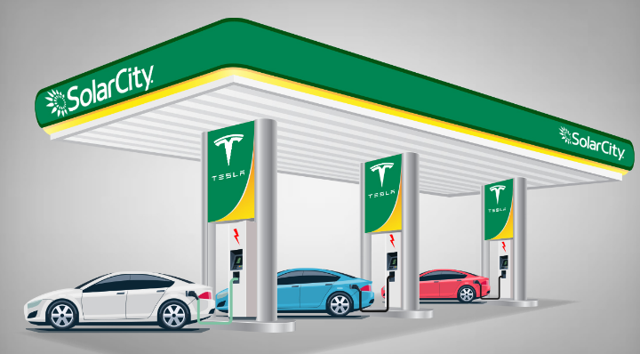 Source: thecountrycaller
Dangers Associated with SolarCity Are Overblown
Much of the skepticism surrounding Tesla's potential acquisition of SolarCity is based upon SolarCity's perceived risk. Many of the analysts who believe that an acquisition would be a terrible move for Tesla also happen to believe that SolarCity is running a money-losing venture. This belief is based upon many assumptions that seem to be unduly pessimistic. For instance, there is a growing belief that SolarCity will not be able to extract any value at all from customers after the end of a contract.
Customers will have no reason to renew their solar systems given the fact that solar technology will become cheaper by the end of their contract lives, or so the argument goes. In fact, many are confident that the renewal value may be zero or even negative as customers force SolarCity to remove their solar systems. This view seems to be far too pessimistic given the fact that SolarCity is aiming to provide cheaper electricity rates than local electric utilities for those who renew.
In addition, SolarCity's lease/PPA customers are essentially just buying energy from SolarCity, which means that the efficiency, quality, and general aesthetics of the solar system will matter very little for most customers. As long as solar systems are still functional after the end of the contract time, it would be reasonable to assume that many customers will renew their leases. However, even if customers decide to forgo renewal in order to buy or even lease a newer solar system, there is no reason why they would not buy/lease that solar system from SolarCity. This means that even if customers decide not to renew their systems, these customers still offer additional value to SolarCity after the end of the original contract lifetime.
The other major criticism constantly lobbed against SolarCity is that the company's lease/PPA product will experience far greater default rates than predicted by the company. In fact, many argue that default rates will be so high that SolarCity's lease/PPA products will actually be a value destroyer over the long-term. Bears argue that customers will start defaulting left and right once they see that newer solar systems offer cheaper electricity rates.
Aside from the fact that this has not yet happened and doesn't appear to be happening even after approximately a decade of implementing the lease/PPA product (SolarCity's default rates have remained remarkably low so far), there are reasons to believe why this will not happen in the future. As long as SolarCity can offer rates that are lower than the local utility, customers will have very little reason to default on SolarCity. The argument that these customers will default as cheaper systems are introduced over time appears to be extremely weak.
The vast majority of customers understand that technology naturally progresses over time. As such, these customers will likely not feel tricked once newer solar systems offer more attractive electricity rates. The general leasing industry would become unworkable if customers just started defaulting once more attractively priced models came out. Moreover, SolarCity is making a greater transition towards loans and cash sales, which means that much of the risks the company faces on the lease/PPA front will decrease over time.
Worth the Enormous Risks
While the risks involved in a SolarCity acquisition appear to be overblown, there are clearly still some large risks present in such an acquisition. As has been stated repeatedly, Tesla is already burning through its cash at a rapid rate. In fact, Barclays (NYSE:BCS) predicts that Tesla will burn through $11 billion over the next half-decade or so. Adding another financing-heavy business in the mix will only make things far more complicated for Tesla. As was previously stated, however, SolarCity's finances appear to be getting far healthier.
A SolarCity acquisition adds a new layer of complexity for Tesla. Tesla is already involved in a wide range of difficult businesses, from electric vehicles to energy storage. It's understandable why many think that integrating an increasingly complex distributed solar business will stretch Tesla out too thin. While Tesla believes that they will "be able to maximize and build on the core competencies of each company," the integration process will likely be difficult. However, the benefits of a SolarCity acquisition should be numerous if Tesla manages to successfully integrate the company.
Conclusion
Elon Musk's vision of creating a vertically integrated clean energy company at unprecedented proportions is being ridiculed by Wall Street. It is an increasingly common belief that acquiring SolarCity will make Tesla an even bigger cash burning machine. However, SolarCity does not appear to be in as bad a financial position as many believe. In fact, it is very likely that SolarCity will become cash flow positive (SolarCity defines cash flow in a slightly different way) within a few quarters and generate enough cash to cover "what's required with recourse debt."
The NPV of SolarCity's (PowerCo) unlevered cash flow stands at ~$2 billion excluding solar renewable energy certificates. Even if one were to completely eliminate renewals from this cash flow, which SolarCity values at approximately $0.85 billion, Tesla would still get a bargain at its acquisition offer price of $2.5 billion-$3 billion given SolarCity's long-term growth potential. Contrary to what most analysts believe, acquiring SolarCity could very well pay off in a huge way for Tesla. Tesla should have even more upside at its current market capitalization of $28 billion if it manages to acquire SolarCity.
Disclosure: I am/we are long SCTY.
I wrote this article myself, and it expresses my own opinions. I am not receiving compensation for it (other than from Seeking Alpha). I have no business relationship with any company whose stock is mentioned in this article.