With lower oil and gas prices prevailing, it's no surprise producers are running fewer rigs: the US horizontal rig count is currently sitting at 321 rigs, down by 342 rigs year over year. It's also no surprise that fewer rigs running means fewer wells drilled, despite the 21% increase in drilling rig efficiency seen over the past two years. However, the decrease in wells drilled has not been shared equally across regions or producers. Comparing 2016 YTD drilling activity for the top ten most active producers to the same period in 2015 highlights some major market themes.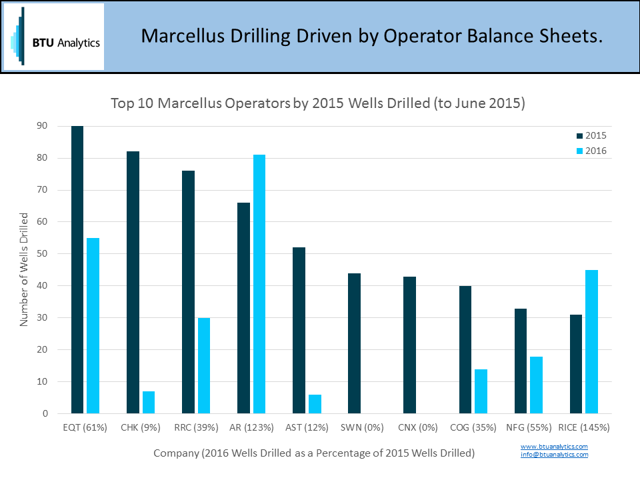 The chart above compares the drilling activity of last year's top 10 Marcellus operators over the period from January 2015 to June 2015, against their activity this year over the same time period. Particularly striking is the collapse of activity from previously steadfast presences, Chesapeake (NYSE: CHK) and Southwestern Energy (NYSE: SWN). Also of note is the acceleration of drilling by Antero Resources (NYSE: AR) and Rice Energy (NYSE: RICE), both of which have exceeded their drilling activity from the previous year by significant margins. While these observations may be surprising at first glance, they can be readily explained by examining the balance sheets and hedges of each operator. Both Chesapeake and Southwestern have been hampered by their debt burdens and are struggling to manage liquidity. Antero and Rice also have significant leverage, but benefit from hedges that cover over 85-100% of expected 2016 natural gas production, allowing them to not just survive, but to take advantage of the current environment.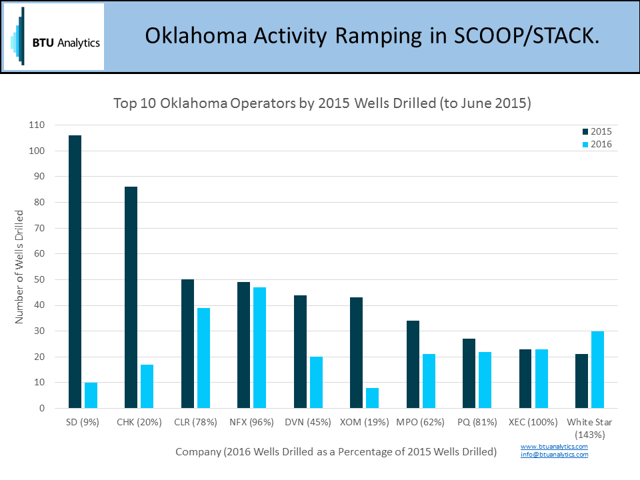 Oklahoma tells a different story. SandRidge (NYSE: SD) and (again) Chesapeake have lost the most drilling activity across the state. The remaining producers in the top 10 have, for the most part, held their drilling activity constant between the two time periods. Unlike the Marcellus, however, this behavior is driven by assets rather than company specific leverage and hedges. In Oklahoma, SandRidge and Chesapeake both have strong presences in the Mississippi Lime, an established oil play with higher operating costs as compared to many of the most economic oil basins. The majority of the other operators in the top 10 have positions in the SCOOP and STACK plays, which are in the early stages of development but have offered promising results to date.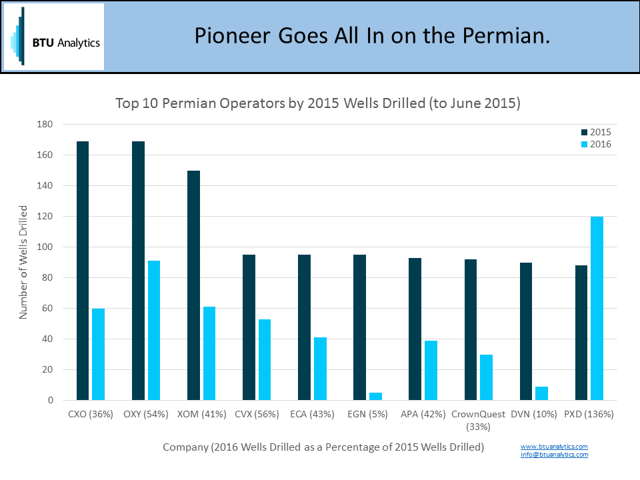 Finally, the Permian shows relatively consistent declines across all of the top 10 operators with the exception of Pioneer Natural Resources (NYSE: PXD), which appears to have gone all in on the basin, exceeding its wells drilled in the same period last year by 36%. Pioneer announced yesterday that the company would add five more rigs by year-end to the area, along with a bolt-on, $435 MM acquisition in the Central Midland.
Both oil prices and rig counts have recovered in recent weeks, though it is not clear that the structural imbalances in the market that led to the price crash have been resolved. This means that when temporary disruptions to current supply are resolved, the market could see a prolonged imbalance and subsequent drop in prices. However, the data from the first half of this year demonstrates that a price drop will not translate to across the board drilling cuts for all operators as some operators are better placed to handle low priced environments than others.
Disclosure: I/we have no positions in any stocks mentioned, and no plans to initiate any positions within the next 72 hours.
I wrote this article myself, and it expresses my own opinions. I am not receiving compensation for it. I have no business relationship with any company whose stock is mentioned in this article.
Editor's Note: This article covers one or more stocks trading at less than $1 per share and/or with less than a $100 million market cap. Please be aware of the risks associated with these stocks.