Forget almost everything BlackBerry (BBRY) management said last year about the company starting to turn around. For each step forward, BlackBerry still makes two steps back, and continues to report decreasing revenues and losses. GAAP revenue of $400 million represents another quarterly low and is down 39% from a year ago. Modest growth in software and services is not enough to make up for steep declines in SAF, and the ever-shrinking hardware remains firmly on its downward trajectory and heavily eats into the balance sheet. The result is a large GAAP loss of $670 million ($1.28 per share) driven by write-downs in intangible assets and inventory in the hardware segment. BlackBerry keeps getting smaller, generating losses, and destroying shareholder value.

Troubled hardware
The hardware business continues to negatively impact revenue, profitability, and in the process the company's brand and relations with distribution partners. BlackBerry recognized revenue of $152 million (-42% y/y) on sales of only 500,000 handset units (-54% y/y). This is another quarterly low for the device segment (now Mobility Solutions) and in-line with my previous estimates. ASP was $290, down from $315 in the previous quarter, signaling weaker contribution from the struggling Priv. As per negative feedback from AT&T (NYSE:T), BlackBerry's latest smartphone is sadly a product which even the most loyal customers of the Canadian company do not want. Another write-down in inventory then only confirms the poor state of the company's hardware.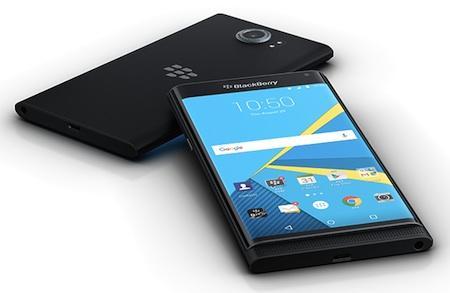 Despite all of these problems and CEO John Chen's repeated assurances to listen to the market and leave the device business if customers no longer want BlackBerry smartphones, the company still wants to have another try and plans two new mid-tier handsets based on Google's (NASDAQ:GOOG) (NASDAQ:GOOGL) Android OS. This raised several analyst questions on the company's earnings call. Here is one exchange:
Q: Myanard Um of Wells Fargo - "I am curious, are we missing something or not seeing something that you think will drive the hardware success, that's driving the decision to stay in the hardware business?"

A: John Chen, CEO - "Many customers, especially in the government world, they're still relying on us to provide a secure handset for them. That's number one. Number two, I really, really believe that we could make money out of our device business".
The problem with this objective is that BlackBerry's resources and competences continue to be a poor fit for the highly competitive and maturing smartphone market.
First, the company's hardware strategy is not aligned with the said target market. If BlackBerry is focused on profitably serving a niche market like government and regulated industries, why has it released so many different designs and form factors (Passport/Classic/Leap/Priv) and still plans to release two different Android handsets? Wouldn't a single device with a single form factor (no keyboard, please) refreshed every year (as per Apple's (NASDAQ:AAPL) and Samsung's (OTC:SSNLF) successful premium strategy) achieve this goal, especially given BlackBerry's downsized hardware operations? Second, the current strategy, low-value products, and distribution problems then impact the volume and profitability, despite BlackBerry's continuing efforts to lower the costs and risks of its hardware business model by focusing only on high-value activities like device design and by further shifting inventory risk to ODM partners.
In this light, chances for BlackBerry smartphones' survival remain very slim.
Going forward
At least the newly established Mobility Solutions segment and plan to license BlackBerry smartphone software and technology hint that the company is already looking in the direction of eventually discontinuing BlackBerry-branded handsets. The new license program is focused on generating recurring revenue from licensing hardware and software elements of BlackBerry smartphones like BlackBerry Hub, antenna technology, and power management to other phone and equipment manufacturers. I think this is where Mobility Solutions is ultimately headed, with BlackBerry-branded smartphones being replaced with licensing revenue, contract work, and partnership with other OEMs.
Judging by investors' reaction to the earnings announcement, the market likely already values the device business at zero. If BlackBerry discontinues its own hardware (I think it is inevitable), investors are likely to sigh in relief. What would then BlackBerry be? A small software and services company growing at a rather small pace (21% y/y and 8% q/q) given its low revenue base ($166 million in Q1 FY2017). The bright spots are certainly the Software and Services gross margin of ~81% and 74% of the segment revenue being recurring in nature. If BlackBerry gets rid of selling hardware and fully transform into a software and services business, these would be fairly attractive metrics for investors. On the downside, even as a software company, BlackBerry will still be limited by operating in a highly competitive environment and its problematic culture.
Investor takeaway
It is quite telling that John Chen no longer speaks about revenue stabilization. BlackBerry's turnaround has still a long way to go as the company fails to grow revenues, avoid mistakes in hardware, and achieve profitability. BlackBerry's stubborn insistence on releasing further smartphones is then a sure way to further hold the company and stock down.
Author's Note: If you have enjoyed reading my article and found its content valuable, please take five seconds to follow me by clicking the "Follow" button next to my name at the top of the page.
Disclosure: I/we have no positions in any stocks mentioned, and no plans to initiate any positions within the next 72 hours.
I wrote this article myself, and it expresses my own opinions. I am not receiving compensation for it (other than from Seeking Alpha). I have no business relationship with any company whose stock is mentioned in this article.
Additional disclosure: This is no recommendation to buy or sell securities as that carries with it very high risks. The information contained in this article is for informational purposes only and subject to change at any time. Do your own due diligence and consult with a licensed professional before making any investment decision.