Over the last decade, Johnson & Johnson (NYSE: JNJ) has been driven by consistent earnings and dividend growth. Once again, JNJ shares are trading at all-time highs. I'll examine why JNJ is doing so well currently, and why I think it will continue its growth in the long term.
First, a little bit of background. JNJ is an international consumer health care company with three main business units:
Consumer products
Pharmaceuticals
Medical devices
These broad business units show diversification in the company's offerings. It is so difficult to overcome any type of sickness without coming into contact with a JNJ product, whether it's a JNJ-produced drug or a JNJ-made medical device. These units make up 250 operating companies operating in 60 countries around the world. As seen in Figure 1, JNJ is truly a global company.
Figure 1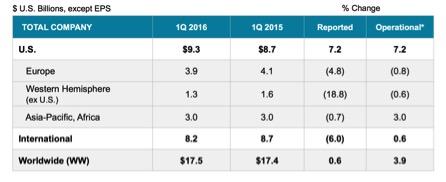 Source: JNJ 1st Quarter 2016 Earnings Call Presentation
JNJ's Diversification
JNJ's different segments all have competitive advantages that support high margins and continued growth. This is especially true within the consumer care market. The company has a brand-based edge with products that include Tylenol, Zyrtec, Band-Aid, Neutrogena, Listerine, Motrin and Aveeno. Although health care is generally considered a volatile industry, JNJ's diversification has shown and will continue to show stability in the long term.
R&D Drives Growth
Not only is JNJ an extremely stable stock, it also has an extraordinary potential for growth. This is a direct result of its huge R&D budget, which ranked in the top five in the world in 2015 (see Figure 2). JNJ is investing in the development of new drugs and revamping ones the company already owns. So, although consumer products are a big part of the business, pharmaceuticals make up most of the sales and revenue of JNJ, as shown in Figure 3
Figure 2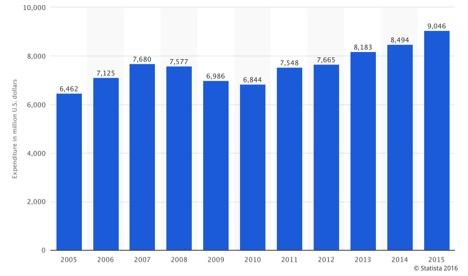 Source: statista.com
Figure 3

Source: 1st Quarter 2016 Earnings Call Presentation
M&A and Partnerships Help Fuel JNJ
Due to the fact that pharmaceuticals make up most of the company's sales, it continues to form partnerships and acquire businesses that are on the forefront of drug creation and innovation. Historical trends show that two out of three mergers and acquisitions will ultimately result in loss of value within the stock market. However, JNJ has been almost immune to this trend. With continued M&A, JNJ broadens products and services at an unprecedented rate. One of the most popular examples of JNJ's M&A strategy is the acquisition of Neutrogena in 1994. The international network of JNJ helped Neutrogena gain an advantage in consumer product sales and brand recognition.
In fact, since 2014 JNJ has formed more than 200 partnerships and collaboration projects. A partnership with Nextera, a biotech company, will allow JNJ to be involved with early stage drug development that will ultimately create new therapies for arthritis. Just this year JNJ announced a collaboration with an industrial bioscience company, Amyris. The companies will create a platform technology to develop a customized library of compounds to test against therapeutic targets. This collaboration is especially important due to its potential for developing drugs quicker that will accelerate the time to market commercialization. JNJ also announced a partnership with a biotech startup, Alector, in 2014. The partnership will work to create new therapies for Alzheimer's disease, which affects over five million people in the U.S. alone.
Using these strategic partnerships to develop new technologies, drugs, and therapies will give JNJ a clear competitive advantage when it comes to innovation and drug development, which are the keys to profitability in a changing market. Consider these points on the market to show just how important JNJ's innovations will be within the next decade and beyond:
There are 77 million baby boomers in the U.S. who just started retiring.
Roughly 10,000 of them will turn 65 every day for the next 17 years.
We're living longer than ever but will require more care as we get older.
Health care spending is expected to increase to $5.3 trillion by 2024.
It is no secret that JNJ will try to profit from the aging U.S. population. According to the Center for Disease Control and Prevention, the average life expectancy in the U.S. is 78.8 years, which is at an all-time high. This is due to numerous factors, such as healthier lifestyle choices and the development of superior pharmaceuticals. JNJ can capitalize on this opportunity by targeting older citizens with products and services that it health needs to survive and thrive. The company is focused on growth and innovation in this demographic as stated by its CEO Alex Gorsky:
In a world challenged by a growing number of diseases, aging populations, insufficient health care delivery and rising costs, stakeholders everywhere see the need to provide better outcomes and solutions for individuals, families, communities, countries and all stakeholders. This is a call to action for all of us at Johnson & Johnson to take a leadership role in addressing these issues in an increasingly complex, connected, and demanding world.
(Source)
Behind the Numbers
Now, let's shift our focus to the numbers…
As stated earlier, JNJ is an extremely diverse company which gives it tremendous stability. The stock boasts a beta rating of 0.58, meaning it is 42% less volatile than the S&P 500 as a whole. While JNJ may not grow as quickly when the market is hot, it shouldn't crash when the market struggles, either. Also, the stock price standard deviation of Johnson & Johnson is 16.2%, which is the lowest of any large cap stock over the last decade. The next two lowest are utilities: Southern Company (NYSE:SO) and Consolidated Edison (NYSE:ED). This means JNJ is less volatile than even the least volatile utilities!
That's not all, JNJ is one of the so-called "dividend aristocrats" - meaning it has paid a dividend to stockholders every year for 25 years. As a matter of fact, the company has actually paid out 53 straight years of dividends. (Figure 4 shows growth of the dividend since 1997.)
Figure 4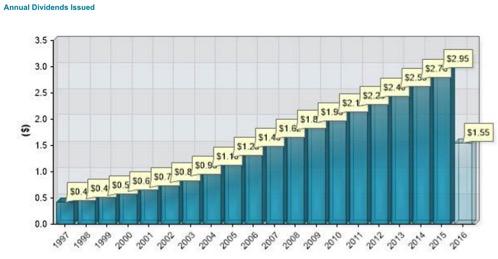 Source: investor.jnj.com
The best part? There is still opportunity for growth.
Free Cash Flow (FCF) is trending up. Over the last three years JNJ reported FCF of:
$13.82B in 2013
$14.76B in 2014
$15.82B in 2015
Over the next five years, analysts are expecting JNJ to grow earnings at an average annual rate of 5.73%. This year, analysts are forecasting earnings increase of 6.37% over last year. Analysts expect earnings growth next year of 6.04% over this year's forecasted earnings.
The bottom line - JNJ is a viable, long-term buy that has low volatility with stable growth and a consistent dividend payout.
Disclosure: I have no positions in any stocks mentioned. I wrote this article myself, and it expresses my own opinion.
Disclosure: I/we have no positions in any stocks mentioned, and no plans to initiate any positions within the next 72 hours.
I wrote this article myself, and it expresses my own opinions. I am not receiving compensation for it. I have no business relationship with any company whose stock is mentioned in this article.