Citigroup (NYSE:C) has performed remarkably well in the CCAR quantitative test - the numbers tell the story: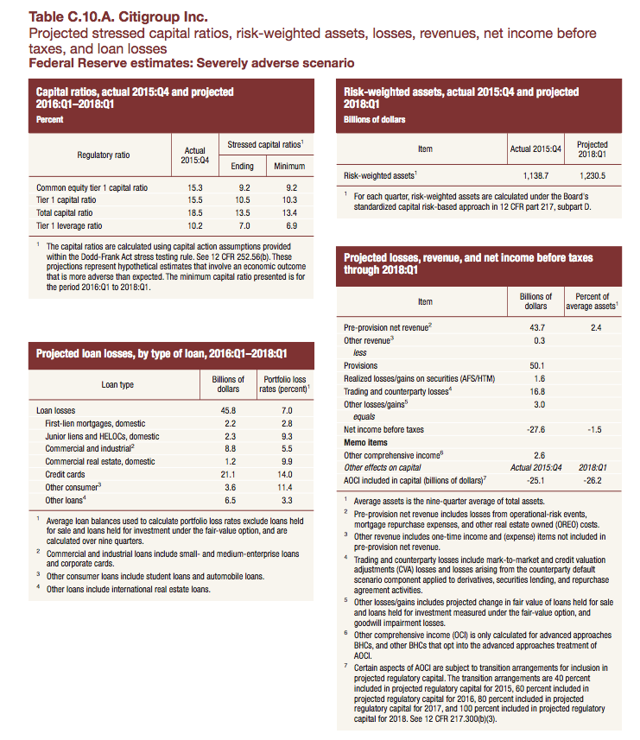 As can be seen from above, Citi certainly has plenty of quantitative capacity (I estimate ~$40 billion, considering the leverage ratio as the binding constraint and assuming additional issuances of preferred shares).
It is also a fair presumption that the qualitative test has been passed with flying colors - the clean performance on the Resolution Plan, suggests Mr. Corbat and team have been doing all the right things by the Fed.
As per my prior article, my considered estimate is that Citi will submit a total capital ask of $12b to $15b. This is well above market's consensus but I still stand by my call (and I am sure you will hold me accountable in a day or so!).
Beyond the quantum of the total capital ask - many shareholders are keenly interested in the composition of the capital ask (i.e. dividends versus buybacks). The conventional wisdom (and corporate finance principles) suggest that buybacks should be heavily favored. The rationale is simple - if the shares are significantly undervalued, as suggested by the price to tangible book value metric, then buybacks are indeed very accretive.
Other investors, while acknowledging the logic of the above argument, hold a different perspective. Essentially, the view is that in the current banking environment, a dividend is supremely important for the valuation of the shares.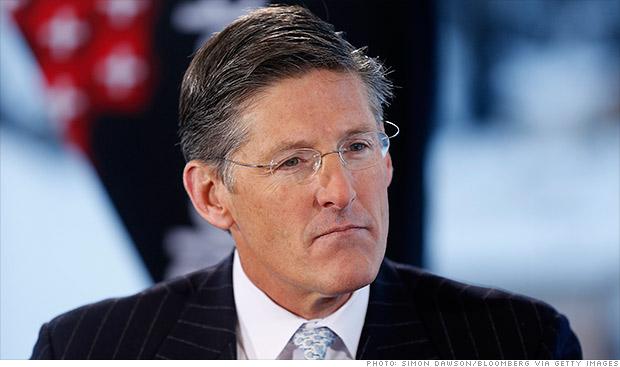 The importance of dividends
My S.A. colleague JeffA65 has been a long-time proponent of the importance of dividends for the Citi stock - and the rationale is quite powerful (as highlighted in his own words):
Recent article in Barron's indicated that in this low rate environment investors are discounting bank TBV as a measure of valuation and focusing more on dividend yield. Investors apparently no longer have confidence in how to value what's on the books of banks (tangible or otherwise). PE doesn't hold as much value either as all the new regulation impairs banks' ability to return it to investors (i.e. trapped earnings). Yes, buybacks are accretive to earnings, but if those earnings aren't actually returned it simply becomes a value trap.

So actual returns (i.e. dividends) have become a more important measure of bank valuation, especially in this yield starved world we live in.

WFC dividend yield = 3.2% and trades at TBV of 1.8
JPM dividend yield = 3.0% and trades at TBV of 1.4
BAC dividend yield = 1.4% and trades at TBV of 0.90

And C?

Dividend yield = 0.5% and trades at TBV of 0.70
It looks like Jeff's message also resonates (at least partially) with Citi's CEO, Mr. Corbat:
JOHN MCDONALD: And philosophically, does management and the board feel it's important to have a balance between dividends and buybacks as you do plan?

MIKE CORBAT: Clearly, when you look at where we're trading today on tangible book, the math is very strong in accretion around buyback. But we also understand that around the stability of the stock, the way a stock trades, the types of owners in the stock, dividend is important. So, from an expectations perspective, we're going to continue to walk the dividend up, but trying to find that right balance. And as long as the stock trades at a discount or significant discount, we want to try and remain aggressive in terms of stock buyback, but with that balance.
Let us test the above hypothesis.
The case for meaningful dividends
As Jeff noted in his article - it is instructive to undertake peers' comparison: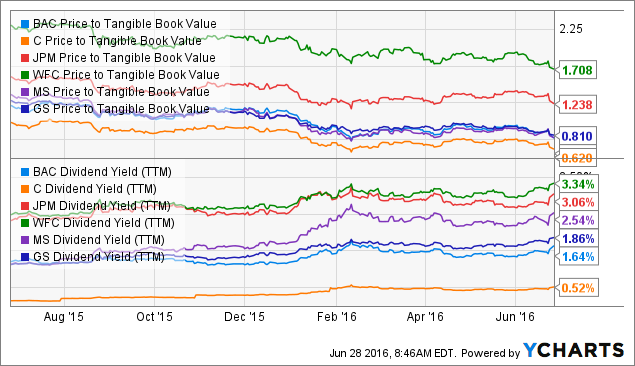 BAC Price to Tangible Book Value data by YCharts
As expected, there seem to be a close correlation between the dividend yield and book valuation. The exception is Morgan Stanley (NYSE:MS) that trades at 0.8x TBV but has a decent dividend yield. Clearly though, Citigroup is an outlier amongst its peers.
But could there be other parameters at play, that possibly can explain this trend?
I believe there could be other reasons than just the low dividend yield - for example, the RoTCE of BAC and C are significantly lower compared with JP Morgan's (NYSE:JPM) and Wells Fargo (NYSE:WFC). Furthermore, Citi's TBV comprises of a large Deferred Tax Asset (~50 billion) that the market applies a haircut to (and rightly so). Finally, the cost of equity for Citi may be somewhat higher than peers given international footprint, business mix and high beta.
Having said that, I am convinced that if Citi had a solid dividend - that would put a floor under the share price and especially so in times of markets' dislocations (read Jan/Feb 2016 or more recently the Brexit downturn).
The other important point to note, of course, is that there is a whole class of income-orientated equity investors (retirees, managed funds etc) that for them, Citi stock is essentially off the radar.
So concluding the argument for the dividend camp - it is highly probable that Citi, with a meaningful dividend, will warrant a much higher valuation.
The case for buybacks
The argument for buybacks is even simpler - the stock is insanely cheap, buying back shares is a non-brainer.
Framing it somewhat differently - if an investor believes that a reasonable RoTCE for Citi throughout the cycle is 15% and cost of equity is 10% - then undertaking buybacks at 0.6x TBV essentially means buying a dollar at roughly 40 cents. Sounds like a good deal, right?
Yes - provided you believe Citi's normalized valuation is 1.5x book. To be frank, even if you assume 1.0x book - it is still an exceptionally good deal.
My view is that 1.0x TBV is a reasonably conservative through-the-cycle valuation. My rationale is simple:
On FY2015 basis, Citi has earned close to 10% RoTCE in a rather challenging external environment and plenty of headwinds
DTA drag will continue to abate
Interest rates (at some juncture) will be a tailwind
Citi is winning market share (e.g. Equities, IB businesses and Cards)
The counter argument is of course that this is all a pie in the sky - pleasant to contemplate but given medium-term banking outlook, may not realize.
Final thoughts
One could easily make the argument to retire as much of the counter as possible at current prices and once shares settles at book value - only then it is the right time to meaningfully increase the dividend. This is essentially the coiled spring argument.
The skeptics will argue, rather impatiently, that a bird in the hand is worth two in the bush - in other words, a meaningful dividend today is certain to generate immediate shareholders' value as opposed to relying on uncertain future prospects. I have to say, the skeptics have been proven right for the last few years.
I think ultimately, it really depends on investors' time frame and preferences. 12 months ago I was 100% in the buybacks camp - I am not so sure anymore today.
Mr. Corbat is looking to 'walk' the dividend up - that probably means doubling it to 10 cents per quarter (an outside chance it will be increased to 15 cents).
This is unlikely to satisfy the "dividend" camp. As always, looking forward to further insights in the comments section.
I provide quality and completely independent research on the large U.S., European, Canadian and Asian banks. If interested in CCAR as it applies to the large U.S. banks - do subscribe as a "real-time follower" at the top of this article.
Disclosure: I am/we are long C, BAC.
I wrote this article myself, and it expresses my own opinions. I am not receiving compensation for it (other than from Seeking Alpha). I have no business relationship with any company whose stock is mentioned in this article.