Electronics equipment and IT resellers currently face two major threats. The first, and most obvious one, is a shift away from traditional IT hardware to cloud-based applications that is crimping demand for traditional technologies that account for the bulk of distributors' sales volumes. The second threat is a more recent development rather than a long-term trend. In an effort to improve pricing and margins, semiconductor manufacturers are seeking to reduce the number of products they sell through distributors, either by integrating vertically or consolidating distribution to fewer resellers. While the shift to cloud poses a challenge for all electronic equipment and IT resellers, not all firms are hurt by the measures chipmakers are taking to boost margins. Unlike the majority of its peers, Avnet (NYSE:AVT) should benefit from these developments.
Citi Analyst Jim Suva recently downgraded a host of electronics equipment resellers, taking note of how IT customers were continuing to shift their budgets to cloud technologies. He argues that, in order to achieve growth, wholesalers will have to make cloud-related acquisitions that will be less accretive than past deals as intense competition for cloud businesses bids up prices. Acquisitions in high growth areas have been a key aspect of Avnet's growth strategy. In order to offset declines in its legacy technologies, the company has focused on Internet of Things, embedded solutions, and third platform technologies. AVT's Technology Solutions segment continues to perform poorly as a result of softer demand for traditional technologies. Segment revenues declined 3.4% in 2015, and contracted 13.6% year-over-year in the latest quarter. Despite new additions to its cloud platform, Technology Solutions has comprised a shrinking portion of total revenues (Figure 1) as a result of these "changing consumer preferences". Suva downgraded Avnet from buy to sell, undoubtedly cognizant of the execution risks from AVT's acquisition-heavy growth model.
Figure 1: Segment Revenues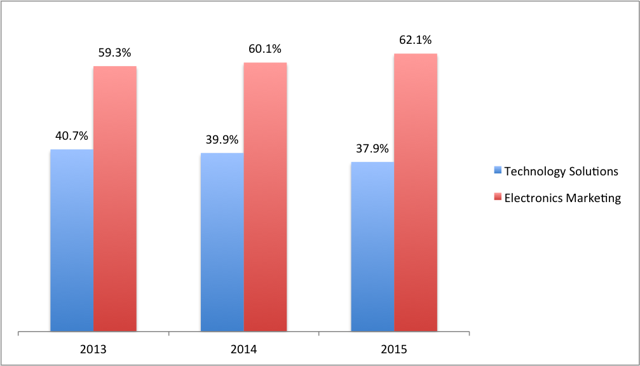 Source: 10-K
The second big threat to electronics equipment resellers is the threat of forward integration by suppliers. Intense price competition in the wholesale industry has made firms more price-sensitive and pressured the margins of chip manufacturers. Chip analyst William Stein explains that chip makers are realizing higher margins by "industrializing" (selling fewer products through distributors) or by consolidating their sales to fewer distributors. While this is a problem for many smaller distributors, Avnet stands to gain here as the company's global scale makes it a sought-after partner for suppliers looking to streamline their operations. Thanks to its vast distribution networks and relationships with OEMs, AVT is an integral part of the supply chain. Scale provides cost efficiencies, simplicity, and allows the firm to be more responsive to the needs of its customers. Avnet can pass these cost efficiencies on to suppliers and capture a larger supplier base, helping build network effects. Broadcom (NASDAQ:AVGO) recently consolidated distribution at AVT for its North American and European businesses, hoping that the move to one distributor would lead to higher prices. We expect AVT to benefit as more chipmakers look to do the same.
Electronics equipment and IT wholesalers face a number of headwinds and challenges. Macroeconomic conditions are poor, customers are shifting from legacy technologies to cloud-based solutions, and now there is the prospect of added competition from suppliers. Avnet may be struggling to cope with the changing tastes of its customers, but the decision on behalf chipmakers to simplify relationships with distributors reaffirms our view that AVT is better positioned to deal with today's headwinds than most.
Disclosure: I/we have no positions in any stocks mentioned, and no plans to initiate any positions within the next 72 hours.
I wrote this article myself, and it expresses my own opinions. I am not receiving compensation for it (other than from Seeking Alpha). I have no business relationship with any company whose stock is mentioned in this article.