On Monday, June 28, a judge in Delaware ruled in favor of Energy Transfer Equity LP (NYSE:ETE). I am sure many of you on Seeking Alpha have seen the headlines about their merger with Williams Companies (NYSE:WMB) being nothing short of a circus. Write a deal, oil goes down, back out of the deal, breach of contract, etc. Well, a judge in the Delaware Supreme Court has now ruled in favor of ETE, saying they could back out.
WMB shareholders do not want this to happen, and have filed an appeal. That's understandable, considering Williams Co. is a significantly weaker company in terms of earnings and cannot come even close to covering their insane dividend. With a coverage ratio of %454, how much longer can their shareholders expect to get paid? They want their money and they want it now.
Now that the merger could be finished once and for all, is this a green light for investors? Possibly. I will go over the pros and cons, as well as where I stand given possible scenarios. Below is the chart for ETE going back the last 10 years.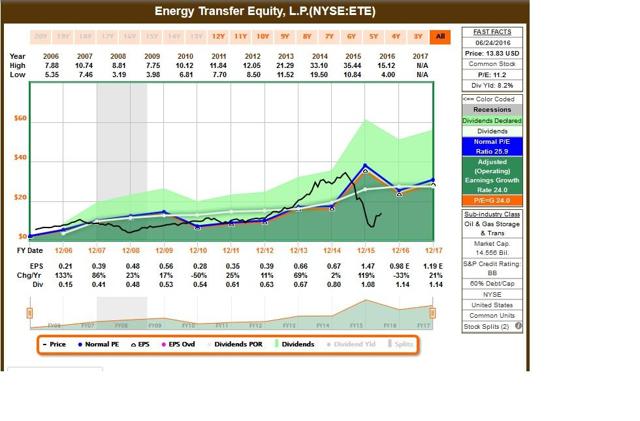 As you can see, ETE seems to be very undervalued as a stock in a general sense. I personally like this stock in the long haul, but if you are not a holder already, wait until some of the Brexit dust settles. This stock fluctuates with the oil market, and there have been many bearish forecasts for the price of oil (NYSEARCA:USO) following the Brexit vote.
Dividends
From a dividend standpoint, this stock shines. It sports an 8.24% yield, good for $1.14 a year on a $13.68 share price. Growth in the past two years has been an amazing 20% and 35% for 2014 and 2015, respectively. My only caution, and this is something to keep an eye on, is that the dividend coverage is at a high 73%. While it's not crazy, it is a little high for my taste given the volatility of the energy market lately.
Valuation
This stock sports a nice P/E ratio worthy of a quality value stock. Using their TTM (trailing 12 months) average of $1.16 a share, TD Ameritrade has this stock at a P/E ratio of 11.96. It's still cheap by most standards, but keep an eye on earnings for the end of the year as oil markets calm down.
Possible Strategy
If you already own this stock, consider writing covered calls against it at a $15 strike price. Currently, the July 15, 2016, options pay out $30 a contract. Based off that premium, this trade would yield you 2.2% total returns (minus commission) while you wait to see if it goes up another 9%. If it hits that price and gets called away from you, that's great -- you made an 11% gain in 18 days. If not, you still keep your premium from the contract; rinse and repeat as necessary. If you do not own this stock, wait until the Brexit dust settles to see if this is something worth owning for your portfolio. I see a good buying opportunity if the stock hits $12.50, and my year-end price target currently sits at $14.70.
In conclusion, this stock could be a home run in the making or it could suffer the unknown fate of the oil markets. We will only know once the Brexit oil drama blows over. With the Williams deal possibly put to bed, now might be a good time to dip your toes in -- if the price is right, of course. If you already hold this stock, consider selling covered calls to boost your returns in case the stock takes a turn for the worse -- at least you'll still have your juicy dividend.
Please follow me for weekly market updates, options trading strategies and dividend stock analysis.
Disclosure: I/we have no positions in any stocks mentioned, but may initiate a long position in ETE over the next 72 hours.
I wrote this article myself, and it expresses my own opinions. I am not receiving compensation for it (other than from Seeking Alpha). I have no business relationship with any company whose stock is mentioned in this article.