El Dorado Gold (NYSE:EGO)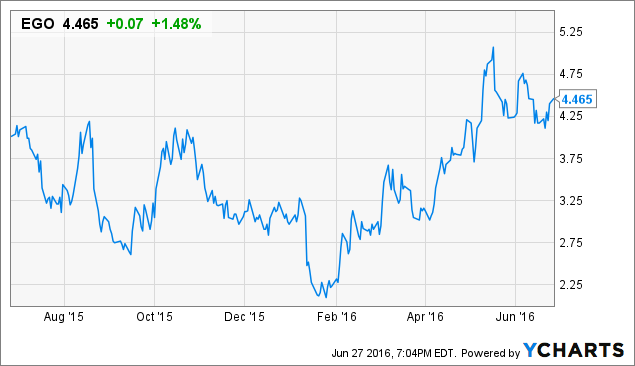 Recent Stock Price: $4.47
Shares Outstanding: 715.36 million
Market Cap: $3.20 billion
52-Week Range: $1.87 - $5.16
El Dorado Gold is one of the cheapest gold miners to own here in a market where it's hard to find good value. As the price of gold has soared to over $1,300 per ounce on news that United Kingdom will leave the European Union (an event referred to as "Brexit"), gold and gold miners have soared: the benchmark gold miners index (NYSEARCA:GDX) is up 97.38% year-to-date, while smaller "junior" gold miners (NYSEARCA:GDXJ) have done even better, advancing 117.49%.
Yet, El Dorado has only gained 50.51% this year. The market really didn't like El Dorado's $1.6 billion writedown of its Greece assets after the company suspended construction and development there in January, not did it like the announcement of a dividend cut.
The latest quarterly earnings also fell a little short of my expectations, as the company produced just $25.1 million in operating cash flow. However, gold has risen a great deal since last quarter, El Dorado's Skouries project in Greece was later approved, and El Dorado received a key installation permit to begin Phase II of the Olympias mine.
Despite the political risks facing some of El Dorado's mines, I think the stock is too cheap here given the company's solid balance sheet (especially following recent asset sales), low-cost operations, and future growth potential from its existing projects. And I think there's a good chance El Dorado will look to diversify its operations by completing an acquisition or two.
(Credit: El Dorado Gold)
The first and most important point I'd like to make here is that El Dorado looks cheap. Given El Dorado's solid balance sheet and pipeline of growth projects, I think the stock is undervalued.
For example, El Dorado's net debt/2016E EBITDA is just over 1.0, which is lower than peers Newmont Mining (NYSE:NEM), Agnico Eagle (NYSE:AEM), Goldcorp (NYSE:GG), Barrick (NYSE:ABX) and Yamana Gold (NYSE:AUY), as you'll see in the above chart. The stock is also trading below its book value of $5.26 per share. And these ratios do not factor in El Dorado's recent asset sales of $600 million in cash, expected to close later this year. I'll get into the balance sheet in more detail further down in this article.
I think the market is also basically ignoring the strong results El Dorado has put up at its Turkey mines. Both the Kisladag and Efemcukuru mines had a real strong performance in Q1, reporting strong production and cash costs that came in well below 2016 guidance.
In Q1, Kisladag produced 52,376 ounces at $536 cash operating costs (below guidance of $550-$600), while Efemcukuru produced 27,516 ounces at $478 cash operating costs (below guidance of $550 - $600).
For 2016, El Dorado has guided for 565,000 to 630,000 ounces of gold production at $940-$980 AISC, but in Q1, its AISC came in well below that figure, finishing at $886 per ounce.
Sale of Chinese Assets: A Good Move
The game-changer for El Dorado was the recent announcement that it will sell its White Mountain and Tanjianshan mines in China, as well as the Eastern Dragon development project, for a total of $600 million in cash to a company called Yintai Resources.
This looks like a really smart move in my view, as China is a high-risk mining jurisdiction and these were actually some of El Dorado's highest-cost mines.
Following the sale of these assets, with its existing cash balance of $236.3 million, the company should have approximately $836 million in cash on hand, compared to $589 million in debt, given it a solid net cash position of $247 million.
El Dorado also recently announced renewal to its revolving credit facility, as its $250 million credit facility (with an option to increase to $350 million) now extends to June 13, 2020. So, the company is going to have much more available liquidity than it did previously, given it the flexibility to complete development work on its existing projects, and potentially make an acquisition or two.
Readers should note that the sale is expected to close in the third or fourth quarter of 2016, and is subject to approval by Yintai shareholders.
Share Buyback Could Support the Share Price
Next, El Dorado announced on June 7 that it has renewed its normal course issuer bid. Under the new NCIB, El Dorado can buy back up to 2.08 million of its common shares, or .30% of the total shares outstanding. The buyback is good until June 12, 2017.
This could be a good move given El Dorado's current undervaluation and its recent cash infusion from the sale of its Chinese gold mines for $600 million in cash. Completing the full buyback of 2.08 million shares would only cost the company $9-$10 million at the current share price. This is a small buyback, but a nice start.
Greece Projects Moving Along
As mentioned, the Skouries and Olympias projects in Greece and now moving along nicely.
I think Skouries is going to be a real nice producing gold and copper mine for El Dorado for a long time to come. Based on the current proven and probable reserves, the company expects a mine life of 30 years, with an average of 140,000 gold ounces and 30,000 copper tons produced annually over the first 7 years (at -$500 cash operating costs). In years 7 and on, El Dorado estimates Skouries to produce 90,000 ounces of gold and 22,000 tons of copper annually at $170 AISC. So it could potentially be one of the lowest cost gold mines on the planet.
Meanwhile, the Olympias gold-silver-lead-zinc mine is also moving ahead and is expected to produce over 100,000 gold equivalent ounces starting in 2017, at AISC of $617, falling below $600 by 2018 and below $500 per ounce by 2020, according to a corporate presentation.
These are both two very low-cost mines that should be producing profits for El Dorado in the near future and for several years to come once in production.
Possible Takeover Targets
With such a large cash balance following the sale of its Chinese assets, I think El Dorado would to wise to acquire producing or development assets to diversify its portfolio.
I think Alacer Gold (OTCPK:ALIAF) is the most obvious takeover target for El Dorado given its location in Turkey, as El Dorado is certainly no stranger to this company. Alacer owns a 80% interest in the low-cost Copler gold mine in Turkey. This year, Copler is forecasted to produce 190,000 to 210,000 gold ounces at total cash costs of just $450 to $500 per ounce and all-in sustaining costs of under $700 per ounce.
But, Copler is undergoing an expansion that will allow it to produce close to 4 million gold ounces at $600-$700 AISC over a 24-year mine life. With a $350 million credit facility and $346.1 million cash on hand and zero debt (as of Q1 2016), Alacer is well-funded and can easily afford the costs of the Copler expansion. I think El Dorado would have to pay a premium to acquire Alacer as a result, but it would be worth the extra cost given the strong economics of the Copler mine and its long mine life. It would give El Dorado another really strong asset in Turkey (here's an article I wrote on Alacer for more details).
The next obvious takeover target is a company called Integra Gold (OTCQX:ICGQF). The reason: El Dorado already owns a 15% stake in Integra after investing $14.6 million in the company back in August of 2015.
Investing this much in a junior gold developer likely means El Dorado wants to buyout Integra for its Lamaque South mine at some point in the future. Once in production, this Canadian gold mine is expected to produce over 100,000 ounces of gold annually at AISC less than $700 per ounce. The asset is located in the world-class mining jurisdiction in "The Valley of Gold" in Val d'Or, Quebec. Here's my article on this deal. It's still likely several years from production, but is an attractive, and growing, gold resource.
Integra's share price is up over 200% since last year, so it's possible Integra's board might consider a takeover offer here.
(What other companies do you think El Dorado might be interested in acquiring? Please comment below).
Final Thoughts
Some of El Dorado Gold's assets face some political risk, but the company's recent sale of its Chinese gold mines greatly reduces its risk in my view. With over $800 million cash following the closing of that acquisition, El Dorado will be in a great position to move forward with its Greece assets and will certainly have enough cash for an acquisition or two.
Meanwhile, its Turkey gold mines continue to perform very nicely. Shares look cheap here and I don't think the market is giving the company enough credit for its recent asset sales, balance sheet strength and future growth potential. I would recommend building a small position in EGO here and add more shares once its asset sale closes later this year.
Disclosure: I am/we are long ALIAF, ICGQF, GDXJ.
I wrote this article myself, and it expresses my own opinions. I am not receiving compensation for it (other than from Seeking Alpha). I have no business relationship with any company whose stock is mentioned in this article.
Editor's Note: This article covers one or more stocks trading at less than $1 per share and/or with less than a $100 million market cap. Please be aware of the risks associated with these stocks.