Automatic Data Processing Inc (NASDAQ:ADP) provides technology-based outsourcing solutions to help manage HR, payroll, tax, and benefits administration from a single source. Over the last 60 years, ADP has grown into a trusted brand, with almost $10B in revenue and 570,000 clients (source).
In fact, if you've ever worked at a company on payroll, then there's a good chance you've received a pay stub from ADP. Personally, I've had multiple jobs where ADP took care of the payroll, as well as other various HR functions. They are a well-known industry provider with about $39.5B in market capitalization.
Given this proven track record, the massive scale of ADP, as well as the switching costs of changing HR administration providers, I'm intrigued to see if their perceived strength is reflected in the financial statements. Will we see consistently strong margins confirming a strong competitive advantage? And what does the dividend record look like?
We'll get to all of that in a second. But first, here's a price chart of ADP (not including dividends) to show you how the stock has performed over the last 10 years. I think it's good perspective: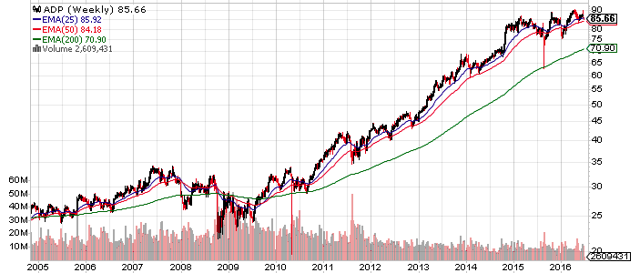 With that in mind, let's take a closer look at the historical financial results (source). I'm curious to see if the financial trends and business model support this ongoing price appreciation.
ADP: Processing the Historical Financial Data
First, let's start at the top line. This is a good way to get a look at market demand for ADP's services. Given the large-cap business, and the relatively slow-changing nature of their business, I would expect revenue growth to be slow and steady. Let's see what the numbers say: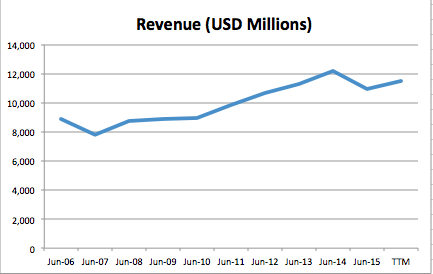 As you can see, the top line numbers fit the bill. ADP is a mature business, so rapid growth isn't to be expected. And while they've slowed a bit lately, it's still positive over the period. To their credit, ADP is trying to expand their business model with their PEO Services segment, which strives to provide a completely outsourced HR solution. This segment currently makes up about 33% of revenues, and is growing at 16% year-over-year vs. the core Employer Services segment's 5% growth (source). It will be interesting to see if this can keep driving sales.
Another hypothesis I have about the ADP business model is that the company has a trusted brand, which allows it to charge a modest premium for services. This should show up in healthy gross margins. You can see in the graph below that they've been quite consistent. The steady operating margins also further drive home the point that the business is well run, and likely has staying power.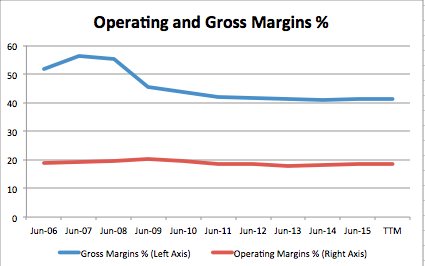 Another angle we can use to try and further judge ADP's competitive advantage is to look at earnings quality. One of my favorite ways to measure earnings quality is by comparing net income to operating cash flow. If the latter is higher than the former, it's indicative of high quality earnings because companies are actually collecting the cash, and not relying on accounts receivables or billings to boost EPS. This is what we should expect from a company like ADP that provides a core business services and generates recurring revenue from clients.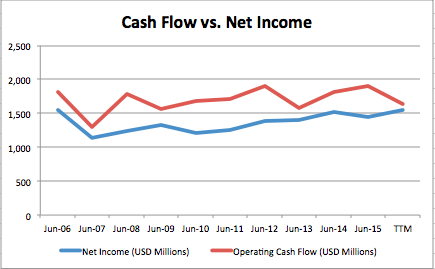 So now, you're probably wondering, what's the company doing with all of this cash? Well, since ADP is an asset-light business, capital expenses only average about 20-30% of operating cash flow, which leaves a lot of money left over to distribute to shareholders. Over the last 10 years, ADP has used both dividends and share buybacks to help return value to shareholders.
First, let's take a look at dividends. You can see they've grown steadily, along with payout ratio. The current yield is just under 2.5%, but the historical growth rate and 41 year track record makes this more appealing.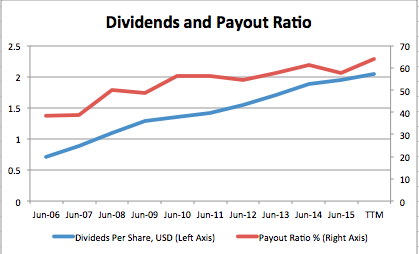 While ADP has a bit more wiggle room on their payout ratio, I think it's starting to get a little high for comfort. This number looks slightly stronger on a cash flow basis. But without top line growth resuming, dividend growth could be challenging.
However, the other lever ADP has to increase returns for owners, is share buybacks. By reducing the share count, ADP can grow the distribution per share, without spending more cash on dividends overall. Here's a look into how shares outstanding have consistently declined over the last 10 years: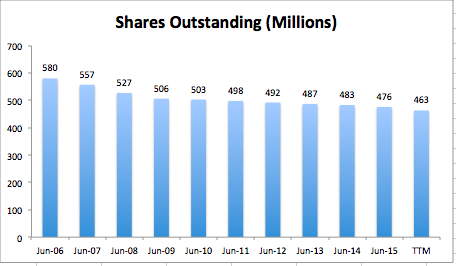 Finally, the company has a strong working capital position, with almost $17B in net current assets. While ADP did recently take on some debt, the interest expense is currently less than 2% of operating income. Thus, I'm not yet worried. But should this number keep creeping higher, and should debt only be used to fund buybacks, it would become a concern. At present though I'm comfortable with this leverage.
On the other hand, one possible dark spot on ADP's track record is the lack of book value per share growth. As an equity owner, I'd like to see my ownership stake increasing over time. Unfortunately with ADP, this hasn't been the case. See for yourself in this graph: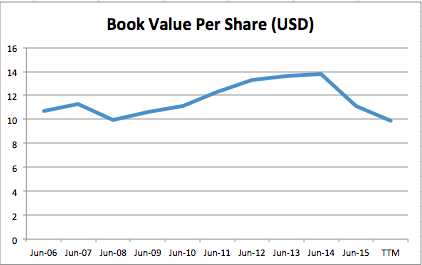 I understand this to a degree, as ADP pays out a large percent of earnings as dividends. But this, combined with the recent debt increase, has reduced book value per share. I'm willing to give ADP a pass for now, but will be watching this carefully in the quarters to come.
Other risks to ADP might include new, lower-cost solutions. Faster and nimbler cloud-based competitors could start to infringe on market share. That said, ADP has a large install base with little incentive to switch providers.
I'm also a bit skeptical of the share buybacks at current prices. I don't necessarily have a better idea of what management should do with the money, but buying back shares at all-time highs seems somewhat questionable. So, given this mixed picture, is an investment in ADP warranted?
Conclusion: Starting a Small Position in ADP
ADP isn't a perfect investment. But for me, I think the pros outweigh the cons. Given my longer-term time horizon and willingness to dollar cost average, I'm comfortable having this as a small piece of my portfolio. Plus, the company has an impressive track record, and the PEO Services segment could present additional growth opportunity and further support the dividend.
To that point, I'll keep a close eye on the metrics above to see how dividend growth might be sustained. I'll be especially careful about revenue growth, which I believe is necessary to sustain further dividend growth in-line with historical results.
But that's just my opinion. Do you think ADP is a good dividend investment for you? Or are you turned off by bumpy earnings and lack of equity growth?
Disclosure: I am/we are long ADP.
I wrote this article myself, and it expresses my own opinions. I am not receiving compensation for it (other than from Seeking Alpha). I have no business relationship with any company whose stock is mentioned in this article.