Another rough day in the equity markets, as the S&P 500 (NYSEARCA:SPY) slid 1.8% on Monday, following Friday's 3.6% dip.
But let's not fool ourselves: last week's infamous Brexit only served as the catalyst for a possible correction that has been in the making since this roaring bull market, fueled by a zero-percent interest rate environment, kicked off in 2009. And if what we are experiencing right now turns out to be the first meaningful pullback of the decade, then we are merely in the top of the first inning.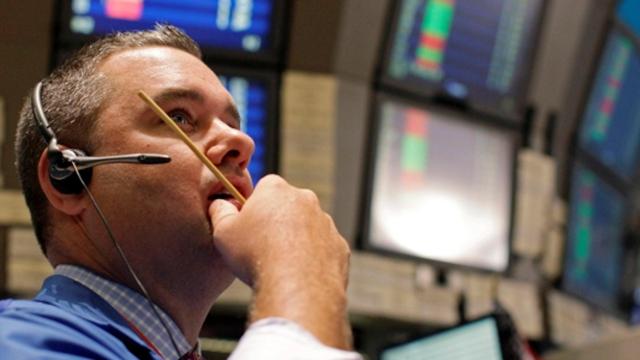 Credit: TheAtlantic.com
As the graphs below indicate, in 4Q14 corporate earnings broke a rising pattern that had endured since the end of the Great Recession. During the past six quarters, earnings have dropped nearly 25%, while stock prices moved largely sideways. As a result, P/Es have shot up to levels not seen since 2008, and today they sit near the highest point of this decade.
The fact that the S&P 500 index has failed to remain above 2,100 points for very long seems to suggest that the market is unwilling to pay higher prices for less income. What the market needed, in my opinion, was a good reason to pull money off the table, and Brexit was the rationale that participants were looking for.

Source: DM Martins Research, using data from multpl.com
So do we freak out and sell?
Not so fast.
First of all, despite rich valuations, there is really no way for us to know for sure the direction of the markets over the next few weeks, even months. Selling into the dip is about the least recommended course of action in the face of an unpredictable market ahead. Unless you are a trader looking to time the market and make a few bucks over the next week or two, I recommend equity investors take the following steps:
Don't sell - unless you need the cash right away. The only scenario in which I suggest investors sell on the dip is if they need liquidity in the short term. And if this is the case, make sure to draw a lesson from the Brexit mini-crash. After all, investors should not rely on money invested in stocks to pay this month's cable bill, unless the portfolio is heavily weighted towards high-yield stocks. If shares need to be sacrificed in the midst of a panicking market, give preference to aggressive, richly valued, high-growth, no-dividend stocks. This piece of advice is not merely based on gut instinct, but rather on a few weeks observing the "biggest losers" in the market. As I recently discussed, at least in the tech sector, stocks that have the characteristics described above have been taking the biggest hits lately, even before Brexit unfolded. See the graph below, on the right, for the evolution of the biggest tech losers' valuations, expected earnings growth and yields over the past eight quarters (P/E on the left axis, EPS growth and dividend yield on the right). It seems like the market has been less willing to hold on to aggressive bets as of the past couple of months, and I wouldn't expect the trend to reverse in the face of an uncertain macro environment.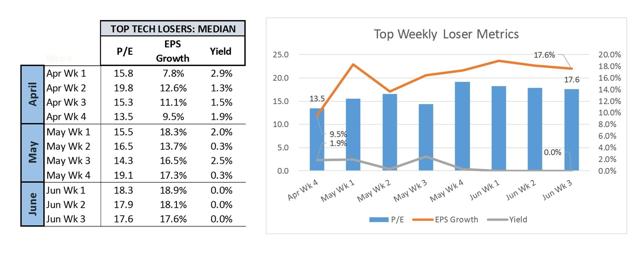 Source: DM Martins Research, using data from Yahoo Finance, Market Watch and Nasdaq
Bargain-shop for value deals: some great stocks that some of us have been considering buying for 30x earnings are now on summer sale. Why not take advantage of it? I have recently posted a couple of articles on Vodafone (NASDAQ:VOD), Nokia (NYSE:NOK) and Repsol (OTCQX:REPYY). These three names are only a few bets that may pay off in the longer term.
Set up your portfolio to withstand the next dip: lastly, but certainly not less important, prepare yourself for whatever weather might be heading your way. I have recently argued that "no one quite knows what the real consequences of Brexit will be, nor the magnitude of these consequences. Analysts, journalists, economists, CEOs and government officials alike are trying to understand how Brexit will play out, over what period of time, what decisions producers and consumers will make as a result, and how the global economies and markets will behave." The best way for investors to prepare for the next market dip - or the next rally - is to build a portfolio that is properly risk-balanced. Check out the benefits of holding "All Seasons" as an alternative to an all-equities portfolio, and mitigate the risk that tomorrow's opening bell might have the same dramatic impact on your wallet that it had over the past couple of trading days.
Disclosure: I am/we are long SPY, VOD.
I wrote this article myself, and it expresses my own opinions. I am not receiving compensation for it (other than from Seeking Alpha). I have no business relationship with any company whose stock is mentioned in this article.
Editor's Note: This article discusses one or more securities that do not trade on a major U.S. exchange. Please be aware of the risks associated with these stocks.