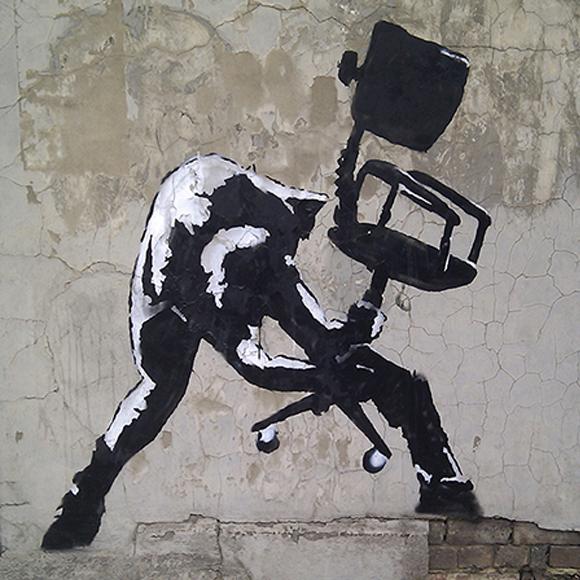 Seeking Alpha editor Daniel Shvartsman has shared a song by The Clash, and we would like to double up on the theme to start this latest edition of
Resource Sector Digest
(Vol. 42 - June 27, 2016)
Brought to you by a somewhat baffled Itinerant and the ever-composed Investment Doctor.
We shall:
set the scene,
highlight actionable ideas,
comment on news releases, and
link to relevant articles.
And right now is a good moment to pause and consider our cordial invitation to take advantage of the free two weeks trial period for Itinerant Musings for exclusive access to actionable research on mining and energy stocks.
In case you missed out on previous editions of this newsletter, simply click here, here, or here to catch up.
Setting The Scene
"The ice age is coming, the sun's zooming in
Meltdown expected, the wheat is growing thin
Engines stop running, but I have no fear
'Cause London is drowning, and I live by the river"
(The Clash)
Well, not quite. London won't drown anytime soon, and we don't really see an immediate need to seek shelter by the river either. But before we continue to add to the already deafening noise on this particular topic, here are a few voices we picked during a rainy reading weekend from fellow Seeking Alpha authors:
Broulette. Here is how we think it works:
Britain has cocked the gun, and has taken aim at its own foot; whether and when the country will actually pull the trigger is anyone's guess. To this humble scribe it seems obvious that the country is already flinching badly, but the rest of Europe has had a gut-full and is egging the soon-not-to-be-so-Great Britain on to get the self-prescribed mutilation over and done with. Europe has tolerated and even accommodated the country's antiques so far, but we submit that there is no room for more. Stick that tail between your legs and behave; or get that Article 50 letter into the mail. These seem to be the two options left. Our bet is on the latter. Eventually.
Moving on to metal prices, we take note of the chart below. Over the past month, and including the days since Britain's referendum gold (NYSEARCA:GLD) has traded in almost perfect inverse correlation to equities (NYSEARCA:SPY) (NYSEARCA:DIA). The Dollar (NYSEARCA:UUP) has changed its affiliation, however. Up until the vote the greenback has traded more or less with equities, and inversely to gold; but since the referendum it has diverged from equities, and has gone in tandem with the gold price. Both gold and the Dollar are currently acting as safe havens; however, going forward we are not so optimistic for the gold price. Ian Bezek has put it quite succinctly in this comment:
"I'm very positive on the gold short from here. Note that (NYSEARCA:TLT) is going to the moon today and gold has done nothing off the open. As the dollar strengthens, bonds should establish themselves as the real safe haven and gold as not nearly so much a one. And in the event that things reverse, gold will lose its bid really quickly."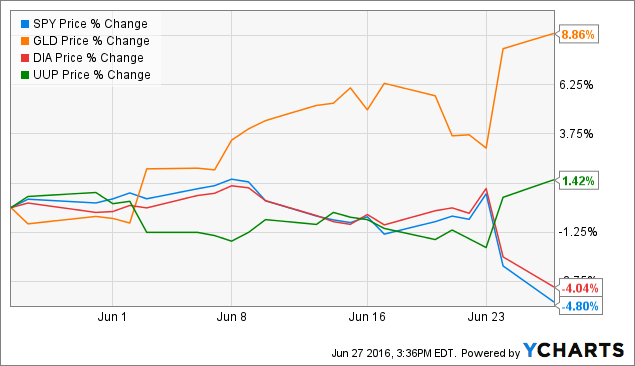 The British referendum doesn't seem to have had much impact on the price of other metals, except silver (NYSEARCA:SLV) which has been trading more like a precious than an industrial metal of late. Base metals have dropped since the vote, but arguably less than they had gained in the lead-up as can be seen in the charts below. There is still a bit of room for base metals to move lower as volatility plays out, but we believe that the British vote will soon be displaced by other drivers. The situation in China comes to mind, and we note that the Yuan has dropped to 5+year lows. One could argue that an already shaky economical climate in China will suffer further from the Brits' decision, but we doubt that the referendum will turn out as the one straw too many for this camel.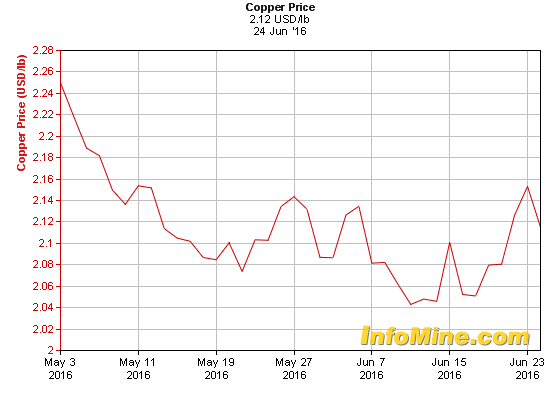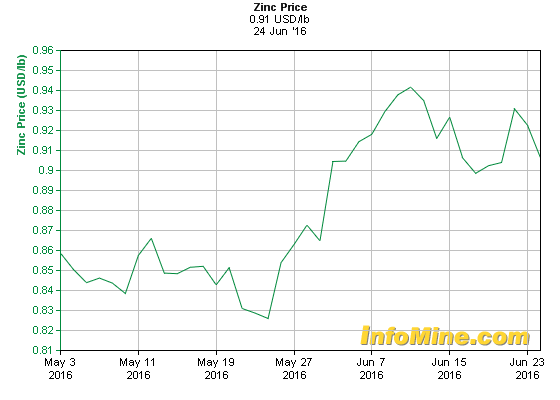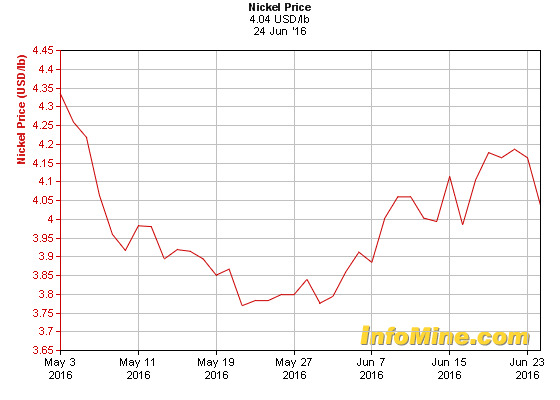 In conclusion we would argue that Britain has had its 15 minutes in the lime light, and markets will get used to the idea of the Sodden Isle leaving the European Union. Associated risks will have to be managed, but we have our doubts that on a world scale these events will loom as large as some have tried to make us believe. That foot is going to be sore if/when the country pulls the trigger, and Britain will be limping for a long time from the event. We doubt that the rest of Europe, and the rest of the world will be affected anywhere near as much.
We expect the Dollar to regain strength, and put pressure on the gold price again before long. As such we are not convinced that gold will go much higher from here, and we see base metals trade mostly sideways within their recent range with news out of China regaining priority for price makers.
Actionable Ideas
In line with Ian Bezek's quote referenced above we see gold miners mostly overvalued with little reason to go long at the moment. For those looking for a short trade, here is the Itinerant case for Lundin Gold (OTC:FTMNF).
Sticking with a British Theme we would like to point to the Doc's latest Top Idea: Long Flybe (OTC:FLYBF).
News Releases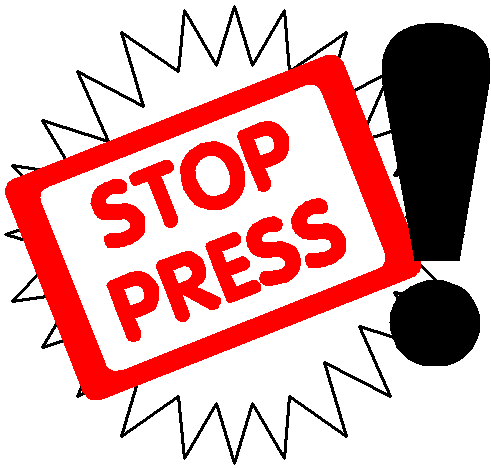 And last but certainly not least here is our review of news releases for the week.
News item of the week goes to Nevsun Resources (NYSEMKT:NSU) and Reservoir Minerals (OTCPK:RVRLF) after closing their deal and combining businesses. This conclusion did not come without some drama, and a last-minute sweetener from Nevsun. The share price for the combined entity has dropped, and could be viewed as an attractive entry opportunity.
Teranga Gold (OTC:TGCDF) has also decided to expand its scope and footprint and has proposed to acquire Gryphon Minerals (OTCPK:GPHYF) in an all-shares transaction. The Banfora gold project in Burkina Faso promises near term production from a high-grade heap leach project, with plenty of scope for expansion.
Nouveau Monde Mining (OTCPK:NMGRF) released its PEA for the Matawinie graphite project. Itinerant Musings subscribers will be treated to a detailed discussion later this week.
Yamana Gold (NYSE:AUY) seems to be pushing ahead with its Cerro Moro project judging from a deal with Samco Gold (OTC:SGCLF) which has added the so-called Corina property to the land package. This is also good news for Sandstorm Gold (NYSEMKT:SAND) which will be looking forward to revenue from its cornerstone Cerro Moro metal stream.
Imperial Metals (OTCPK:IPMLF) has received permission to resume its Mount Polley operations after the catastrophic tailings dam failure almost two years ago. And while this Canadian base metals miner seems to be recovering from mis-fortunes, another one was hit by just that. A fire at the Ekati Diamond mine operated by Dominion Diamond Corp (NYSE:DDC) has prompted a shut-down of the processing plant. Mining has continued and ore has been stockpiled, but the duration of the shut-down is still unknown. And sticking with the theme we note that Aureus Mining (OTC:ARSMF) is also re-starting its operations at the Liberty mine in Liberia after a plant suspension triggered by a tailings dam failure. The incident has caused much pain for share holders due to a highly dilutive $30M capital raise.
Following a robbery earlier in the year Great Panther Silver (NYSEMKT:GPL) continues to cause the wrong headlines, this time reporting a fatality due to a rockfall at its Guanajuato silver mine in Mexico. Operations were allowed to continue, except for the immediate area of the incident.
Not long after resolving a strike at Kinross Gold's (NYSE:KGC) Tasiast mine in Mauretania another spanner got thrown into the works. This time the trigger is a dispute with the country's government over work permits for certain ex-pat employees. Our subscribers already know about our opinion of this "asset", and recent ongoings have all but confirmed our view.
Primero Mining (NYSE:PPP) has closed its C$51.75M bought deal. The stated intention is to use the cash for exploration and general working capital. The ongoing and escalating dispute with the Mexican tax man might be the real driver, and the fact that Primero had to throw in warrants is a colored flag in out view.
Kirkland Lake Gold (OTCPK:KGILF) is next in line to take advantage of high market valuation. The company is topping up its treasury with a C$15M placement. Apparently the money will be used for exploration purposes, and one wonders what the C$130M in cash on the balance sheet will be used for. Otto Rock has his own ideas to this regard. Not to be outdone Dundee Precious Metals (OTCPK:DPMLF) has also raised capital in a C$50M bought deal. Debt reduction, and presumably project financing for the company's next gold mine in Bulgaria is the goal of this initiative.
Alacer Gold (OTCPK:ALIAF) seems to share our outlook on the gold price judging from the company's decision to hedge 160,000 ounces at $1,273/oz. The hedge concerns gold production from its heap leach operation until September 2018. Our view on this company remains unchanged by this measure.
Formation Metals (OTCQB:FMETF) has awarded the preparation of a feasibility study for its Idaho Cobalt Project to Micon International, the same group that has already completed the feasibility study for Fortune Mineral's (OTCQX:FTMDF) NICO project. Certain expectations can already be formulated given the similarities of the two projects, and the engagement of the same engineering group.
Goldsource Minerals (OTC:GXSFF) has achieved commercial production at its boutique Eagle Mountain gold mine in Guyana. The market has certainly rewarded this company for its smooth progress so far, and we are already looking forward to finding out if its cost predictions can also be achieved.
Seabridge Gold (NYSE:SA) continues to accumulate projects and resources in the Golden Triangle, this time by closing the acquisition of Snip Gold (OTC:SYGCF). This transaction adds to the already large land package in this prospective region. The company's summer drill program this year is focused again on Deep Kerr.
And that's it for this edition in which we have successfully avoided the term "Brexit". The Investment Doctor will do all the digesting for next week, and we are already looking forward to see youse all again in due time.
Disclosure: I am/we are long NSU, SAND, FLYBF.
I wrote this article myself, and it expresses my own opinions. I am not receiving compensation for it (other than from Seeking Alpha). I have no business relationship with any company whose stock is mentioned in this article.
Editor's Note: This article covers one or more stocks trading at less than $1 per share and/or with less than a $100 million market cap. Please be aware of the risks associated with these stocks.