In the history of value investing, the greats have consistent followed one rule: Never let a good crisis go to waste. Now that global equities are tanking and all asset classes come under extreme volatility, it is the opportune time to identify cheap businesses in certain industries that are unjustifiably beaten down or sold off together with peers. In order to screen for high-quality companies and seeking to capitalize on the panic surrounding Brexit, we will first identify industries that have been hit the hardest and priced for disaster. By taking a thematic approach and examining sectors that the market has written off, we can narrow down the field significantly in terms of finding the best bargains for a recovery.
Housing
One of the hardest hit sectors in the past week has been housing. Property prices in the UK, particularly in big cities like London and Manchester, have been on a dramatic rise in the past decade. Buying has mostly come from investment-related entities with wads of foreign capital seeking safehaven yields.
However, now that the UK is primed to leave the EU's single market, investors are predicting a decline in housing prices that were already at "bubbly" levels before the referendum. Consider that in 1995, the median house price in London was roughly 4.4x the annual average income for residents. This figure rose dramatically to the current record of 12.2 times annual income, with the average homeowner taking nearly 30 years to finish paying their mortgage.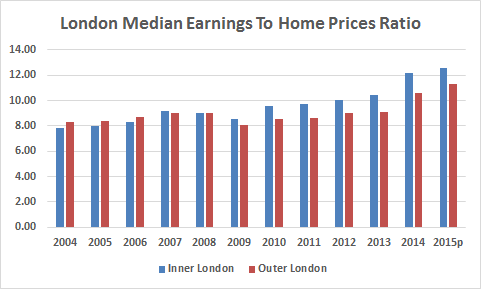 (Source: London Datastore)
With most economists predicting a recession for the UK by 2017, lower immigration levels and the risk of mass relocations by MNCs and medium-sized enterprises, it is unsurprising that large-cap homebuilders such as Barratt Developments (OTCPK:BTDPF) and Taylor Wimpey (OTCPK:TWODF) took a huge hit in the past few days, with shares of both companies down nearly 40% each.
Whilst the market has certainly priced in a catastrophe for housing, the reality could be far less dire. The UK is still seen as a safehaven despite the recent uncertainty, and it could be some time before the next Prime Minister invokes article 50 of the Lisbon Treaty, which then gives the UK two years to negotiate bilateral trade and immigration deals with the EU. In this process, there are many things that could come out in favor of UK housing, and one could argue the market is simply too pessimistic on the real estate market.
Land/Agriculture
As a corollary of the risk to real estate prices, land stocks such as British Land (OTCPK:BRLAF) have also taken a beating as the market believes UK land will be worth far less once outside the single EU economic area.
Another interesting sector to examine with the most direct impact from Brexit is agriculture. Given that the EU gives massive kickbacks to agricultural businesses in the UK, independent farmers are at a huge risk if the government does not compensate for these lost subsidies once the UK leaves. This may result in a cost increases through the supply chain, which will be passed to consolidated agriculture companies such as Associated British Foods (OTCPK:ASBFY).
However, given the political sensitivity regarding farmers and the viability of domestic agriculture, the government may pick up the slack and continue the current levels of subsidies, which means the panic regarding agri-businesses would be unwarranted.
Banking/Finance
Brexit has taken a huge toll on the financial centre in London, with reputable names such as Barclays (NYSE:BCS), Lloyds (NYSE:LYG) and The Royal Bank of Scotland (NYSE:RBS) taking a nosedive after the referendum. There has been rife speculation regarding the current EU legislations that allow certain functions such as 'passporting' rights, which allow banks to offer cross-border services easily in the EU despite being headquartered in a single country.
Yet some financial institutions will not be as affected by others, but have sold off to a similar extent. For instance, banks that have insurance-heavy operations are not affected by changing legislations, and there should be very little disruption to their operations. In particular, Admiral Group (OTCPK:AMIGF) seems to be a strong buy in the insurance space, with consistent growth and profitable underwriting operations. However, one needs to carefully discern where the float is invested - insurers who have allocated majority of their float to safehaven assets such as bonds will fare far better in these circumstances than those invested equity-based vehicles.
Another example of a misplaced sell-off is Standard Chartered (OTCPK:SCBFF) - the bank does almost all its business in Asian and African emerging markets, with virtually no presence in the UK or EU. Yet shares are down almost 10% and continue to come under pressure.
Airlines
One of the sectors that could be the most directly affected by Brexit, airline stocks across Europe sold off sharply following the referendum result. In particular, International Consolidated Airlines Group (OTCPK:ICAGY), who own and operate Heathrow Airport, British Airways and a few small budget airlines, has sold off significantly in the past few days due to fear regarding the treatment of transnational airlines in a post-Brexit era.
In particular, landing rights and fees for transatlantic flights from the UK will have to be renegotiated with the US as these fall under the EU-US Open Skies Agreement, which the UK will not be a party of after leaving. Also, high-grown European budget airlines such as Ryanair (NASDAQ:RYAAY) and EasyJet (OTCPK:EJTTF) may look for alternative hubs depending on new legislation in the coming years as UK-EU landing rights and airport taxes could be subject to renegotiation once the secession process begins.
Conclusion
Although the recent fall has certainly increased the number of bargains, investors should choose wisely depending on their objectives. Note that risk and potential returns tend to correlate, and given the volatile climate one should expect further drawdowns once invested in these names.
Disclosure: I/we have no positions in any stocks mentioned, and no plans to initiate any positions within the next 72 hours.
I wrote this article myself, and it expresses my own opinions. I am not receiving compensation for it (other than from Seeking Alpha). I have no business relationship with any company whose stock is mentioned in this article.
Editor's Note: This article discusses one or more securities that do not trade on a major U.S. exchange. Please be aware of the risks associated with these stocks.