Please note that due to the higher liquidity of its TSX Venture listing, all amounts in this article are in Canadian Dollars.
It's always a shame when good people do bad things. One mistake can make you question everything about them, even though all people make mistakes. I know I wouldn't want a light shone on every decision I have ever made, especially during my college years. However, especially for public companies, there are consequences when you are a steward for shareholder capital and make questionable decisions. This has unfortunately unfolded at Photon Control Inc. (OTC:POCEF), culminating in a press release today announcing the resignation of CEO Christopher Weston from the company as well as the results of an investigation around a material transaction that violated the governance procedures in place at Photon.
First, some background on the company. Photon Control designs, develops, manufactures and distributes a wide range of optical sensors and instruments to measure temperature, pressure, position and flow. Most of their products are enabled for data capture, integral to the Internet of Things trend. This trend has seen companies gather more and more data to better understand and operate their businesses. Photon's products are used in the semi-conductor, oil & gas, health and manufacturing industries. I go into greater detail on their business and financials in my original article here.
Photon's performance has continued to strengthen since I first covered them: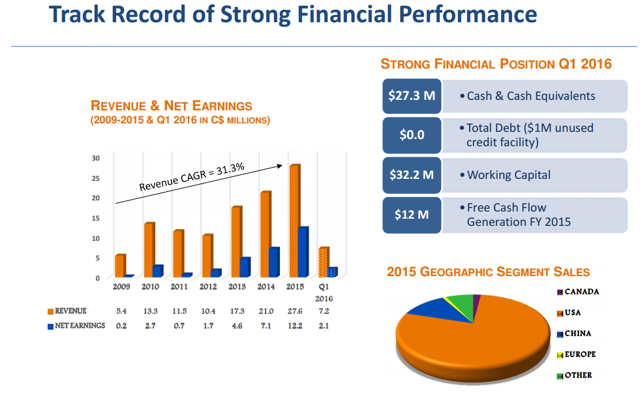 Source: Company Presentation, June 27, 2016
Photon has had some great success over fiscal 2015 and into the first quarter of 2016, accumulating a substantial cash balance of $27.3m. However, it is this cash hoard that proved to be the impetus for Weston's resignation.
As detailed in the June 27, 2016 company conference call, on June 3, 2016, Photon arranged a $4.5m 60-day loan to Photon R&D, a company with a common director to Photon (David Dueck) at a rate of prime + 6%. These funds eventually made their way to another company controlled by David Dueck, National Importers Inc. This deal was brokered by Mr. Weston in an effort to generate some income on a portion of Photon's cash balance, which with the current rates being available, would have been a substantially better return.
However, a transaction of this size should have been run by the Board of Directors; prior to its execution, it was resisted internally by Photon's CFO Adams, even though it was eventually put through. On June 10th, Mr. Weston voluntarily disclosed to the Board the nature of this transaction, which kicked off an investigation by the Board of Directors into this transaction and any others.
Photon's investigation culminated in the resignation of David Dueck as chairman of Photon, though he will remain as a director. Chris Weston also resigned as CEO of Photon and from the Board, though he will be remaining in another role (likely technical in nature) to support Photon's continued growth. Michael Goldstein has stepped up to serve as acting CEO, with a search to be conducted to find a permanent CEO in parallel. Mr. Goldstein has significant experience in Photon's industry, in a wide variety of roles that will help ensure an orderly transition. Mr. Weston's continued presence will also provide support to Mr. Goldstein and the eventual permanent CEO. The company is also launching a series of initiatives to improve its governance, including training, a more defined approval structure, and an internal audit of its related party transactions.
The Takeaway
This is a very disappointing series of events. The stock market felt the same way, with shares dropping as low as $0.67 on the TSX today before closing down 10%, taking off over $8m from its previous market cap.
That said, I feel that I learned a few things about the company as a result of this. Often times, you learn about the quality of restaurant by how it deals with problems; some try to ignore the problem, while others will go above and beyond to make it up to the customer. Photon addressed this with the latter technique.
Firstly, Mr. Weston came to the Board voluntarily when he became aware of the breach of governance. He also participated on the conference call and was made available for questions. Photon seems eager to continue a business relationship with him going forward, which is a good thing for its underlying business. It also makes me think this was really a mistake in judgment rather than something nefarious.
Second, Photon prepared an entire slide deck and held a conference call to discuss the issue with investors. One of Photon's weaknesses is it has a very passive investor relations approach. It usually only does PR for earnings announcements and awards. By confronting this issue head on, it gives me confidence that they are treating this governance issue with the gravity it deserves
Thirdly, Photon held Mr. Dueck and Mr. Weston accountable for this err in judgment. The treatment of Mr. Adams, the CFO, by the Board was also fair. Mr. Adams is a CPA (as is your author) and there is a strict code of ethics that must be adhered to. Mr. Adams was put in a difficult position where he had a duty to both the stakeholders and to his supervisor. Although he ended up putting the transaction through, he voiced his opinion very clearly that he did not agree with the transaction. The Board must also have confidence in him as well to move forward with him as well.
Mr. Goldstein indicated that they were optimistic to recover the funds "within the next few days". Given that Q2 will close on Thursday, I suspect they are highly motivated to recover this cash or they will just need to answer more questions on it again after they release Q2 results. If they are unable to resolve this quickly, there will be further questions with respect to its controls.
Management also indicated on the call that they consider themselves a growth company (which the results back up) which requires capital to grow. Even still, they did say that a special dividend back to shareholders of excess cash would be considered. They also would consider rolling Photon R&D back in and that they will always want control of Photon's IP.
Summary
There were a few silver linings on a very disappointing day for Photon Control. When faced with a crisis, the Board and management dealt with it quickly, appropriately, and transparently. It appears that this was a one-off problem, though we will not know for sure until the results of the internal audit of related party transactions is concluded. Its underlying business remains in tact as well as a continuity of management knowledge and expertise. I look at this as a chance to buy back in at a similar price to my original thesis but with a greater cash balance and stronger results base than before.
For continued discussion, please don't hesitate to comment below; I and other readers will be able learn from your feedback.
If you like what I'm doing, you can follow me by hitting the "follow" button at the top of this article. Plus, you can follow me in real time by selecting that option. It might give you somewhat of a head start whenever I write an article on what actions I am taking and why. Thanks for reading!
Disclosure: I am/we are long POCEF.
I wrote this article myself, and it expresses my own opinions. I am not receiving compensation for it (other than from Seeking Alpha). I have no business relationship with any company whose stock is mentioned in this article.
Additional disclosure: I am long Photon Control through its TSX Venture ticker PHO.V
Editor's Note: This article covers one or more stocks trading at less than $1 per share and/or with less than a $100 million market cap. Please be aware of the risks associated with these stocks.