Vodafone Group PLC (NASDAQ:VOD) faces the opposite decision from the United Kingdom--should it leave its British home and become totally European?
The telecommunications company's ADRs, traded on Nasdaq, sold off sharply after last week's Brexit vote. It closed Monday at $28.31, a 13% loss over the last two trading sessions. Its yield reached 5.85%, although the calculation going forward is complicated by currency translations--this year's dividend is being paid in sterling, next year's will be in Euros, and Americans receive it in dollars!
Vodafone, which operates in Europe, Africa, the Middle East, and Asia/Pacific, owned 45% of Verizon (NYSE:VZ) before selling it back in 2014, with shareholders getting VZ stock and cash as part of the deal. In the last month, beginning when polls started showing a possible win for Brexit, its stock has diverged from its American cousin.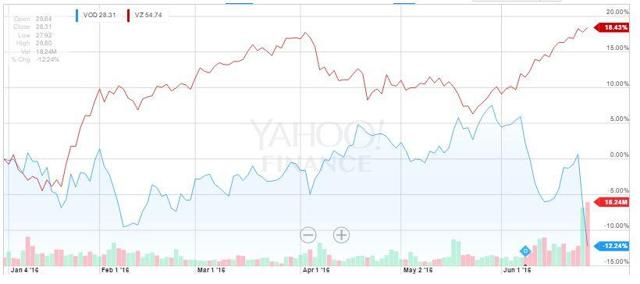 Source: Yahoo Finance
Vodafone is attractive to dividend growth investors with its history of raising its payout since 2000. The company says it intends to grow the dividend annually, "demonstrating confidence in cash flow generation."
The dividend next spring will be the first to be paid in euros. Since the Brexit vote, the euro has declined against the dollar, but risen sharply against the pound sterling. If that trend continues, the negative effect of currency on the U.S. dividend will be substantially lessened, but not eliminated.
Still, its yield is excellent for a relatively stable telecommunications company, well above that paid by leading telecoms Verizon, 4.1%; AT&T (NYSE:T), 4.6%, and Deutsche Telekom (OTCQX:DTEGY), 4%.
Morningstar, for one, believes the reaction is overdone and Vodafone may actually be worth more than before the vote because of lower interest rates.
While we expect the U.K. economy will slow as a result of Brexit, we don't believe the event will have a material impact on the U.K. operators. We maintain our economic moat ratings for our entire European telecom coverage universe. We also maintain our fair value estimates in local currencies but may lower them for the ADRs, depending on currency moves versus the dollar. The exception is Vodafone; we plan to raise our valuation slightly, primarily from the time value of money and, to a lesser extent, slightly higher growth rates as the firm's move to the euro as its functional currency reduces currency volatility. However, we are increasing our fair value uncertainty rating to high from medium, as results could be more volatile.
Prior to the June 23 vote, Vodafone CEO Vittorio Colao had warned that a British exit would leave the company powerless to influence EU regulations in areas like copyright, e-commerce, and digital security in what is becoming a huge single digital market.
Speaking on the Today programme, Colao said: "The next big opportunity is in digital. Britain is particularly strong in digital, and it would be a missed opportunity if it tried to sit outside. There is a difference between being a neighbor and being a co-owner."
After the vote, the company said it was too early to decide whether to move its headquarters, perhaps to Dusseldorf, where its German subsidiary is based.
In his comments before the vote, Colao also warned the company could relocate its headquarters if the free movement of capital and labor were jeopardized.
That's a strong hint the company will push for Britain to become a member of the European Economic Area, which already connects Norway, Iceland, and Liechtenstein to the EU. EEA membership requires free trade and internal immigration without paying full EU does or being subject to all its laws.
The company has already taken one step away from Britain, changing its reporting currency from the pound to the Euro, which accounts for about half its revenue.
Unlike Verizon, AT&T, and Deutsche Telekom, Vodafone did not begin life as a regulated wireline company. Instead, it launched in 1985 with Britain's first mobile network, bought a leading German digital network in 2000, and continued to expand its offerings by acquisition. Today, fixed service revenue is about a quarter of its European business, rising because of broadband customer growth.
Only 23% of Vodafone's European revenue came from the United Kingdom last year, so the company isn't dependent the value of the pound.
The relatively low figure also means a move wouldn't take the company away from its major market. The company employs 13,000 people in Britain and is the leading employer in the small town of Newbury. Protecting those jobs is one more reason the new British government may want to move to EEA membership.
The political situation is unlikely to get much clarity until after September 2, when a new prime minister takes over and decides whether to trigger Britain's EU departure by invoking Article 50.
This dovetails neatly with the average length of a decline after recent crises. Charles Schwab's Jeffrey Kleintop, in recent market shocks, the market has tended to go down for several months after the initial shock. The cases he cited were the Japanese earthquake, the congressional war over the U.S. debt ceiling, and the unrest in Spain during the European debt crisis.
The initial shock of the unexpected result prompted a sharp decline in stock markets around the world, and we believe it may take some time for the shock to fully work through the economic, financial and political systems in the U.K. and Europe. With no visible catalyst to halt the slide, the decline in global stocks may continue as the risk of a recession increases.

"Although the Brexit is not a perfect parallel with any of the above shocks, the delayed recognition of widening impacts from shock events could prompt a further slide in the stock markets after the initial reaction, as we have seen in the past."
Another negative is the company's free cash flow and EBITDA declined in fiscal 2016 with the European recession and heavy investment in its network.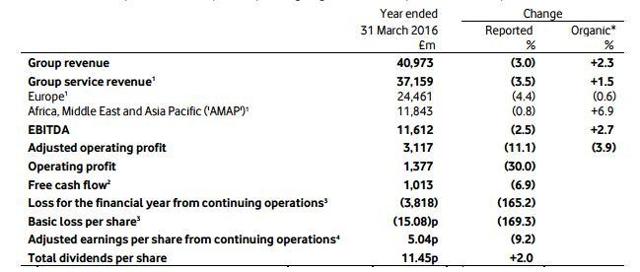 Vodafone predicted a 3-to-6% increase in EBITDA for the current fiscal year; that number might take a haircut with the lower expectations for European growth. Still, free cash flow is expected to more than double with the completion of its Project Spring capital improvement project--87% of the European network had been converted to 4G at the end of the last fiscal year.
Like many U.S. companies, recent dividend growth has been achieved at the cost of increasing debt, which is now about one-half of total capital. The leverage is currently benign, given Europe's microscopic or negative interest rates, but could prove problematic if rates go up again. That seems unlikely in today's European climate.
Conclusion: There's no hurry to catch the falling knives of U.K. stocks, even one that isn't very dependent on Britain, so total return investors would be advised to wait. Dividend growth investors might consider taking advantage of the recent decline to initiate a position, or put it on their shopping list for when the Brexit turmoil begins clearing.
Disclosure: I am/we are long VOD.
I wrote this article myself, and it expresses my own opinions. I am not receiving compensation for it (other than from Seeking Alpha). I have no business relationship with any company whose stock is mentioned in this article.