Last month, Sony (NYSE: SNE) reported sales of its PlayStation 4 console that surpassed 40 million units worldwide. This helped the Japanese-based company increase its lead against its closest competitor - Microsoft's (NASDAQ: MSFT) Xbox One - and become the biggest player in the gaming industry. During the last couple of quarters, Sony has been working on two major projects that will help it strengthen its position in the market even more. These projects are PlayStation VR and PlayStation Neo, and Sony believes that they will be successful among consumers and will receive a warm welcome from the public.
PlayStation VR, as you may already know, is a virtual reality headset that connects to Sony's major platforms and takes the current gaming experience to the next level. The device was announced last year and there are plans to release it this holiday season. It has already received a warm welcome from the gaming community and, considering the potential of the VR industry, it should be successful among players. Since PlayStation VR is designed solely for gaming purposes, and Sony can be considered a pioneer in this field, the additional customer base and better user experience will definitely yield returns in the long term.
Also, last week, Sony launched a pre-order process for PlayStation VR, and a lot of people in Japan are already standing in lines in front of gaming retailers to order their version of the device: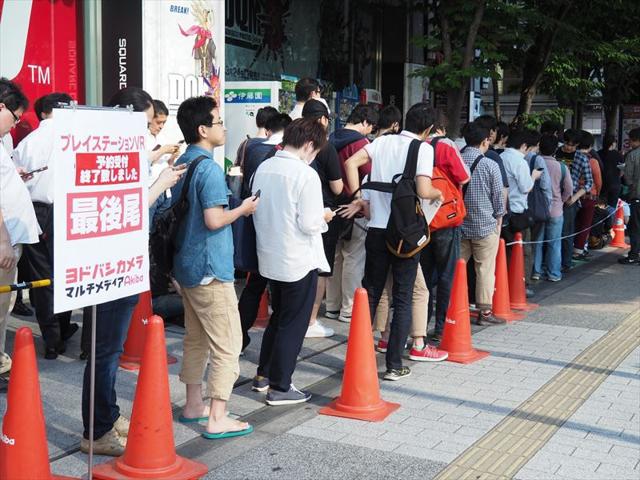 Source: ASCII
PlayStation Neo, on the other hand, is the new gaming console from Sony that will give players the ability to play games in 4K resolution. At the moment, we do not know any of the characteristics of this gaming station, but Sony said that additional details will be announced in the next couple of months. The release is expected to roll out in the next few quarters. PlayStation Neo's main competitor will be Microsoft's Project Scorpio, which was presented at this year's E3 conference. The American console will also have 4k compatibility and is expected to be released at the end of 2017.
But there is one thing that will make Sony more attractive in comparison with its competition. Unlike Microsoft, which plans to release its future games both for Windows 10 and Xbox One/Scorpio, Sony will have exclusive titles for its devices. That means, in order to play them, consumers will have to buy one of Sony's consoles. As for Microsoft games, consumers just need to buy the game for their PC and don't have to spend additional money on hardware. This will definitely cause some problems for the Xbox division and will give Sony competitive advantage in this fight.
There is also another reason why PlayStation VR and PlayStation Neo are very important for Sony. In 2013, the company started a restructuring process and only a few quarters ago it returned to profitability. The main driver of growth was Sony's gaming division that continues to outperform other businesses to this day in terms of sales (if we exclude the FX impact):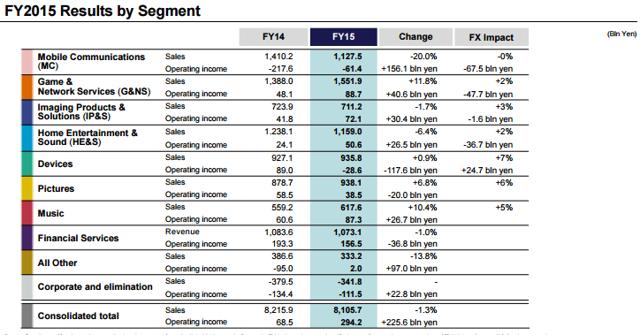 Source: Sony Presentation
During the last year, Sony's gaming and network services segment has significantly increased its sales and operating income year-over-year: its PlayStation 4 console set a new record and sold more than 40 million units since the launch and had the best year of exclusive games released so far.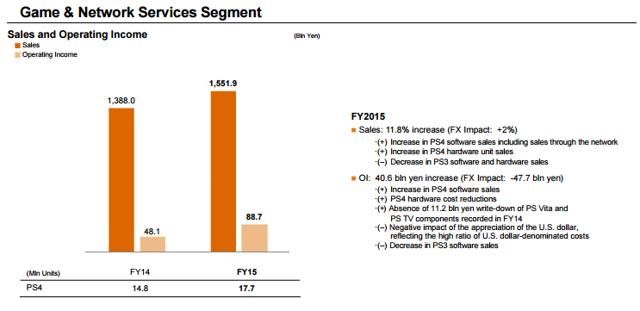 Source: Sony Presentation
During the last year, the company's gaming ROIC was 14.9%, and its R&D spending has increased to 91.9 billion Yen.
Conclusion
As we can see, Sony heavily relies on the success of its gaming division. The release of PlayStation VR, PlayStation Neo, and the launch of new exclusive games will definitely have a positive impact on the company's business operations. Since the beginning of last year, Sony, as a part of its restructuring process, has managed to decrease the level of debt and now has a cash-to-debt ratio of 2.2x, which gives the company additional resources that it can use to promote its future products or improve its other businesses. It has also become profitable recently and plans to continue restoring investors' confidence in the near future.

Source: Sony's financial statements
I believe that Sony will continue to show outstanding performance, especially thanks to its gaming division. It has strong financials, a long-term strategic vision, and the right management in place. Considering all the facts outlined in this article, I suggest that you take a closer look at this company and consider adding its shares to your portfolio.
Disclosure: I am/we are long SNE.
I wrote this article myself, and it expresses my own opinions. I am not receiving compensation for it (other than from Seeking Alpha). I have no business relationship with any company whose stock is mentioned in this article.