Over the past two trading sessions, U.K.-based integrated oil and gas major BP (NYSE:BP) has lost over 7% of its value due to Britain's exit from the European Union. However, the Brexit is a blessing in disguise for BP since the declining value of the pound will leave it with more cash as its costs are denominated in the currency of Britain, the pound. However, BP's revenue is received in U.S. dollars, which means that a strong dollar and a weak pound will aid the company's financial results.
But, apart from the currency gains, there are some more reasons why investors should definitely consider buying the recent drop in BP shares. Let's see why.
BP's strong upstream segment will gain from the oil rally
In a weak oil and gas pricing environment, BP has focused exclusively on allocating its capital into areas where it can generate stronger returns with lower investments. As a result, it has set attractive hurdle rates for the return profile of its assets, carrying out investments in only those Greenfield projects that generate returns in the mid-teens, while only those drilling programs are being carried out where returns are in excess of 20%.
As a result, BP has increased its investments in those wells where its capital efficiency is in the first quartile, which means that it is the highest. This is shown in the chart below: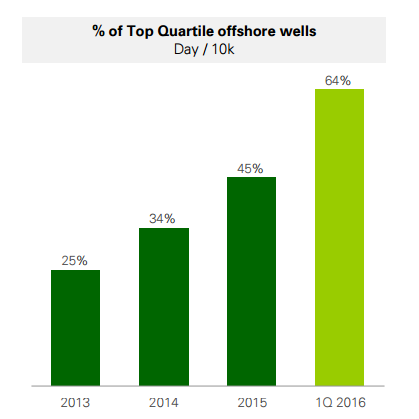 Source: BP
But, apart from focusing on higher-quality assets, BP is also working in an aggressive manner with its suppliers to reduce costs. In fact, BP has been able to achieve massive cost reductions across its business ranging from well services costs to rigs and operations and maintenance. More importantly, BP has negotiated further with its suppliers so that it can reduce its costs further going forward, and this should reflect positively in the company's upcoming results.
The following chart clearly shows the extent to which BP has managed to lower its costs across the board, along with the potential cost reductions: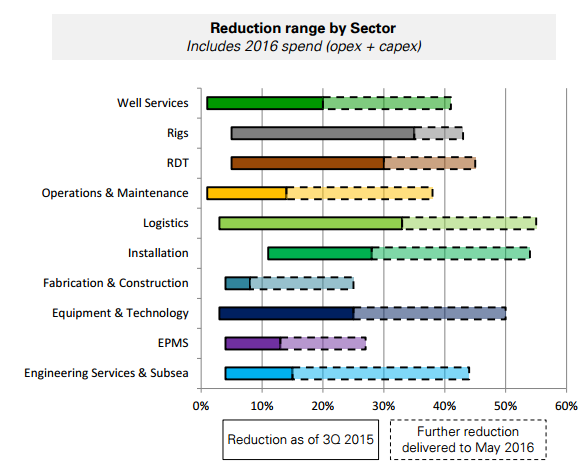 Source: BP
Hence, it is evident that BP has strengthened the position of its upstream business by way of investments in efficient assets and cost reductions. This has allowed the company to create an advantaged upstream segment as compared to other big oil companies. In fact, despite achieving massive cost reductions last year, BP has found a way to reduce costs once again in 2016, and this has allowed it to attain one of the lowest production costs per barrel of oil equivalent in the industry: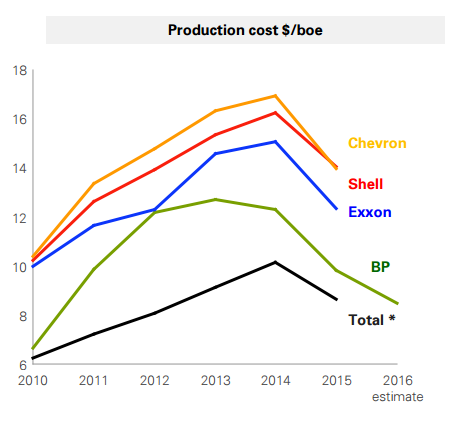 Source: BP
Hence, it is evident that BP has taken the right steps to improve its asset base. This will allow the company to continue getting better in the long run, especially as oil prices improve.
Stronger oil prices will be a boon for BP
BP's focus on lowering the cost of production will act as a tailwind for it as oil prices have improved rapidly this year. In fact, BP's CEO forecasts that a $50 oil price will be sustainable this year, while a range of $50-$60 per barrel will be seen next year. The BP CEO has made this forecast keeping in mind an increase in oil demand across North America and China, which are expected to bring the oil market into balance by the end of the year.
This forecast by the BP CEO is not surprising as the current demand-supply conditions in the oil market should lead to a better pricing scenario going forward. Balance in the oil market will be attained as supply growth comes down and demand growth increases. This is exactly what's seen in the oil market currently, with the rate of growth in the supply decreasing rapidly of late.
For instance, according to the IEA, oil output across the globe increased just 50,000 bpd back in April, which was way below than the increase of 3.5 million bpd in the output a year ago. What's more, in May, output actually dropped 590,000 bpd from last year. This massive slowdown in oil production growth is being driven by a slowdown in production in both OPEC and non-OPEC countries.
Also, last month, OPEC oil supply dropped by 110,000 bpd while non-OPEC output is slated to go down by 800,000 bpd in 2016. What's more, accompanying the fall in supply is an increase in demand, which is slated to increase by 1.3 million bpd in 2016 and 2017. Therefore, it won't be surprising to see the oil market regaining balance going forward, as shown in the chart below, and this will lead to better pricing: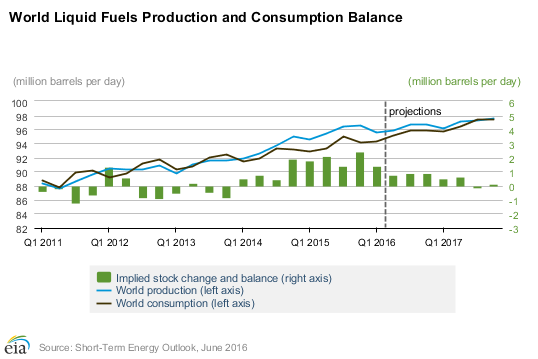 Source: EIA
Conclusion
Hence, it is evident why investors should consider buying shares of BP after their latest drop. The company has lowered its cost base effectively by high-grading its assets and this will allow it to take advantage of the increase in oil prices. Hence, in my opinion, investors should take advantage of the weakness in BP shares post Brexit as this is an opportunity in disguise.
Disclosure: I/we have no positions in any stocks mentioned, and no plans to initiate any positions within the next 72 hours.
I wrote this article myself, and it expresses my own opinions. I am not receiving compensation for it (other than from Seeking Alpha). I have no business relationship with any company whose stock is mentioned in this article.