Twins Remain Slightly Ahead after More than 6 Months
Back in early December, I began a portfolio for my twin boys to pay for their education; they just passed the 6 month mark, so this portfolio has a long-term outlook. As a bit of background (more detail can be found here), $200 worth of buys are made weekly through Sharebuilder (Capital One Investing) or a separate drip, and the performance is benchmarked off the S&P 500 (NYSEARCA:SPY). Each buy is compared to a matching SPY purchase, which in turn is compared to overall SPY performance to also determine if Dollar-Cost-Averaging (DCA) provides a better return. The 18+ year goal is to buy only a few high-quality stocks - no more than 12 - that provide decent growth, solid dividend expansion, and will still be in existence in 18 years (i.e. tech stocks like Pandora (NYSE:P) and Twitter (NYSE:TWTR) are not even on my list for consideration. I began with only four stocks: Starbucks (NASDAQ:SBUX), Visa (NYSE:V), Realty Income (NYSE:O), and finally 3M (NYSE:MMM). They all reinvest dividends and we plan to continue this habit.
As the last quarter began, I realized I needed to change the buying habits based simply on share prices. The first casualty was O when it broke above $60. SA readers know how many articles have noted its expensive price, so it requires no further explanation - $55 or below is my consideration to restart purchases. The next was MMM, but only partially due to price. The second reason was noted in my original piece on MMM regarding the dividend and earnings. The company last stated it would grow the dividend in line with earnings; this did not happen during the last hike in which the dividend's 8.3% raise far outpaced recent earnings growth. Therefore, as the stock broke $160, I cut the purchases to await better opportunities for it to be under $150. Lastly, V was the third to be cut once it exceeded $78. It moved up too fast, and as this last week has shown, it fell back down to $73 in a hurry. It is now back on my radar and if it returns back to near $70 I will re-evaluate.
So that leaves one stock, SBUX, which has been purchased for the last 11 weeks at $200 a pop. This next week that will change back to $50 as I add a new stock. I feel very confident in my SBUX position as I agree fully with Nathaniel Matherson's four part series on buying SBUX now with its recent dip. So, while the portfolio is not points ahead of the SPY, it continues to edge it out as of the close on 27 June. Below is a basic overview of the current holdings.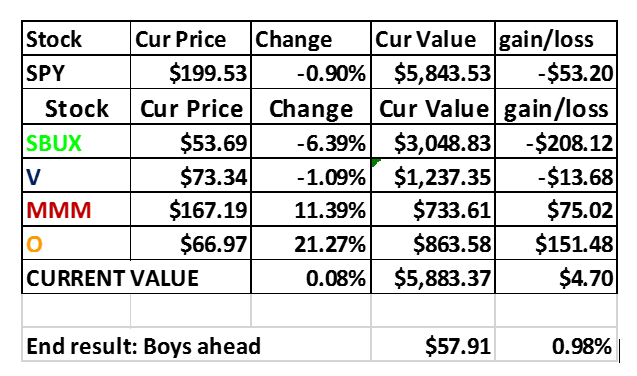 Of note is that DCA investing has definitely helped. If I had simply bought the SPY all on December 8th, the value would be down over 4% as opposed to less than 1% and the biggest loser, SBUX, would down over 13% rather than only 6.4%. But readers are probably recognizing a bigger issue - balance - SBUX is too much of the portfolio as shown below. The current balance is, as Donald Trump might say, "bad, bad, just really bad."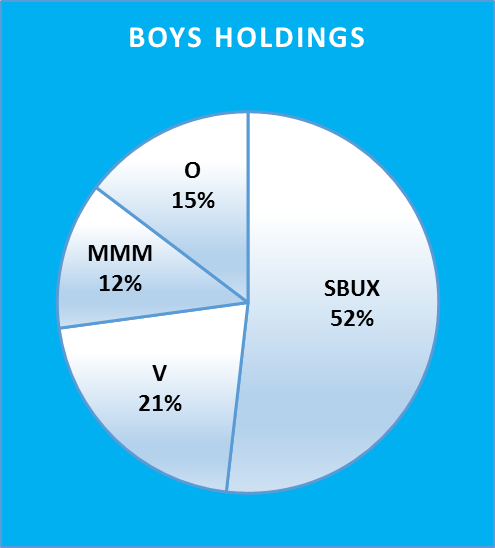 While I will nibble at SBUX a bit more this week, V is beginning to look like a better choice for balance if it dips further. But it also brought me to realize that I need to add something new as a good long-term anchor, but not at nose-bleed prices. And Brexit has brought about that prospect.
Brexit - Opportunity through Uncertainty
Readers know the ins and outs of this recent event, so let me cut to the point: Brexit, whether it happens or not, will have an impact, and a second referendum now looks like a very long-shot despite public outcry. But one person's crisis is another's opportunity, and this will most likely not be the end of the world. And as the uncertainty has sent markets into a tizzy, I see opportunity for great companies, such as Diageo (NYSE:DEO) and Unilever (NYSE:UL), which leads me to my new purchase.
Adding a Consumer Staple - Unilever and Its Assortment of Global Brands
I realized the portfolio is a bit "dirty" right now, and thus some soap is needed. Beginning this week, I am adding our favorite Dove brand through Unilever to the portfolio. Why UL over UN? The simple explanation is at the end of this article by Dividend Drive with UK shares not charging any foreign dividend withholding tax. Of course, this could change with Brexit, but I will take my chances as this global brand expands far beyond just the UK. So why UL over, say Procter & Gamble (NYSE:PG)? Simply put, UL is better diversified and continuing to grow at a rapid pace by focusing and executing within emerging markets, exercising agility and innovation, and clearly displaying a capability to achieve profitable growth. Its model is not focused on just divesting and cost cutting, but from selling and acquiring brands that complement its current model.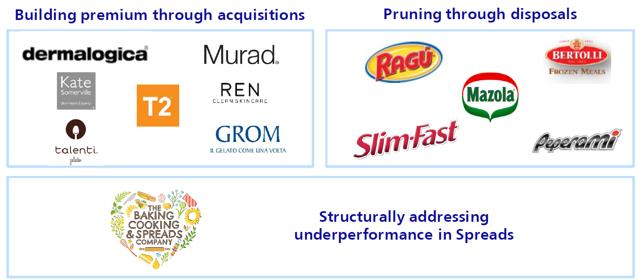 It also has what I see as a solid long-term strategy with clear-cut goals as seen below: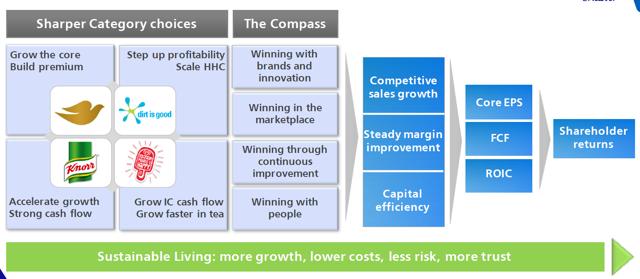 And this strategy has translated into solid sales growth: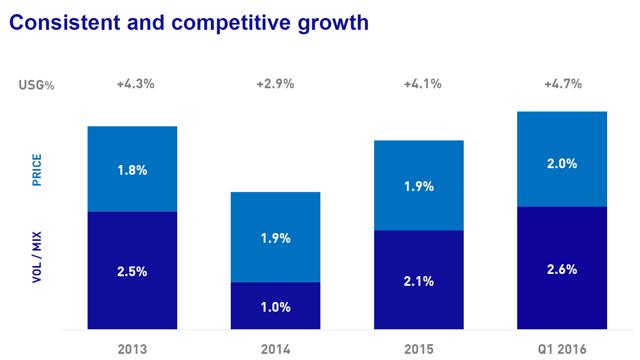 UL also provides two additional benefits. First, it has a dividend that has snuck back up to nearly 3.1%. While there are other stocks yielding similar or better, this has been an extremely consistent return with recent growth in the 8% range. With nearly 2 billion people on a given day throughout the world using a UL product, it is a company that even through a Brexit like event is unlikely to not continue rewarding shareholders.
Second, UL continues to expand and innovate with products through all price points to appeal to all markets. It has its well-known list of €1bn+ Brands such as these:

But furthermore it has set many of these brands and its smaller brands at price points better suited for the real areas of growth, emerging markets, which now account for 58% of sales.

Risks Are Present; But When Are They Not?
There is never a risk free time to invest, and as such, there are some concerns with UL that I need to recognize. First, Brexit will impact UL. This would put it into a position where it likely would sink further based on FOREX and a potential recession in the UK, not to mention other countries within Europe. However in such a situation, I would look to buy more as long as it does not look like a Bear Sterns scene from the movie "The Big Short" (For those who have not seen the movie, Bear Stern's collapse). UL is so entrenched on a global basis that I assess such issues would be a gully in the chart and likely provide an excellent long-term opportunity to add to my position.
Second, the dividend could become taxable. If so, investors will need to assess how they want to handle this on a personal basis. My first inclination would be to examine the costs of UL vs UN as well as other staples, and do so with a mindset that is pound smart, and penny foolish. This means if I have to incur some near-term tax pain to avoid future excessive taxes, then so be it - but this must be a situation in which one looks at his or her individual situation.
While there are other risks to consider, the third one I see is currency impacts. This is one reason I am not convinced to plow the full $200 a week into UL as I suspect it will see some problems in the next several quarters. But I also see this as a primary reason the stock took a 6%+ dip this past week - investors are already beginning to factor this in, and any future weakness is likely to provide more opportunity.
Conclusion
So in closing, the portfolio is doing fine - not winning any major races right now, but holding up very well in a rather turbulent market. However, its lack of balance is causing me concern, and with the opportunity to pick up UL at a slight discount and realign my holdings, I am taking advantage of the situation to put a very strong and high-performing consumer staple into the portfolio. As always, I appreciate readers taking the time to look over this article. I wish all a safe and accident free ride in the coming weeks.
*If you enjoyed this and want to further see how the twins portfolio does, feel free to follow me by clicking the follow button at the top next to my name. Thanks again for reading!
Additional Disclosure: While investing in the style I have discussed here fits my personal needs and goals, each investor should take the time to complete his or her due diligence in deciding on investing goals and tools to meet such goals.
Disclosure: I am/we are long UL, SBUX, V, MMM, O, P, DEO.
I wrote this article myself, and it expresses my own opinions. I am not receiving compensation for it (other than from Seeking Alpha). I have no business relationship with any company whose stock is mentioned in this article.
Additional disclosure: While I don't recommend it, I own a small amount of P as a speculative part of my personal IRA.