In the aftermath of Brexit, we saw a surge in demand for safe-haven assets: Gold rallied up to 8% on the day, USD/JPY fell briefly below the 100 handle, and U.S. treasury yields fell sharply (not because Fed rate hike expectations were further pushed back, but because the markets were afraid of the chaos that ensued). The USD Index (DXY) closed up 2.5% on the day.
One interesting attribute the USD possesses is its ability to perform well in the best of times, as well as the worst of times - known as the Dollar Smile Theory (graphic below, courtesy of Babypips.com).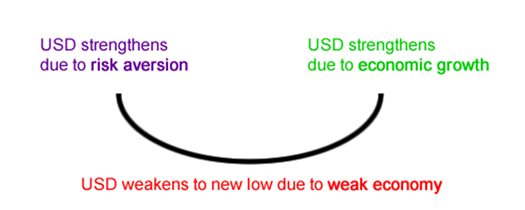 Basically, during bad times, the USD outperforms due to its status as a safe haven currency. During good times, the USD strengthens due to strong economic growth, growing inflation and possibility of future rate hikes being ramped up. In the middle, due to lackluster economic growth, the USD remains weak as the Fed employs an accommodative monetary policy.
As such, the key question is: which scenario are we facing now?
Before Brexit, Yellen had already employed a more dovish stance due to poor jobs report in May which stunned the markets, which led many to suspect that the Fed was not going to hike twice in 2016 as they had previously alluded to, as the health of the U.S. (and global) economy was still not robust now. Now that Brexit has occurred, and wiped out $2 trillion from global stock market, I strongly believe we are facing the "bad times" scenario, which is conducive for the USD to outperform as a safe-haven asset.
What about the Euro?
Political uncertainty does not stop post-Brexit. Brexit is likely to open a can of worms, with extremist political parties in other EU states keen to push their anti-EU agendas. The Netherlands' right-wing populist party PVV is known to be anti-EU and is currently topping the opinion polls, the anti-establishment Five Star Party in Italy has called for the Euro to be scrapped (Italians head for elections in October this year), and Marine Le Pen, leader of France's far-right Front National, has called for a French referendum on the EU.
The list is likely to continue and the bottom-line is that political instability looks unlikely to be resolved in the EU heading to year-end. This will likely put a dampener on any potential upside in EUR/USD.
In addition, to combat uncertainty, low inflation, and low growth in the EU, the European Central Bank is likely to expand or at least maintain their already accommodative monetary policy. As can be seen in the diagram below, inflation levels in Europe remain in the doldrums, way below ECB's target of close to 2%, and Brexit is likely to have an adverse impact on investor confidence / growth.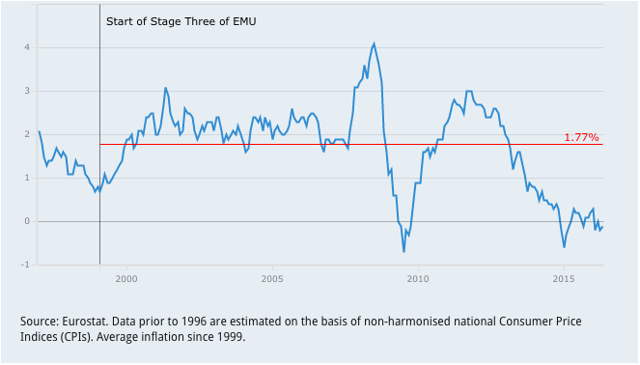 EUR/USD to parity by year-end
EUR/USD trades near 1.10 at the time of writing with its 52-week high near 1.17 and its 52-week low near 1.0450. I believe given the current fragile state of the financial markets post-Brexit, we are going to see stronger demand for USD-assets and USD Index may make a push towards 100.00. The GBP has been under pressure since the U.K. left the EU, and the Euro is likely to follow its footsteps (helped by growing political uncertainty in EU members.
This confluence of events looks likely to send EUR/USD down to parity by year-end, helped on by a very accommodative ECB monetary policy. Many may deem parity to be a huge psychological barrier - do keep in mind that in 2000, EUR/USD dipped below 83 cents. There is room for the pair to go much lower than current levels.
Disclosure: I/we have no positions in any stocks mentioned, and no plans to initiate any positions within the next 72 hours.
I wrote this article myself, and it expresses my own opinions. I am not receiving compensation for it (other than from Seeking Alpha). I have no business relationship with any company whose stock is mentioned in this article.