Any investor will dollar-denominated accounts would have been pleased with gold's recent behavior, as the precious metal continued to rally despite coming up against a strong dollar. The greenback is now trading at $1,312 (it almost reached $1,330 on Monday, June 27) an ounce and could easily reach $1,400 to $1,450 before this intermediate cycle tops. We are coming up against resistance at present, so a pullback is imminent. But we have many more weeks to go before this intermediate cycle tops, so selling your positions here could be a risk, in my opinion. Let me explain...
If we look at the chart, we can see that the five-day RSI indicator is getting to oversold levels, although we may still have some upside before the first daily cycle tops.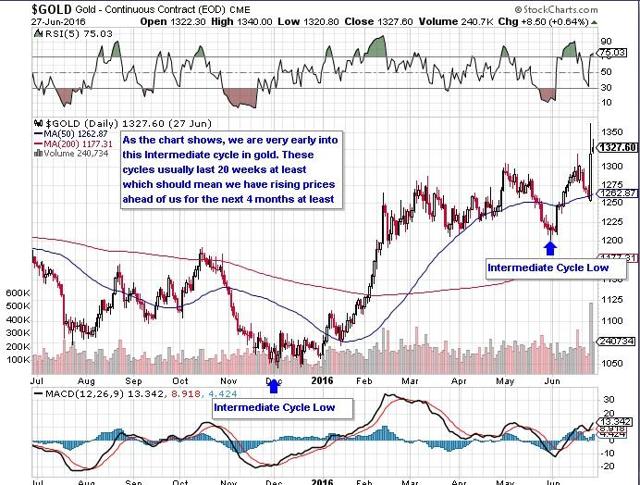 Furthermore, sentiment is still on the high side. Brexit has forced gold to perhaps rally faster than originally forecast, which means that sentiment has rallied up too quickly. This will have to come down before we can start the next meaningful move up. As the chart shows, when gold printed its own intermediate cycle low four weeks ago, sentiment reached around "40" on the sentiment chart.
Although I don't believe we will revisit those levels when gold prints its impending daily cycle low, sub-50 would be a realistic target. That is when investors should be scaling into positions once again. Therefore, we are going to sell half our USLV position, as holding too much leverage is not prudent if gold loses 50+ ounces from here.

Source: Sentimentrader.com
With regard to stocks, I intend to take profits on AXP, CSCO, AGN, and EMR once stocks put in a daily cycle top. We will watch sentiment figures and the five-day RSI indicator to see when stocks get overbought on a short-term basis. The S&P 500 (NYSEARCA:SPY) is currently about 20 points off its lows, and is trading inversely to precious metals. I still don't know if yesterday was an intermediate cycle low in stocks, or if the market is merely preparing to dip down into a nasty intermediate cycle low over the next few weeks.
On the contrary, we could get another "V"-shaped recovery, which will spike all equity markets. Either way, our portfolio is very much equity-based, which is why I want to take some profits off the table and have some cash on hand when stocks either print an intermediate low or gold prints a daily cycle low. I'm convinced our underwater positions will eventually come out good, but because of the uncertainty at present, we will take some capital off the table in our equity portfolio.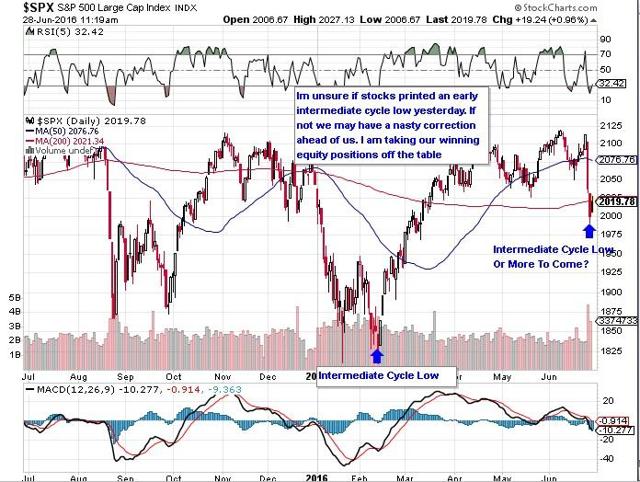 I'm going to be adding a few good dividend and growth stocks to the Elevation Portfolio over the next several weeks when I see value. In order to ensure that income is brought in every month, it's imperative that they are not correlated and all don't have similar valuations. You can follow along by pressing the "Follow" button above.
Disclosure: I am/we are long USLV.
I wrote this article myself, and it expresses my own opinions. I am not receiving compensation for it (other than from Seeking Alpha). I have no business relationship with any company whose stock is mentioned in this article.