The strength of Cal-Maine Foods (NASDAQ:CALM) is its stability, and stability in all aspects. It starts with the eggs business. The egg is a product that is an integral part of almost any diet in the world. Also, the eggs' production does not share the same climate risks as agriculture, while offering stable demand throughout the year.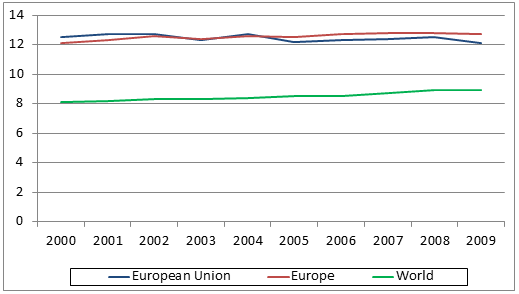 (Source: http://www.thepoultrysite.com)
Statistics show that the eggs market has experienced virtually no sudden moves and has been very stable in terms of growth. Even during the 2008-2009 crisis, when consumption dropped in almost all products, the egg consumption remained stable. In fact, the average global consumption per person has changed from 8.1 eggs per month in 2000 to 8.9 eggs per month in 2009. As we have seen, the consumption of eggs in the developed countries is higher than in the developing ones, so a logical assumption is that the average consumption of eggs should increase in the long-run due to improvements in quality of life in the developing economies.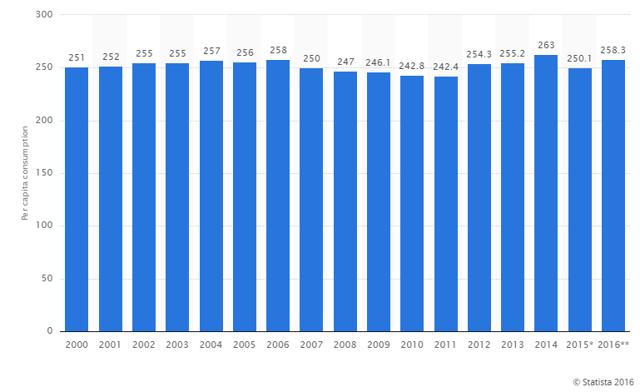 The diagram above shows that the US consumption of eggs is also quite stable. The maximum deviation has been around 3% per annum over the period.
Cal-Maine Foods is not just a company in a stable and promising sector - it is primarily a strong company. It starts with the fact that the specialization on the eggs helps avoid direct competition: since most food companies work in different fields, they do not have great competence in any one field. Secondly, in fiscal 2015, the company satisfied approximately 23% of total domestic shell egg consumption. There are reasons to believe that there are prospects for increasing the market share. Cal-Maine Foods has the right focus in developing specialty eggs, which are more profitable than others.
It is also an important factor, in our opinion, that the business is mainly a family-owned company. The Adams family not only manages the business but also owns a third of the total shares outstanding. This allows the company not to lose its vision, as well as speeds up the decision-making process, reducing administrative barriers. Perhaps, many thanks to this type of management, the company has made a number of very successful acquisitions.
The last year was very successful for the company. The company has beaten many records in many financial metrics. It has shown above-average growth not only compared to the market in general but also relative to the industry. Its sales for the year totaled almost $1.6B and surpassed the previous year's record by 9.4%, supported by strong customer demand from three major market sectors - retail, egg products, and exports. The company sold 1.063M shell eggs dozens in fiscal 2015, up 4.9% over the prior year. This is a new annual record for Cal-Maine Foods. The company's net income for the year amounted to $161.3 million, or $3.35 per basic share and $3.33 per diluted share, the highest annual net income in the company's history.
Moreover, Cal-Maine Foods' net margin has more than doubled since 2013 and currently stands at 18% of sales, which is many times higher than the industry's average. The revenue growth of 12% over the last three years and the net profit growth of 21.6% confirm improving business efficiency. In addition, Cal-Maine Foods has actively reduced its debt burden in recent years, bringing it down to the current debt-to-equity ratio of just around 0.06.
Finally, the most important finding is that, despite all the positive information above, Cal-Maine Foods' P / E ratio stands only at 5.6x last-twelve-months' EPS. Combined with the dividend yield of 5.9%, the company is a real treasure, unjustly deprived of investors' attention.
Societe Financiers is an investment research team focused on long-term, long- and short-only ideas. Our research objective is to cover equities in various regions, such as North America, EMEA, Asia, Australia, and Emerging Markets.
Readers should consider whether any advice or recommendation in our research articles is suitable for their particular circumstances and, if appropriate, seek professional advice, including tax advice. The price and value of investments referred to in our research articles and the income from them may fluctuate. Past performance is not a guide to future performance, future returns are not guaranteed, and a loss of original capital may occur. Fluctuations in exchange rates could have adverse effects on the value or price of, or income derived from, certain investments.
Certain transactions, including those involving futures, options, and other derivatives, give rise to substantial risk and are not suitable for all investors. Transaction costs may be significant in option strategies calling for multiple purchase and sales of options such as spreads.
Disclosure: I/we have no positions in any stocks mentioned, and no plans to initiate any positions within the next 72 hours.
I wrote this article myself, and it expresses my own opinions. I am not receiving compensation for it (other than from Seeking Alpha). I have no business relationship with any company whose stock is mentioned in this article.