Oil (NYSEARCA:USO) and gas (NYSEARCA:UNG) investors have, over the last few months, seen signs of the long touted "recovery." Oil and gas companies are overvalued on future earnings. The rapid response we will see to shale production if $50 oil remains for several more months will once again curtail prices. I doubt we will see sustainable oil prices over $60 for 3-4 more years as it will take that long for the lack of investment in conventional reserves to make up for the manufacturing style response of shale and OPEC. However, this is not the only reason to be bearish on petroleum companies.
Debt At Decades Highs Across The Oil Sector
There is another reason why this time is different. That reason is debt. I do not believe that we have seen the bottom for petroleum companies.
It is no secret that debt has been piling up at these enterprises. It is not surprising that the higher oil prices went, the more liabilities these companies piled on. Rising oil prices justified higher levels of sustainable debt; the problem came when the boom turned to bust.
When oil prices were high, debt levels skyrocketed. Thus, companies ran into the bust with historically high levels of debt, further fueled by low interest rates, stock buybacks, and expanded exploration programs in increasing riskier and costlier basins. These companies lost control of their finances (as did thousands of other businesses and governments). Let's have a look at ExxonMobil (NYSE:XOM), Royal Dutch Shell (RDS.A, RDS.B) and Chevron (NYSE:CVX).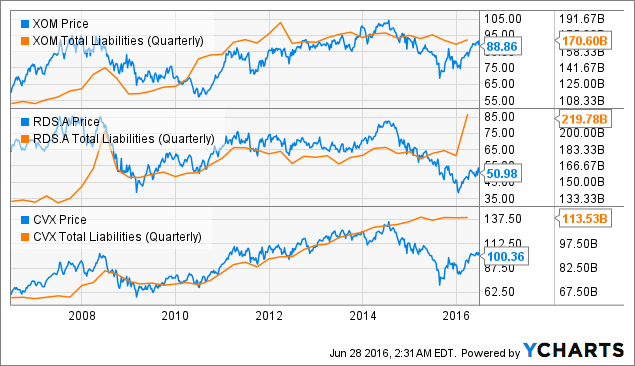 Data by YCharts
As prices declined, debt to equity ratios have gone up more than 500%.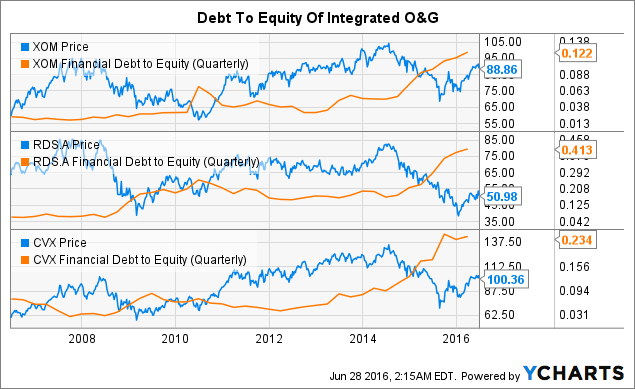 Return on equity has plummeted with cash flow, and the returns are, for Exxon, Shell and Chevron, the worst on record.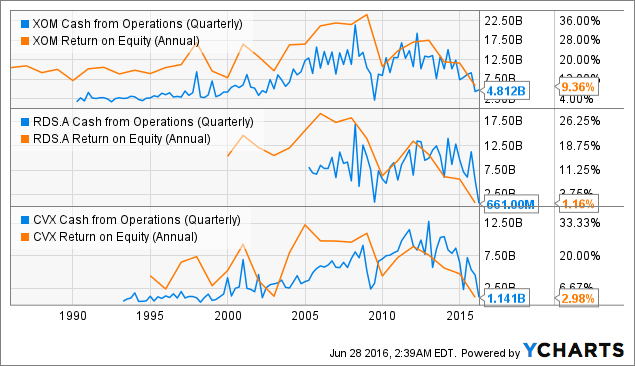 XOM Cash from Operations (Quarterly) data by YCharts
The final chart to look at is, to me, one of the most telling. WTI prices peaked at over $135/bbl in June 2008. To be sure, this was a different period of market valuations. However, cash flow at all these companies was far higher than they are now (nearly three times as much for ExxonMobil). We also can not forget the caveat of the recent great recession and how it could have weighed on prices. Nonetheless, Exxon and Chevron are priced higher than they were when oil was nearly three times the price it is today.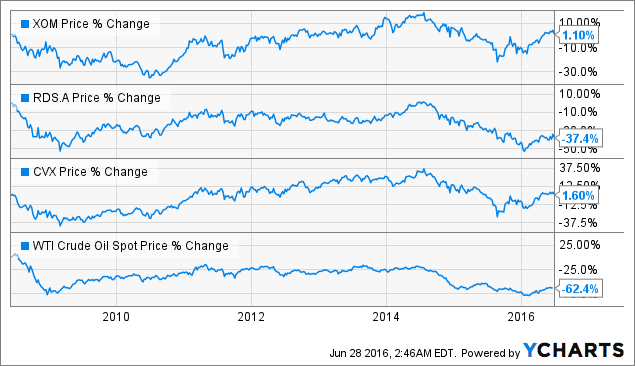 Investor Takeaway
Sidetracked by the idea that oil companies are cyclical, investors have been distracted from the fundamentals. Buying at the lows in the past has garnered double-digit returns across the board. However, as stated above, this time, is different.
Overconfidence by boards during high prices caused companies to borrow at excessive levels, return on equity is the lowest in history, and a changing international oil market will cap oil prices at levels that do not justify the current stock prices. I do not think that the market will suddenly reevaluate the long-term prices of these companies and thus I have not entered into short positions myself. The truth lies in the data: this is not a standard cyclical market recovery, this is not like before, investors are unlikely to come out on top.
Afterword - If you found this article interesting and would like future updates, head to the top of the page next to my name and hit follow. It is free and allows me to continue to reach a broader audience and keep writing. Thanks for reading.
Disclosure: I/we have no positions in any stocks mentioned, and no plans to initiate any positions within the next 72 hours.
I wrote this article myself, and it expresses my own opinions. I am not receiving compensation for it (other than from Seeking Alpha). I have no business relationship with any company whose stock is mentioned in this article.